FORSYTH COUNTY, Ga. — The Forsyth County Board of Commissioners gave final approval to a county-wide ban on retail pet sales June 16.
The resolution modifies the county's animal control ordinance to ban the sale of cats and dogs within a pet shop, although animal control facilities and rescue organizations may still reserve space in pet shops to adopt out animals. The resolution also bans the roadside sale of cats, dogs and domestic rabbits, except by a state or county fair or similar exhibition or educational programs.
The bans do not apply to animal shelters or rescue organizations in any way. The resolution is intended to combat animal mistreatment and abuse often associated with "puppy mills," or large-scale breeding operations in which animals are sold for profit.
The ban has been in the works since March, and it has garnered significant public support from animal rights activists as it has throughout its development. Five public speakers voiced their support for the ban at Thursday's meeting. No one spoke in opposition.
County resident Susan Bova brought her dog, Gracie, to the podium as she spoke in favor of the ban. Bova said Gracie was rescued from a mass breeding operation in Berrien County in 2019. The puppy mill bust saw more than 700 dogs rescued.
"Breeder dogs like Gracie spend their entire lives in cramped cages and are forced to have litter after litter after litter," Bova said. "Once the puppy mill operators have depleted the breeder dogs, they are either killed or tossed out, sick and broken, usually dying shortly thereafter."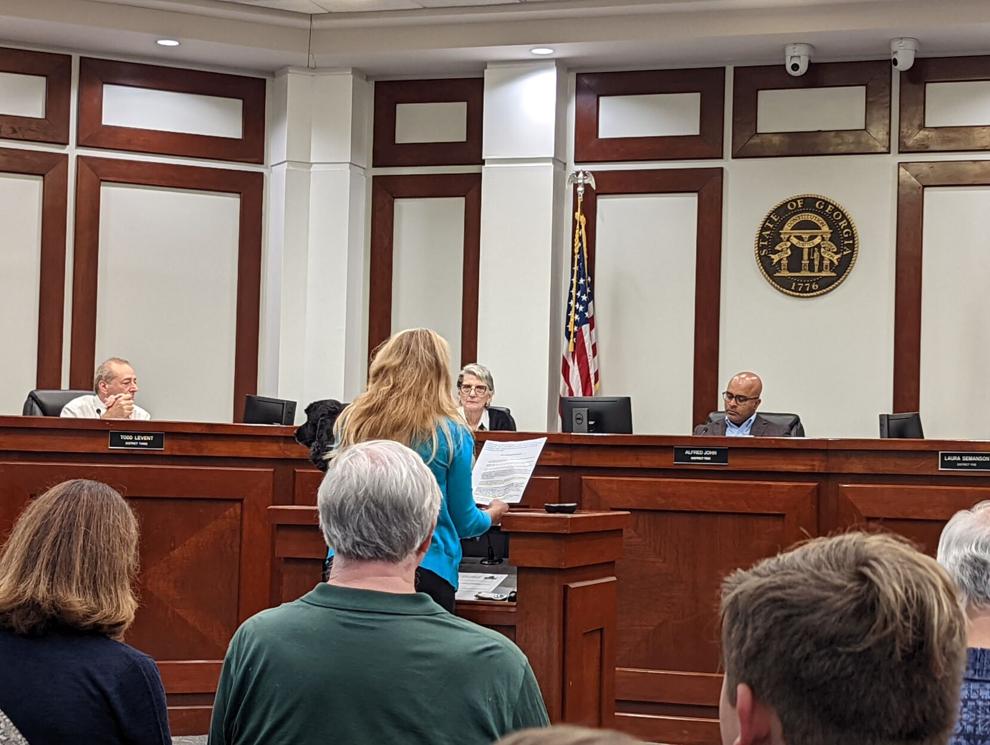 Debra Berger, Georgia director for The Humane Society, requested the board add additional language to the resolution that would have explicitly restricted pet stores from charging fees to provide in-store space to animal rescues for adoptions. Commissioners seemed open to the addition, but County Attorney Ken Jarrard voiced concern over adding the stipulation and passing it the same day.
Jarrard said the commission should either hold the resolution for a third public hearing before passing it with the added rule, or pass the original resolution immediately and hold two more public hearings to add the rule. Commissioners unanimously chose to pass the original resolution.
In other business at the June 16 business meeting, the board gave final approval for a change to the county's conflict of interest policy that will allow commissioners to hold office in cities that are not within or bordering Forsyth County.
The amended policy still prohibits commissioners from holding state office, county office within another county or a second office within Forsyth County. They could, however, serve on the city council or police force in a municipality that does not border Forsyth County, such as Dawsonville.
If a commissioner accepts a sworn position within a city, they must still disclose it to the board "within a reasonable time."