DUNWOODY, Ga. — Scores of angry residents derailed a Feb. 8 meeting meant to gather feedback on how the city might initiate a multi-use trail system throughout Dunwoody.
The meeting, held at Dunwoody City Hall by design group the PATH Foundation, was conducted to weigh public sentiment about a map of proposed trail opportunities which would connect major city attractions and neighborhoods with surrounding communities.
However, PATH Foundation officials and city leaders heard very little real feedback from the standing-room-only crowd. Instead, they received mostly angry comments and questions about the plan.
"My goal for tonight, which I don't think we reached, was to figure out where people would like to see [trails]," Dunwoody Mayor Lynn Deutsch said. "Not where you don't want to see it. It doesn't help me if we're going to pick one part to pilot."
Master plan draft
Presented by PATH Foundation Executive Director Greta deMayo, the Dunwoody Trail Master Plan will be a framework mapping the trail and street improvement opportunities that could be completed over the next three decades.
Over the last 32 years, the PATH Foundation has been responsible for more than 350 miles of trails, including the Silver Comet and multiple paths throughout North Georgia, deMayo said.
During that time, deMayo said they've been able to gauge economic and environmental impacts of city trail systems firsthand, like Atlanta's BeltLine which connects communities throughout the city.
"Over time, the areas that really were kind of rundown, became revitalized," she said. "It also brought in tree canopy which was needed, and just really became a linear kind of park condition with destinations where people would want to live, work and play."
Through a series of meetings with stakeholders and the community, the PATH Foundation identified several major points of interest that could be connected with trails, like the Dunwoody Nature Center, Dunwoody Village, Perimeter Center, Georgia State University and Brook Run Park.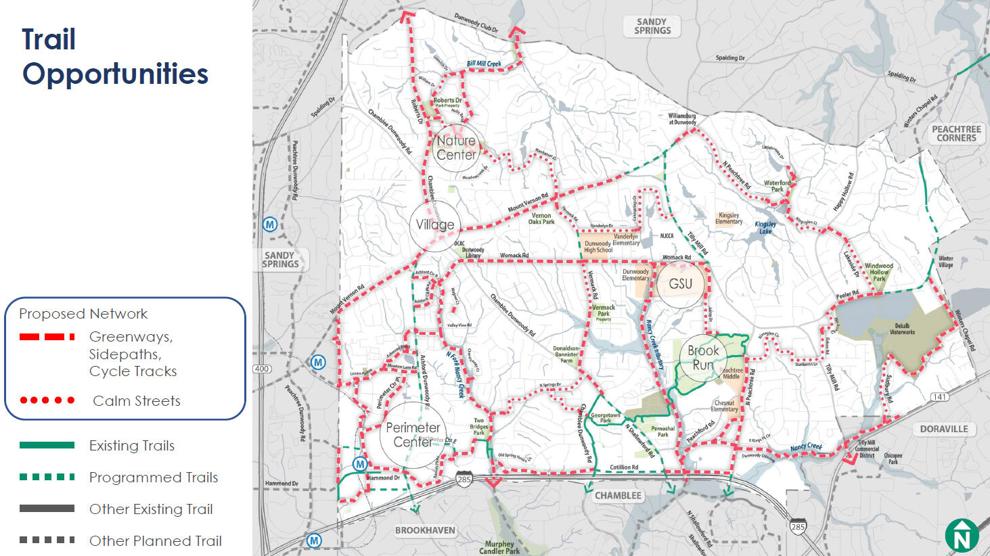 Future Dunwoody trails would also provide vital connections to trail systems in other communities, like Sandy Springs and Chamblee.
"It's hard to plan Dunwoody without looking at your neighbors," deMayo said.
Proposed trails would include sections of greenway, which become "linear park spaces," but deMayo said the plan would also involve stretches with buffered bike paths, calmed existing streets and side paths adjacent to the roadway.
"If we could find a greenway trail everywhere, we would do that," she said. "In a built environment, you're not going to always find greenway trails, so we have to have other trail types when within our arsenal to plan."
With the draft plan, PATH Foundation officials are confident 71 percent of the community would be within a 10 min walk of a trail, and 94 percent of the community would be a 10 min bike ride away.
But to move forward with the plan, deMayo said they need to know which projects the community would want to see started first. After a model project is selected, a draft of the plan will be presented to the Dunwoody City Council in April and would be considered for approval in May. If a model project starts going into design this summer, deMayo said, construction could begin this time next year.
Community feedback
Following deMayo's presentation, community members spent an hour commenting on the proposed master plan.
Despite being asked specifically for ideas on where to start the project, most residents only shared concerns about specific areas of the project, like the proposed trail that would follow Nancy Creek in southeast Dunwoody, trails proposed near Tilly Mill Road, the possible removal of deceleration lanes to make room for other trail options and the effect the plan would have on local trees.
PATH Foundation staff continued to answer questions about the plan and address community members' concerns, but leaders also tried to guide the conversation back to more positive constructive comments.
"For this meeting to have value to the community, it would be really helpful if you would give input on where you think there is an opportunity for us to make a difference in our trail and path system for people who are interested in using them," Deutsch said, trying to calm the crowd.
The mayor's plea did little to change the mood.
One resident launched into a monologue on his fears about the project, with none of the feedback city officials were hoping for.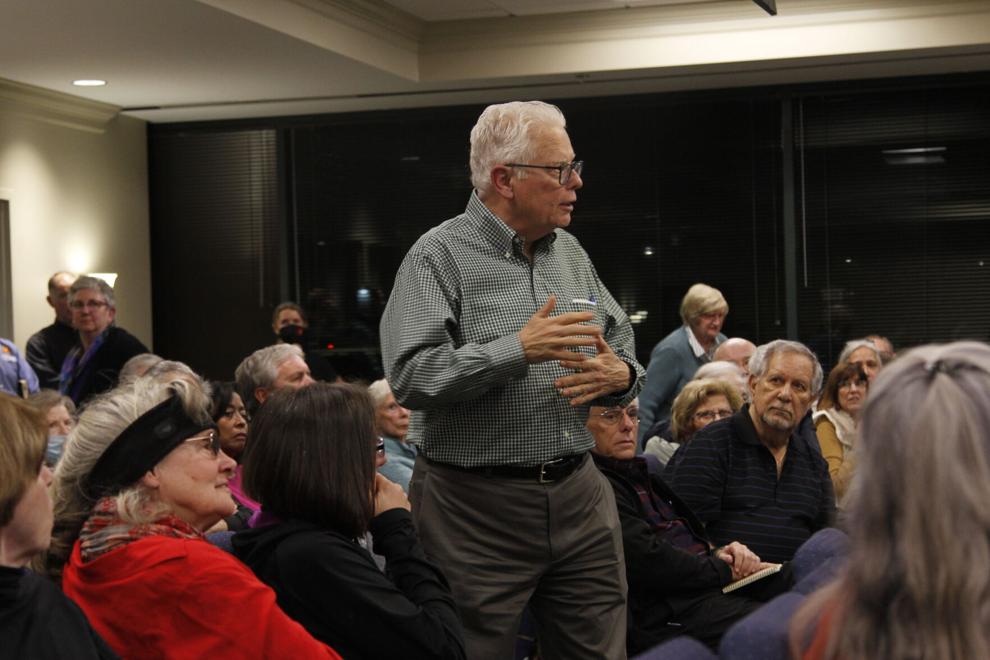 Of those who spoke at the meeting, only a few comments could be considered constructive, including one woman who said many Dunwoody streets listed in the plan are already calm enough to be considered trails. One man suggested starting the plan on Dunwoody's west side by adding connections to the Nature Center and Dunwoody Village.
"Those are the destinations that we on the western side of the city are always trying to walk to, bike to, just go to generally," he said, adding that the Dunwoody Village connection would dovetail with what the city is trying to do to reinvigorate the area.
A change of tactics
After the meeting, Deutsch said it probably could have gone better, and it showed the community has a lot of confusion and frustration about the project.
The problem, she said, is residents are wrongly assuming that trail master plan projects are set in stone and coming soon. This couldn't be more wrong though, she said, because most of the proposed trails won't be started for decades and the plan could change in the intervening years.
"I think there's a lot of frustration because the perception is we're not listening," she said. "But we are listening. We're just not making final decisions yet … People see these plans, and they presume that we are starting tomorrow."
One problem is engaging people who typically don't participate in public meetings, but who actually need the trails in the project.
"The areas of town where people have to walk are always woefully underrepresented with our meetings," Deutsch said. "How do you convince people that are working two jobs or have three children at home, to come out on a random Wednesday night and join in?"
The city hasn't scheduled any more participation meetings on the trail master plan, but Deutsch said officials are going back to the drawing board to see if there are different methods to get more feedback from underrepresented community members.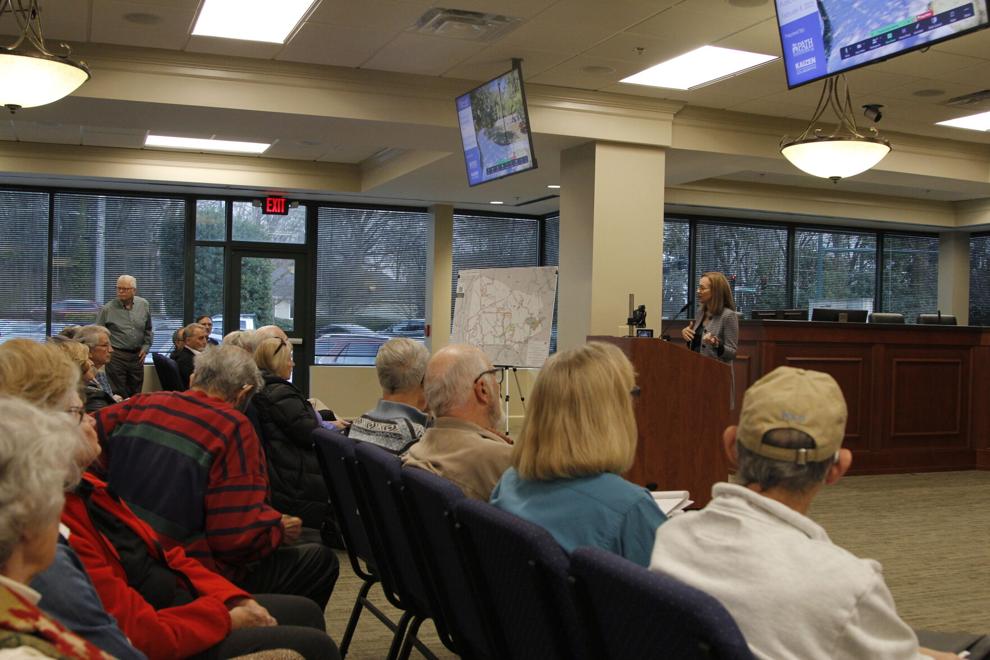 Despite calling the meeting "unsuccessful," Deutsch said the city probably has enough information to identify their main priority for the initial project.
"Dunwoody Village is a big priority of ours, but in full transparency, I think Perimeter is where the need is the greatest," she said.
If they work on connecting the Perimeter area to other southwestern areas like Georgetown and Winters Chapel Road with trails, she said they will bring vital new connections to areas where many families don't have vehicles and rely on public transportation.
"Just because you may not think you'll ever walk to the grocery store doesn't mean that other people won't," she said. "We're not building for today or tomorrow. We're building for the next 20 years."
For more information about the Dunwoody Trail Master Plan, visit the city's website, dunwoodyga.gov/, and look under the "Government" header.