DUNWOODY, Ga. – When 14-year-old Dunwoody resident Hannah Hazen came home Sept. 10 from her 12th and final round of chemotherapy, her village of friends, family and schoolmates came out to celebrate with her.
Hazen, diagnosed in March with Hodgkin's Lymphoma, had been undergoing a clinical trial that had been successful in adults, but just recently approved for children. Although the treatment was longer, the short- and long-term effects were milder than with traditional protocols.
While she still suffered from bone and nerve pain, Hazen, a soccer and tennis player, managed to attend school, attend football games and other sporting events, and along with support from family and friends, raised $13,000 on May 2 running a 5K race called Lauren's Run that supports pediatric cancer research.
An email generated by parade organizers said that Hazen's positivity has inspired everyone who knows her.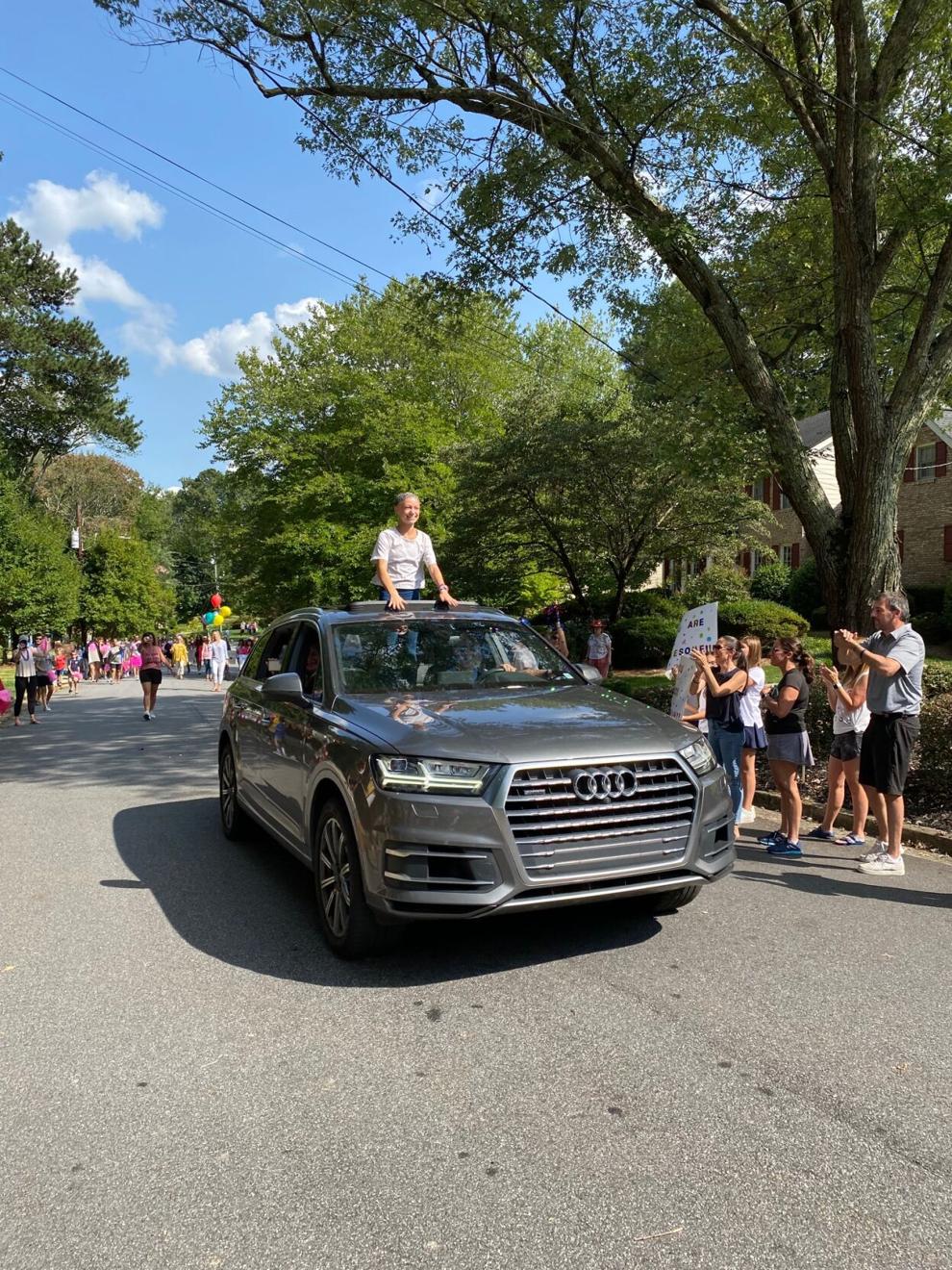 "Throughout it all, Hannah has literally kept her smile and continued to inspire all those around with her incredible strength, bright light and determination not to miss out on anything fun," the email stated.
After her last treatment, friends and neighbors in the Wyntercreek subdivision decided to surprise Hazen and her family – parents Kristin and Brian, and brother Christopher - with a celebration as she returned that afternoon. More than 200 people lined the street with encouraging signs, ringing cowbells, pink pom poms, and cheers of "Let's Go Hannah" from the Dunwoody High School Football cheerleading squad.
When she exited the car, she raised a glass of Martinelli's apple juice, a Hazen family tradition on New Year's Eve, to celebrate her new post-cancer life.
"I was completely surprised and overwhelmed," Hazen said. "I'm so thankful for everyone. I can't believe they did this for me."
Kristen Hazen said she and her family were "blown away by the outpouring of support and the impact Hannah has had."
"We have been blessed by the incredible support from the village of friends and family around us, and the excellent care from one of the best children's cancer hospitals in the nation, CHOA at Scottish Rite," she said. "Hannah has brough our community closer and she's been an inspiration to all. She never let cancer slow her down."
Hazen also credited the community for their acts of kindness – from meal deliveries to Friday rosary recitations in the cul-de-sac, as well as support from their church, St. Jude the Apostle.
Hannah, a freshman at DHS, said she is looking forward to restoring some sense of normalcy, with a return to sports being a top priority.
"I'm excited for the future," she said.