DUNWOODY, Ga. — At its March meeting, the Dunwoody Homeowners Association handed out its 2020 community service awards, including the first Dick Williams Citizen of the Year Award to Dunwoody Senior Baseball Chief Operating Officer John Crawford.
Outgoing DHA President Adrianne Duncan presented the awards at the organization's March 14 meeting. The new award, honoring Williams, a DHA member, broadcaster, journalist and past publisher of the Dunwoody Crier, was given to Crawford to honor his decades of service to youth baseball and softball.
"As long as Dick draws breath, he has the final say on who receives this award," Duncan said. "Nobody disagrees with him and nobody wants to. This was a great choice."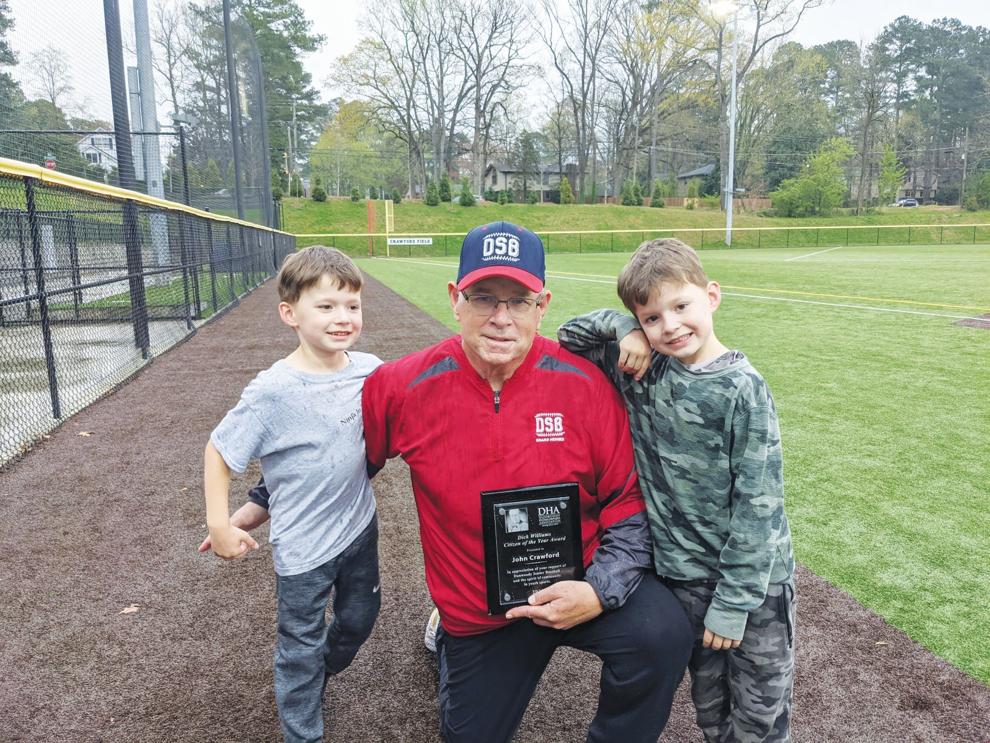 Since 1993, Crawford has served in a variety of leadership roles for several organizations, including Murphey Candler Baseball, Dunwoody Senior Baseball, Murphey Candler Softball, and Marist School. In 2005, when the fields were located at Dunwoody Park, the upper field was named after him, a designation that followed when the park was built at its current location on North Peachtree Road.
"Without John, there would be no Dunwoody Senior Baseball," Duncan said.
Dunwoody Senior Baseball was formed in 1975 to give kids too old for Little League a chance to participate in the sport. It has grown to include an early spring season for middle school aged youth, a spring and fall league for ages 13-15 and 15-18, a summer wood bat league for ages 18-35 and year-round travel baseball teams. More than 1,600 players participate in a game of baseball in one of the organization's programs each year.
Crawford said he was honored to receive the award, but even more grateful that youth baseball was back after the events surrounding COVID-19 shut down operations for several months.
"I'm just glad we aren't playing baseball virtually," Crawford joked. "We were able to get back on the fields June 1, 2020 and the kids have loved it. We are so grateful that the city has allowed us to play."
Another community service award winner, Dunwoody Senior Baseball President Jerry Weiner, who served from 2015-2020, said he was honored to be recognized.
"I was once asked what it is that makes me want to volunteer at Dunwoody Senior, I said, 'It's not a volunteer job, it's a mission,'" Weiner said. "This is for the kids."
Nina Arnold and Siobhan Finnegan, coordinators for the city's annual tree-lighting ceremony called Light-Up Dunwoody, were also given community service awards, along with Nancy Jester, former DeKalb County Commissioner and Stan Jester, a former DeKalb County School Board.
"Stan stands on principle, even if he has to be alone," Duncan said. "You don't always agree with him. Guess what? You don't have to. His arguments are honest ones."
The awards are traditionally given at DHA's annual meeting in January but were postponed until March so that they could be given in person.