DUNWOODY, Ga. — Local watering hole and Dunwoody staple since 1977, Gilly's The Spot will be featured on an upcoming episode of the show "Bar Rescue" on Paramount Network.
Gilly's, located on Dunwoody Park, is best known for its wings and welcoming atmosphere. After securing a spot on "Bar Rescue," the local favorite got a face lift.
"Bar Rescue" features host Jon Taffer who visits bars across the country looking for a makeover. He brings with him contractors and mixologists to renovate and revitalize the businesses.
Gilly's owner Willie Chandler said he had been trying to get on the show for five years when he finally got the call.
The bar had landed an interview with producers of the show years prior, Chandler said, but there wasn't enough drama to earn them a space on the reality show.
When the producers gave Chandler a second chance, he was ready.
"So, the second time they came, we had a meeting and just made up a whole bunch of stuff," Chandler said laughing.
The crew at Gilly's is like a family, he said, so any in-fighting or drama on the show was just for the cameras.
It worked, and preparation for the show began. Chandler said producers asked for his input on what he would like to see changed in the bar ahead of the renovations, but the ultimate decisions were made by host Jon Taffer.
Some relics remain
During the 36-hour renovation from Dec. 8-10, contractors from the show brought in new furniture, put up wallpaper and light fixtures, wood paneling and a rock backsplash for the bar. They also moved the bar televisions and installed new signage.
But the renovations couldn't cover up Gilly's colorful history. The Wollen Hole – a fist hole in a wall made during the Falcons' 2017 Super Bowl loss – remains intact, although it's now surrounded in plaid.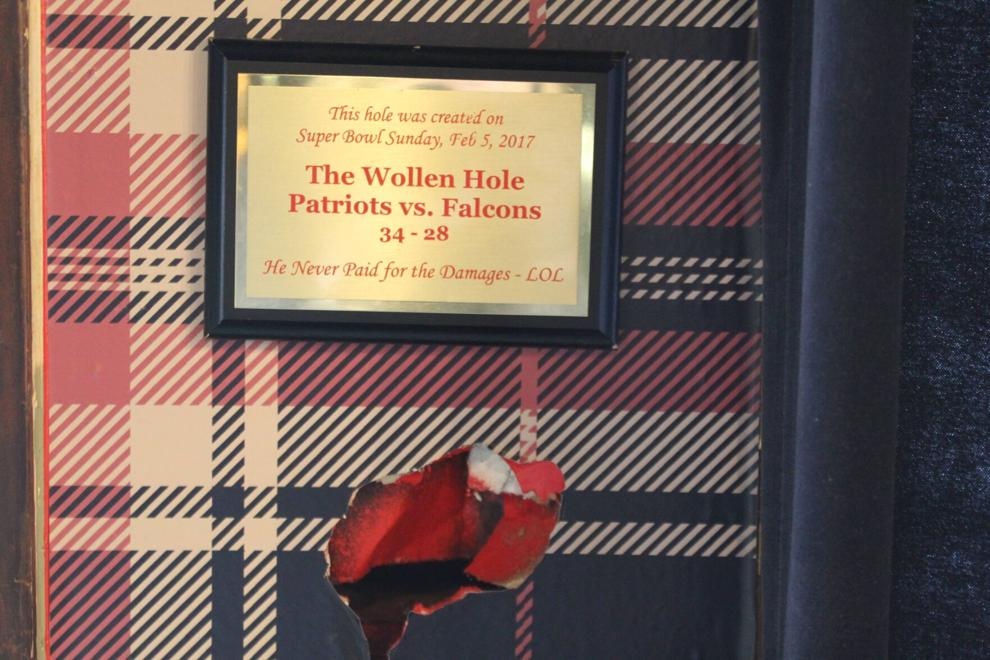 Taffer opted to change the name of the bar to "The Stadium Club" because he said the rounded front of the building looked like a stadium, Chandler said, but it's one change that's not sticking around.
"I'm not getting rid of [45] years of history just because the building is curved, so we are going to go back to Gilly's," Chandler said.
Taffer also left Gilly's with a new drink menu, including a signature cocktail named for Chandler called the Willie Wild Bloody Mary.
The drink uses a new Gilly's special bloody mary mix and comes with a slider on top.
Members of the "Bar Rescue" crew arrived in Dunwoody Dec. 4, Chandler said. They did some preliminary interviews that weekend before the show really began.
"That Monday it was on. Jon Taffer came in yelling, kicking, screaming cursing," Chandler said.
Taffer had two days in the bar talking to the Gilly's crew before barring staff and starting the renovations, Chandler said.
"They kicked us out of here 9:00 Wednesday night and we re-opened about 7:00 on Friday," Chandler said. "It's crazy and it's real how fast they are."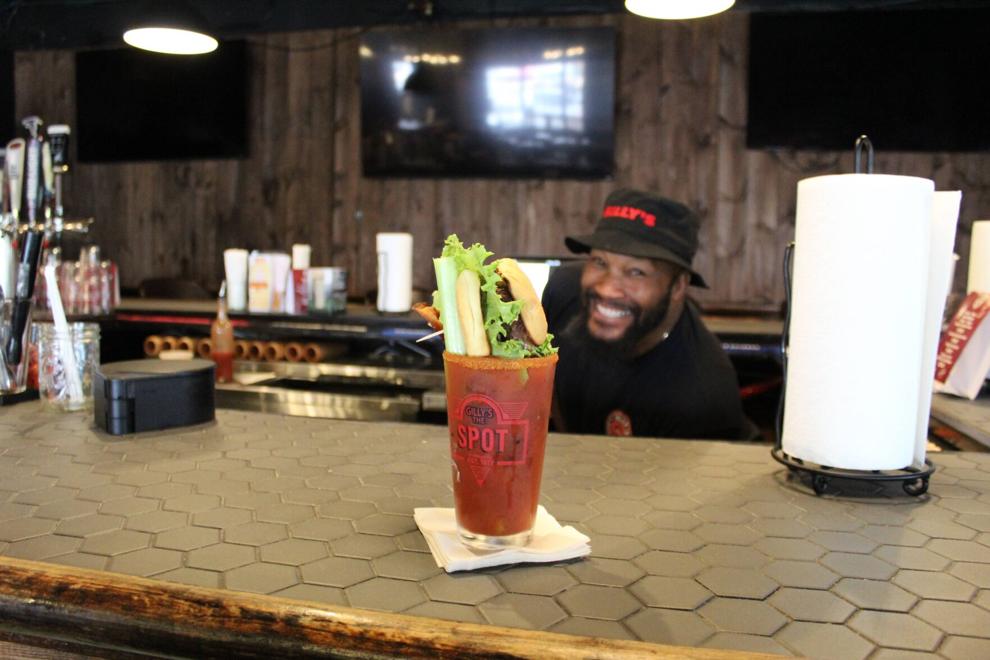 Overall, Chandler said he's happy with the renovations, but it got him thinking more about the future of Gilly's. He's already drawing up plans for his next big update.
Gilly's is a labor of love. After Chandler moved to the Dunwoody area, his first night in town he was looking for a place to play poker and found Gilly's.
He became a regular.
Serious soul-searching
When his mother passed away suddenly, Chandler went to Gilly's and sat at the bar. It was out of character for Chandler, who typically sat in the back. Then owner Jim Gilmore struck up a conversation, sharing that his wife had died earlier the same week.
"And I said, man, we got to get busy living, I gotta start doing things that I want to do," Chandler said. "And he said, 'Man what I need to do is sell the bar.' And that's how it happened."
Chandler said that if his mom hadn't passed away, he would never have sat at the bar and had that conversation with Jim that changed his life.
The rest was history.
When he took over the bar about a year later, he inherited the regular customers who came with it.
"They have a routine and Gilly's is part of that routine," Chandler said. "It's like their home away from home, it's like a family."
Mike Sheffield has been going to Gilly's for more than 20 years.
"It's a total cliché, but it's just a local, friendly bar," Sheffield said. "You walk in, and pretty much everybody knows you and they remember what you drink."
For Sheffield that's a Bud Light. He's a fan of their burgers too.
"It's a fun place to just sit around and chat with the locals, watch sporting events," Sheffield said.
Now in his 50s, Sheffield has been a member of the community about the same amount of time as the bar itself. He graduated from Chamblee High School and still supports their football team to this day.
When Chandler took over the bar six and a-half years ago, he made sure to support the Chamblee Bulldogs and the Dunwoody High School Wildcats, Sheffield said.
"Willie is such a supporter of the area," Sheffield said. "He just tries to stay active in the community and has done a really good job since he's taken over Gilly's."
Chandler said the Gilly's episode of "Bar Rescue" is set to premiere on March 20, and the bar will be hosting a watch party to celebrate.