ALPHARETTA, Ga. — About 50 members of the Dunwoody community gathered to celebrate the city's newest park, a former swim-tennis club in the Waterford subdivision in the northeast part of the city.
Parks officials say the conversion of the land from a private swim-tennis club to a public park is the first time the city has attempted such a venture.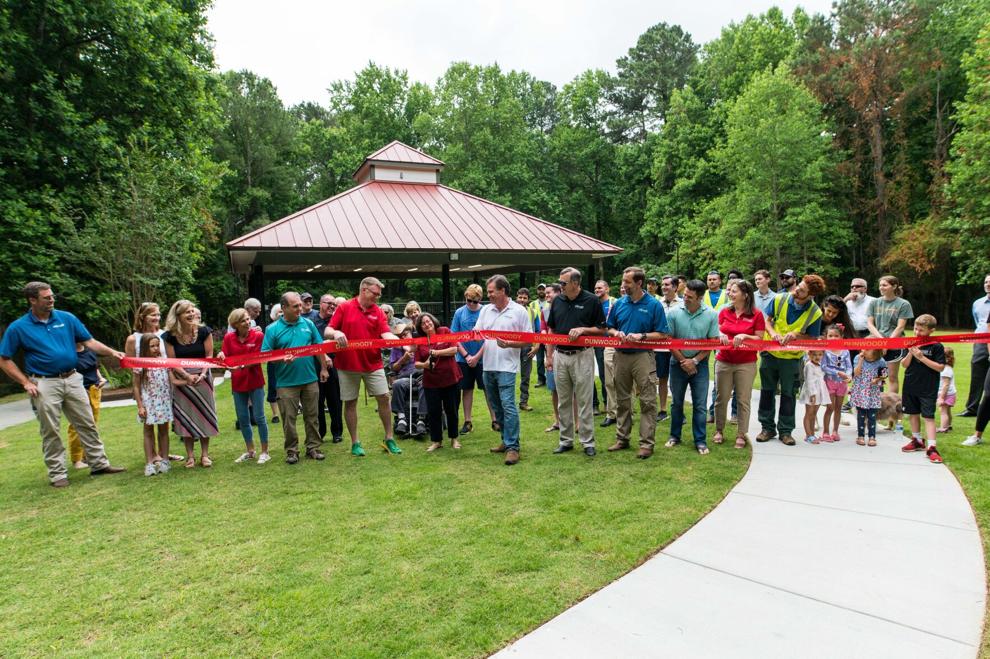 Several Dunwoody City Council members, including Mayor Lynn Deutsch, along with city staff, attended a ribbon cutting June 2 to celebrate the completion of the first phase of improvements at Waterford Park, a 7-acre tract located at 4565 Dellrose Drive. The city purchased the land in December 2019 for $125,000 from DeKalb County District 1 bond money, and invested about $200,000 in improvements, which included refurbishing two existing tennis courts and demolishing the pool and surrounding deck area.
The second phase, which park officials hope to begin next year, will include constructing bathrooms, a playground, bridges and a pavilion. There are several existing natural trails in the tract that will be further developed.
"When we could not save our pool, we wanted to have a safe place for families to continue to get together," said Danica Henry, Waterford Neighborhood Association board member. "Neighbors have always taken walks on the property, so we were also interested in walking paths and a way to connect neighborhoods. We are excited to see our vision come to life and thank the City of Dunwoody for making this possible."
Dunwoody Parks and Recreation Director Brett Walker said the city, in its 2012 Master Plan, identified the northeast corner of the city as in need of greenspace.
"We are glad to have this park for the residents of Waterford and surrounding neighborhoods," Walker said. "It's a great place for families to gather, walk the trails and enjoy the outdoors without having to get in the car and go somewhere."
Walker said there were preliminary thoughts about repairing the pool and operating it as a city facility, but it was determined that the extra expense, as well as a lack of demand, made it unfeasible.
The tennis courts will be available on a first-come, first-serve basis with no reservation system, Walker said.
At the ribbon-cutting ceremony, Deutsch complimented Council Member Tom Lambert for spearheading efforts to purchase the club and convert it to a park.
"Without his vision, we wouldn't be here today," she said. "It's not only a great enhancement for the neighborhood, but for the community."
The addition of Waterford Park brings the city's total park land to about 200 acres, Walker said. That's still below the national average of 10 acres of park land per 1,000 residents but moving toward the city's goal of having 5 acres per 1,000 residents. The city's total park land does not include the recently purchased 9-acre tract of land on Vermack Road, which is still in the due diligence phase.