DUNWOODY, Ga. — Like death and taxes, a significant water leak on Dunwoody's Peeler Mill Court seems certain almost every year.
Longtime resident Erin Smith said during the 20 years she has lived at the home with her husband, Dwight, and their children, there have been at least 15 minor or major water leaks in her front yard. She lives at the top of the hilly street and has personally witnessed the devastation both to her yard and that of her neighbors' yards at the end of the cul-de-sac.
"It's almost an annual event that we wake up to water pouring down our hill," she said. "On Halloween, the water kept gushing out for three hours before the crews arrived."
The incidents have happened so often, it's prompted some dark humor, according to the residents. During Halloween, after another early morning leak, several jokesters erected tombstones around the repair spot. One proclaimed "Buster Pipes – Cracked Under Pressure," while another memorialized "Walter Pressure – Slowly Sputtered Out." And finally, one tombstone paid respects to "Count E. Maintenance – Buried and Forgotten."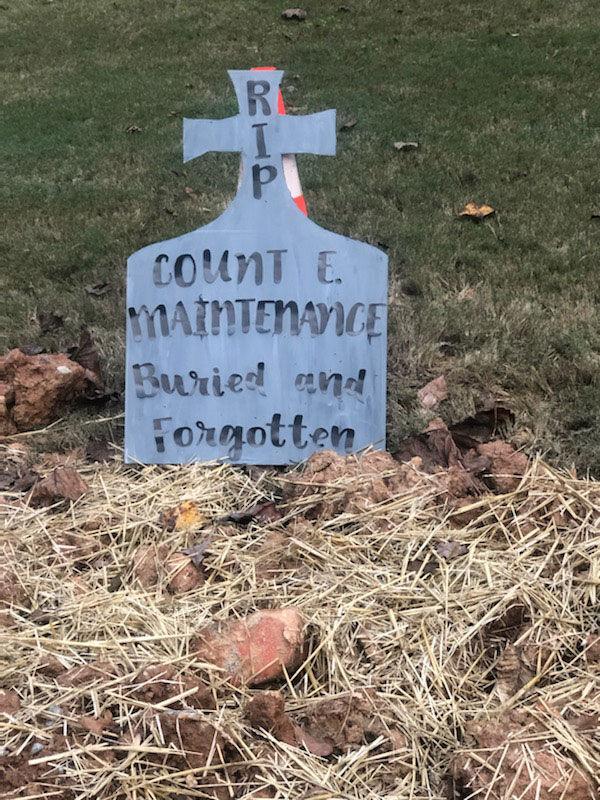 "If it wasn't such a waste of money, it might be funny," Smith said. "But this has gone on way too long. We had another major leak last Thursday, and it's getting to be ridiculous."
DeKalb County officials say that the leaks have been caused by a county-wide aging water and sewer system that will be repaired over the next 10 years at a cost of $2.4 billion.
"This area is serviced by a 6-inch-diameter concrete pipe that was originally installed in 1968," a statement by DeKalb County said. "Since 2011, there have been five water leaks in the public system at this location, according to Department of Watershed Management records. Additionally, there have been two private water leaks at this location."
Ben Greenwald, who has lived with his family on Peeler Mill Court since 2016, said there have been several incidents since he moved in, and at least four in the past month.
"It seems to be escalating, and the fixes that they are doing seem to be little more than just patching, rather than actually addressing the problem," Greenwald said. "It's frustrating watching thousands of dollars in taxpayer money being wasted in this manner, as well as the inconvenience to all the neighbors."
Greenwald said the incidents and the repair process seem to occur in a predictable manner.
"First, you go to turn on a faucet or a shower, and there is no water coming out, so we look outside and there's all the water running down the street," he said. "We then call DeKalb County, which sets off a two- to five-hour process of them coming out, turning our water off, digging a trench, fixing something, and then putting the dirt back in. And then everything works great, until it doesn't."
The neighbors have said that while they are impressed with the response time from DeKalb County, they are frustrated about the collateral damage that has been caused by the crews and the lack of a permanent fix.
"Last year, we got our streets paved, and the last time they dug the trench, as they usually do, they put the dirt in the road," Greenwald said. "But when they replaced the dirt into the trench, the machines left big gouge marks in the pavement. I doubt DeKalb County will be back to repair that damage."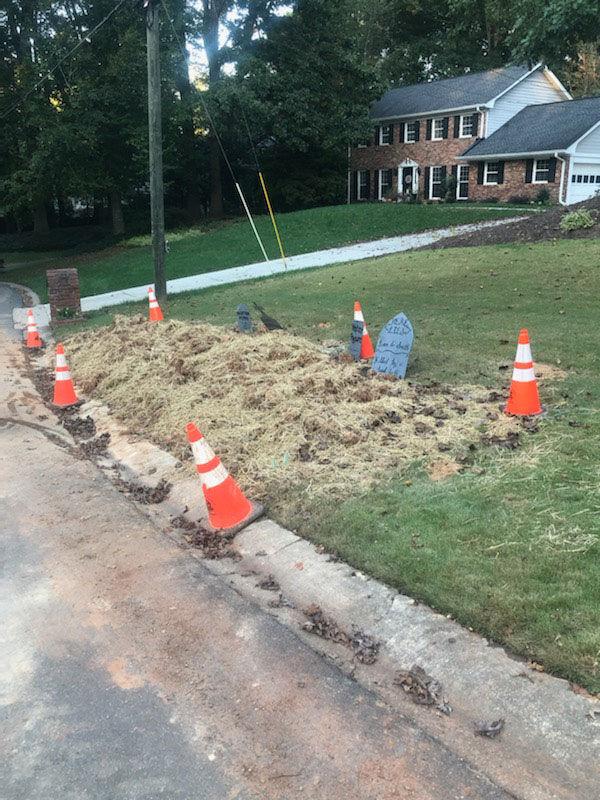 The Smiths say they have also experienced significant damage to their yard, including broken irrigation sprinklers, which they have had to repair at their own expense. In addition, several times, sod replacement has been slow.
"The last time, it took seven months for the sod replacement costs to be sent, "she said. "I had to pay for it, then wait for the county to reimburse me."
Rachel Williams, the Smiths next door neighbor, said her young children really enjoy watching the repair work, but she would prefer a different type of entertainment for them.
"We do love the digger action, but we wish the county would be more proactive in finding a real solution," she said.
The county's statement said that DeKalb County has repaired the pipe at different points two times and replaced a service line that was deteriorated. The statement did not indicate when permanent repairs to the lines would occur at the Peeler Mill Court or whether it was listed as a priority on the county's repair list.