DUNWOODY, Ga. — For the most part, the Dunwoody City Council District 1, 2, and 3 candidates debated each other with courtesy and respect. But at times, it got ugly.
All six candidates appeared at a forum hosted by the Dunwoody Homeowners Association Oct. 13 at the Kingsley Racquet and Swim Club, answering questions from the organization's President Bob Fiscella. The forum was divided into three segments, with the candidates from each district going head-to-head.
Catherine Lautenbacher and Terry Nall are running for the District 1 seat, vacated in July by Pam Tallmadge. Rob Price is running against two-term incumbent Jim Riticher for the District 2 post, and Brian Sims is vying for the District 3 seat against Tom Lambert, who has held the position for four years.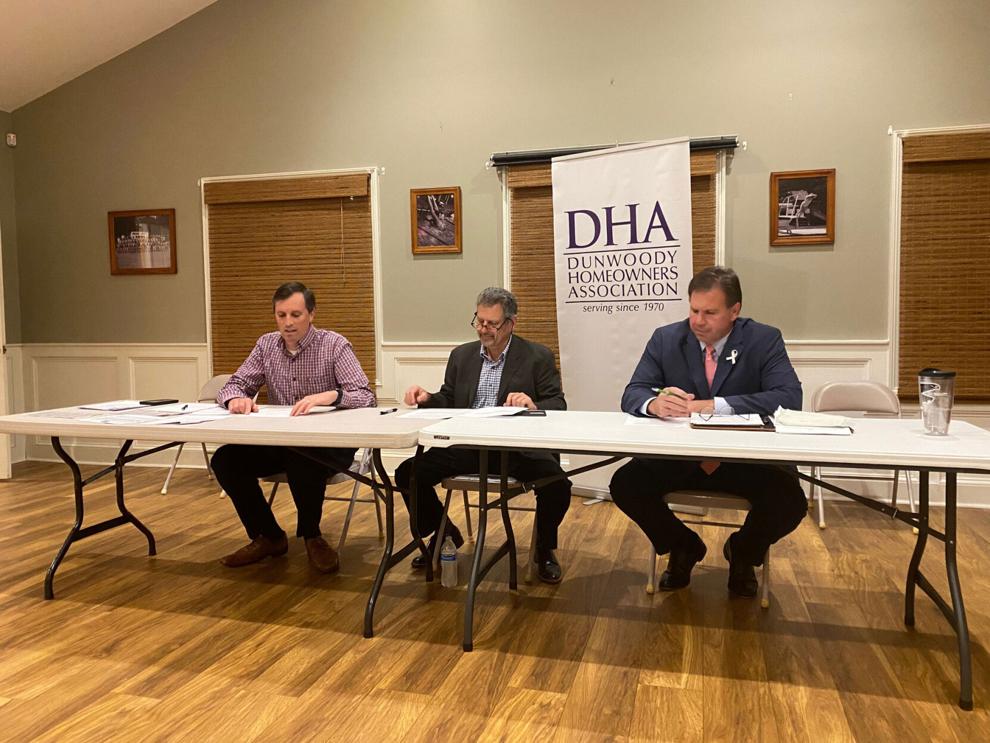 It was during the final segment when the tone turned negative. Sims accused the current council of "the blatant demolition of viable city assets" when the decision was made to level the former Austin Elementary School property on Roberts Drive rather than convert it to another use.
"I can't believe one structure other than the playground could have been saved that could be used by other non-profits in Dunwoody, like for a senior center," Sims said.
He also accused Lambert of using "future speak" to talk about his first term as a council member.
"We need a leader to make things happen now," he said.
After the debate, Lambert said Sims' remarks about the building's viability for use by non-profits were inaccurate.
"We asked every non-profit in Dunwoody if they wanted to take a look at taking over the facility, and not one was interested," he said. "The cost of bringing it up to code was economically infeasible."
Both Lambert and Sims said they felt recruiting and keeping quality police personnel were top priorities for the next council.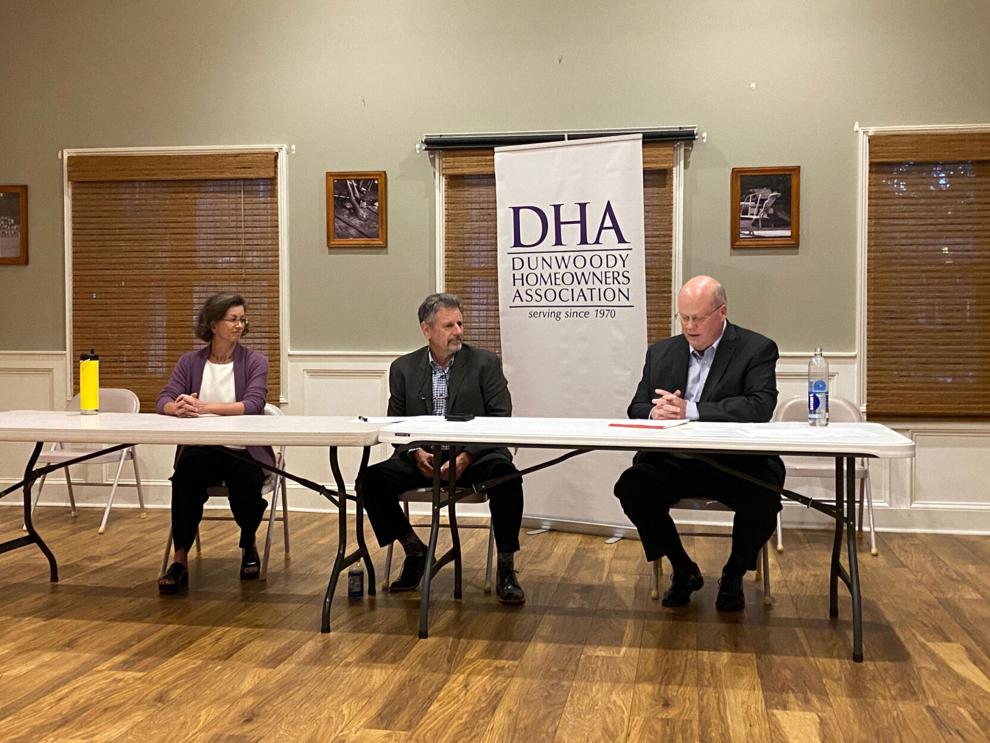 During the District 1 debate, Nall questioned Lautenbacher's commitment to the Dunwoody community, quoting an article in the Faces of Sandy Springs website in which Lautenbacher said her home is located just two blocks inside the Dunwoody city line, "but my life is centered in Sandy Springs."
"That's where I work," Lautenbacher replied. "I live in Dunwoody, and I volunteer in Dunwoody. Also, we are not in competition with Sandy Springs, we are in cooperation with Sandy Springs."
All of the candidates except Nall said they were wholeheartedly in favor of a parks bond referendum as a possible funding mechanism for the buildout of the two newest land acquisitions at Roberts Drive and Vermack Road. Nall said that a bond "was one of the avenues that could be utilized."
If elected, Nall listed as his top priority more competitive police pay and a greater level of fiscal responsibility.
"I'm the only certified public accountant to serve on the City Council," Nall said. "It's time to bring back the CPA to the council."
Lautenbacher said her priorities include supporting a parks bond referendum and the development of Dunwoody Village into a viable city center.
"It's a gem of an area," she said. "We need to revitalize Dunwoody Village."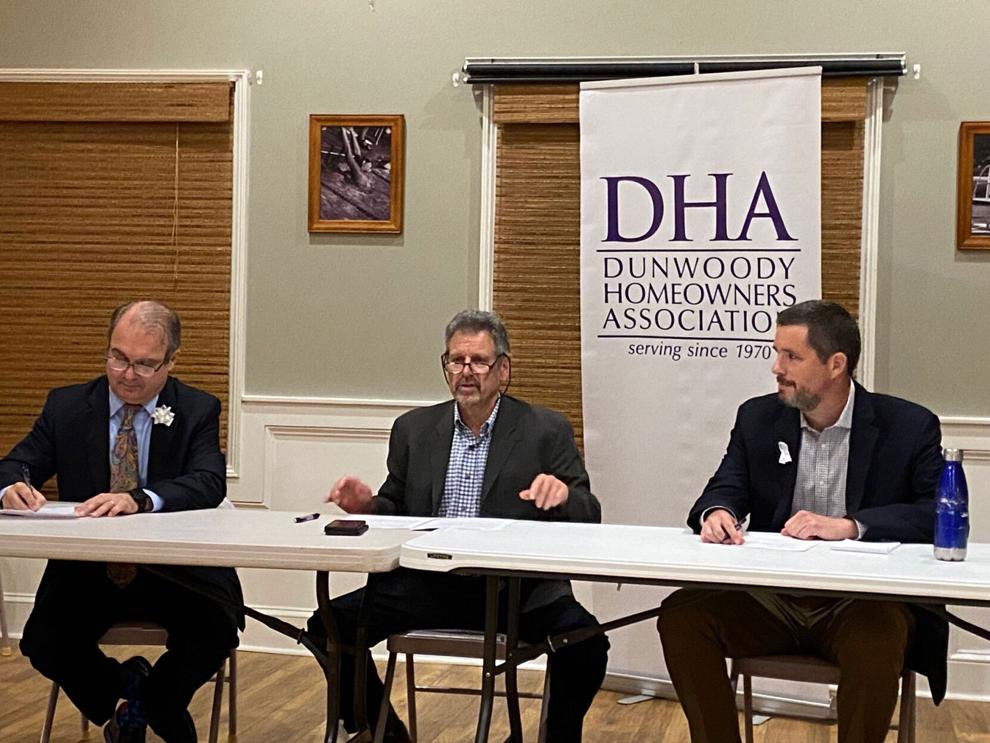 The exchange between Price and Riticher took on a lighter tone. Fiscella invited each candidate to ask of question of his opponent.
"Jim, what are looking forward to doing after the pandemic ends?" Price asked, to which Riticher replied, "More concerts, more live music."
"What's your favorite restaurant in Dunwoody and why?" Riticher asked. Price answered, "I have a lot."
Fiscella, amused by the exchange, asked both candidates a question of his own.
"Do you guys want to talk about your favorite color next?" Fiscella asked.
Price and Riticher both said they were in favor of offering more incentives to prospective police officer candidates in Dunwoody, including increased pay and more competitive housing allowances.
The two also agreed that the city was moving in a positive direction, but Price said he would like to see more citizen involvement in decisions involving future initiatives. Riticher said his eight years on the council was needed to balance "a relatively inexperienced City Council."
The election will be held on Nov. 2, but early voting at the Dunwoody Library, 5339 Chamblee Dunwoody Road, has already begun and will run through Oct. 29. According to the DeKalb County Voter Registration website, hours are 7 a.m. to 7 p.m. Monday through Friday. Saturday voting is on Oct. 16 and 23 from 9 a.m. to 6 p.m. Sunday voting is on Oct. 17 and 24, from noon until 5 p.m.