DUNWOODY, Ga. — Dunwoody and Chamblee area parents say they are stunned and furious over DeKalb County Schools' decision to combine classes, reassign teachers and relocate staff to other schools outside their region.
More than 170 teachers are involved in the balancing initiative, which comes more than two months into the school year. School district officials say the adjustment was necessary because of a miscalculation in the number of students expected to return this year.
Officials say the moves are necessary in order to retain $12 million in state funding that would be lost because of the unexpected reduction in student population.
"Our projections (regarding the number of students returning for the 2021-2022 school year) fell short by about 3,750 students, which has triggered the threat of having to return money to the state," DeKalb County School Board Chairwoman Vickie B. Turner said. "There is an expectation of compliance every year, and this year is no different."
Turner said the "District Balancing" was achieved by switching teachers to other assignments within their school buildings, moving them to other schools in their region, or relocating them to other schools outside their region.
"We started out with 174 positions in jeopardy, and then it went down to 82, 78, 67 and 59 and so on," Turner said. "We are now down to a few teachers that we have not yet found assignments for. It was necessary to move these teachers to schools or grades that literally had no teachers in the classroom."
In some cases, the reassignment of teachers within a school has had a domino effect that touches nearly every student.
Montgomery Elementary School, because of a lower-than-expected student population, had four teacher positions facing elimination. An email sent by Montgomery Principal Lori M. Bolds on Oct. 2 explained that two teachers, second grade teachers Evie Derrick and Tori Governale, were reassigned to special education classes within Montgomery, while two others, fourth grade teacher Taylor Harris and fifth grade teacher Laura Nuttall, were designated for assignment to other schools.
Beginning Oct. 6, the plan called for dividing students from classes eliminated in kindergarten, first, third and fifth grades among other teachers. Two people would teach second grade instead of their regular assignments and another teacher was to be reassigned to teach math and science in the fourth grade.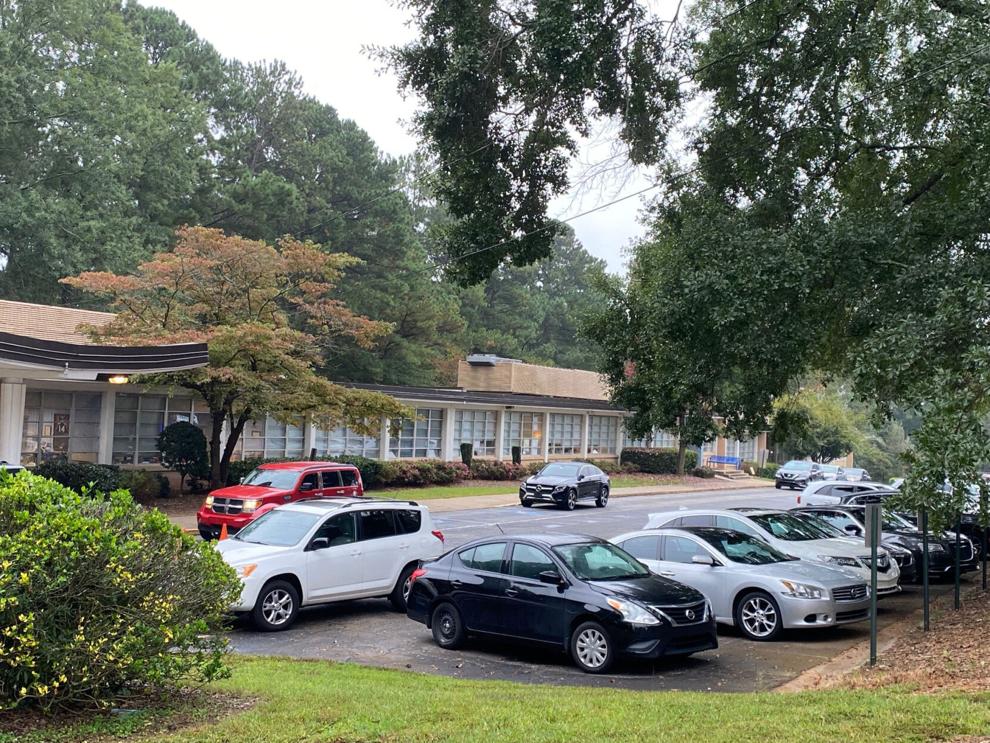 Montgomery parents say while they understand the need to achieve a staffing balance, the timing and the manner in which the changes were communicated was unacceptable, because historically, balancing happens much earlier in the year.
"After what these kids have been through — virtual learning for more than a year – these kids need some stability," said Matt Sery, the father of a fourth grader who is to be reassigned to a new teacher. "To do this after more than two months in the classroom, instead of in the first few days of the school year, the way it's supposed to happen, is tearing this community apart."
Turner admitted that the school system has moved too slowly to implement the changes.
"In hindsight, we should have gotten the numbers earlier rather than later," Turner said. "We waited until after Labor Day to see if there would be any more students returning, but it didn't happen. Waiting that long was an error on our part."
Montgomery parents are also upset about the way they discovered Harris would no longer be working at the school. A routine email sent by Harris on Oct. 1 regarding a link to that week's activities, had as its return address "Taylor Harris (Wadsworth Magnet School)."
Several parents said Harris was unaware of her new assignment to Wadsworth, which is 17 miles away from Montgomery, until parents notified her of the altered email address.
Turner, when informed of the incident, called it "totally unacceptable."
"We are going to peel this back and get more information about how this happened," she said. "That is unfortunate and unacceptable for both the teachers and the stakeholders."
Montgomery is not the only school facing shifts in teacher assignments – nearly every elementary, middle and high school in Region 1 has made staffing changes over the past few weeks, Turner said.
She said forces beyond the school system's control are driving the decisions.
"The pandemic is forcing us to make uncomfortable decisions, but we are trying to make them as skillfully and strategically as we can," Turner said.
Parents who contacted the Crier regarding the changes, sharply disagree with Turner's assessment.
Liz Lewis, whose son was in Nuttall's class, said he has been devastated by the news that his class is being split.
"He cried all morning (upon hearing the news), and I'm talking 'boo-hoo' tears," Lewis said. "That is all about losing his teacher, who he loves, and being split up from the friends he has made."
Sery said his fourth grader had the same reaction.
"She just broke down," he said. "She said, 'Another year of them making school absolutely no fun.' I got choked up just watching all of this happening. At this point, we are considering other options for this year, and I know other parents are doing the same."
Lewis also said she was concerned about the number of students in the new consolidated fifth grade classroom, which she estimated will number about 27 per class.
"Last year, it was all about COVID and taking precautions, and this year, they are going to shove all of these kids into one classroom," Lewis said. "How will it even be possible to have social distancing with that many children in one space?"
Sue Radics, who has a fourth-grade student at Montgomery, said she doubts that teachers can adapt to the schedule for transition laid out by school administrators.
"How can a reassigned teacher transition her current students to a new staff member, develop a new curriculum at a new grade level, write new lesson plans, meet with new grade-level teachers, move supplies and materials from one classroom into another, and prepare teaching content with five days' notice?" she said. "It takes weeks for students and their new teacher to acclimate at the start of a new year, adjust to new routines, get to know each other, become comfortable, and allow the teacher ample time to learn students' learning styles and behavior patterns."
Radics said she was planning to air her concerns on Oct. 4 during a virtual town hall meeting that Bolds is holding for parents in each grade level.
Turner said she recommends that parents try to put a positive spin on the upcoming moves.
"The children will react as the parents do," she said. "This isn't a bad situation. It's just how you look at it. The good news is that these teachers still get to teach. They still have jobs."