ALPHARETTA, Ga. — The newly painted sign at the Nicholas House says it all — "In a world where you can be anything, be kind."
The mothers and sons of the Alpharetta Young Men's Service League, who created the mural, have certainly been kind — even the pandemic didn't stop the volunteer organization from serving the community through its Ultimate Gift project.
Young Men's Service League is a national nonprofit organization that encourages high school-age men and their mothers to volunteer in their communities while growing mother-son relationships. The goal of the Ultimate Gift project is for each Young Men's Service League chapter to partner with one charity on a one-day project that represents a major offering to their community. This month, the league's Alpharetta chapter partnered with two local charities — the Nicholas House and Meals by Grace — for its Ultimate Gift. More than 200 moms and sons in the Alpharetta Young Men's Service League spent Oct. 24 performing external repairs on the Nicholas House, a local homeless shelter. The following weekend, the group volunteered at the free meal delivery program Meals by Grace.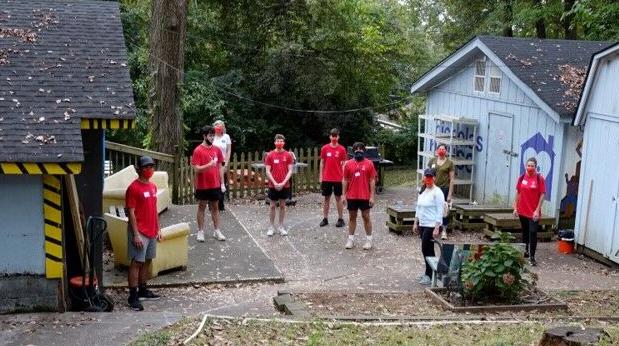 "It's an organization coming together on a concentrated effort with our 200-plus members going to a facility and making a big transformation, something only 200 people could do," said Rebecca Reed, Ultimate Gift Committee chairwoman for Alpharetta Young Men's Service League.
Planning for the two projects has been ongoing for several months, Reed said. The chapter engaged the philanthropies as well as their neighbors, sponsors and donors — all while observing COVID-19 safety protocols.
Reed said the chapter dedicated its Ultimate Gift to the Nicholas House and Meals by Grace because they were "amazing organizations" with a track record of success in their missions. The Nicholas House provides shelter for more than 600 homeless parents and children every year, with an emphasis on keeping families together.
Rodriquez Foster, volunteering and marketing coordinator for the Nicholas House, said the two organizations' missions overlap in that their motivation is about maintaining and nurturing familial connections. He said Reed asked them what they needed most. The conversation led to the Oct. 24 event, where Young Men's Service League volunteers repaired fences, railings and picnic tables, cleaned and reorganized a shed and painted the mural.
Reed said the League's business sponsors, Maximum Impact, Kroger, Trader Joe's, Home Depot, Target and Lowe's provided discounts or donated supplies.
Foster said the group was characterized by "willing spirits and willing hearts," adding he hopes to continue a partnership with the chapter well into the future.
The mothers and sons were scheduled to complete the second part of their Ultimate Gift project Oct. 31 with Meals by Grace, which serves Forsyth County children and their families who are in need and have limited or unreliable transportation.
Meals by Grace cofounder Stephen Daniels said the Young Men's Service League chapter volunteered to clean and help replenish the food pantry, replace deteriorating plastic shelving, and create healthy recipe cards and signage that promotes healthy eating.
Daniels said the Young Men's Service League is a regular partner and that its members are "the epitome of what a volunteer should be."
The Young Men's service league represents more than 10,400 moms and 11,500 young men across 16 states.