JOHNS CREEK, Ga. — Situated between the bocce ball courts and the Veterans Memorial Walk in Newtown Park is a community hub of Johns Creek.
The community garden, run by the Johns Creek Garden Association, provides an oasis that figuratively — and sometimes literally — nourishes its tenants.
Leadership Johns Creek built the garden in 2010 with 41 plots. It was later expanded and now includes 52 plots, four of them elevated for seniors or those who find it difficult to bend down to still tend the plants.
Through March 15, the Garden Association is accepting applications for open plots which will be awarded on a lottery system.
Contrary to the method of dispersal, participation in the community garden requires much more than luck. Gardeners must abide by 28 written rules and regulations, most pertaining to respecting fellow green-thumbed residents.
Inside the 4-foot by 8-foot plots, gardeners can plant vegetables and flowers, with some exceptions, like illegal plants, summer squash which brings bug infestations, invasive plants like mint or ivy and tall crops that would shade their neighbor's plots.
Member gardeners also agree to generally tend to their plot at least once a week, to harvest their crops in a timely fashion and to not use synthetic pesticides, among other stipulations.
Inside the gates of the garden, there's a feeling of camaraderie, a shared passion that brings all the gardeners together, said Jim Bostedo, a lifetime gardener who has enjoyed a plot at the park for four years.
"Everybody is super friendly. You know the old saying from Pike Nurseries, 'You have fun playing in the dirt,' well you do, you do have fun playing in the dirt," Bostedo said. "Anytime you walk in there and somebody's there, they're going to talk to you, there's no shyness about it. If you're a gardener and you come in here, you're going to get talked to, and it's just a lot of fun."
Gardeners will share pointers they've learned over the years. They'll share seeds and crops too. When a gardener goes out of town or on vacation, their plot neighbors will lend a helping hand, harvest their tomatoes, water their cabbage.
Bostedo's "money crops" are his tomatoes, green peppers and cucumbers.
"The last two years, I have put up probably 25 or 30 pints of pickles from the cucumbers we've gotten from the garden," Bostedo said.
He's shared his bread-and-butter variety with three generations of his family.
Mitch Yakrus, Garden Association president, has been involved with the organization and the community space since its founding in 2010.
Like Bostedo, Yakrus decided to grow his crops at Newtown Park due to limited sunlight in his own yard.
The garden at Newtown is sun-soaked and enclosed by a fence to keep pesky deer at bay.
Gardeners still have to ward off the occasional squirrel and chipmunk, though. The community blueberry bush at the front of the garden becomes a free-for-all when the berries bloom, Yakrus said.
After Yakrus sorts through the applications and selects which new members will take over open plots, all the gardeners will gather in mid-April for a work day.
Using the $10 annual membership dues and the garden plot fees — $60 for a plot, $25 for senior citizens — Yakrus will purchase fresh mulch and manure for the growing season.
During a two-day period, the gardeners file into Newtown Park, and tend to their plot, clearing weeds, laying mulch and fertilizing their soil with manure.
In early June, the gardeners traditionally assemble to hear a guest speaker and vote on their board of directors.
The garden is maintained almost entirely by the Garden Association, Yakrus said. The City of Johns Creek maintains the pipes and the water, but everything else inside the fence is managed by the Garden Association.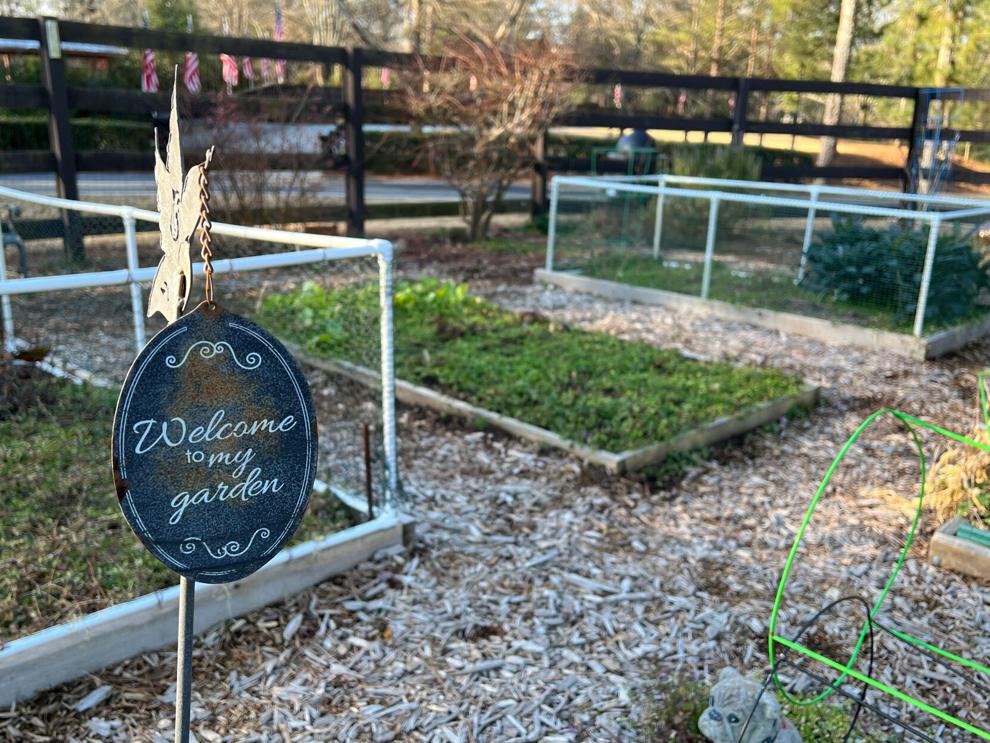 Despite the uniformity in the garden layout, each plot has its own personality. Some long-time tenants have added signs and statues to set their garden apart.
Bostedo and his wife Donna have a ladybug gracing their plot. Donna also plants marigolds around the edges, drawing bees that pollinate their flowers.
Yakrus has a metal sign in front of his plot that reads, "Yaktopus's Garden," a play on the Beatles song, "Octopus's Garden."
Those interested in joining the community garden can learn more by visiting johnscreekga.gov/recreationandparks or by emailing johnscreekgardena@gmail.com.