MILTON, Ga. — Milton High School honored the lives lost on Sept. 11, 2001, as well as the heroism of the survivors with a special 20th-anniversary memorial service Friday, Sept. 10.
The event featured junior Keigan Cross' reading of a first-hand account from a first responder, Sal Puglisi, who narrowly escaped the collapse of the Twin Towers and lost several colleagues that day, including two of his close friends, Mario Santoro and Keith Fairben.
Cross said reading Puglisi's story was impactful because she wasn't alive when the attacks happened.
"We can only hear their stories," Cross said. "So, by reading one, it was something very special."
In his account, Puglisi said he met with Santoro and Fairben for breakfast one hour before the attacks. At that time, Puglisi was an emergency medical technician at New York-Presbyterian Emergency Medical Services. He said he loved his job and could see himself working as an EMT or paramedic for the rest of his career.
However, his plans changed after the attacks.
"We all know what began to happen at exactly 8:46 a.m. on Sept. 11, 2001," Puglisi said. "Our world changed; my world changed. Sadly, almost 3,000 people's stories ended that day including several friends, colleagues, and Keith and Mario. Dealing with the massive amount of loss, narrowly escaping the glass, and the months of ceremonies and funerals that followed took an emotional toll. It took me some time to realize Sept. 12, 2001, was the beginning of my story."
Puglisi said he often found himself looking over his shoulder waiting for the next 9/11 after the attacks, but he felt he had been given a second chance and wanted to use it to do something impactful. Today, Puglisi teaches high school near Ground Zero, and, four years ago, he started an EMT program.
To date, he has trained 17 EMTs, six of who are working full-time at ambulances throughout New York City. As a first responder and survivor, Puglisi thanked Milton High School for embracing the meaning of "Never Forget."
"When I learned about your flag remembrance, I was taken aback," Puglisi said. "Every single flag that has been placed in this remembrance is impactful. Look around here today. Feel the impact and be sure to bring that impact and purpose with you no matter where you go. On behalf of Keith, Mario, their families and every single 9/11 first responder, thank you for not forgetting."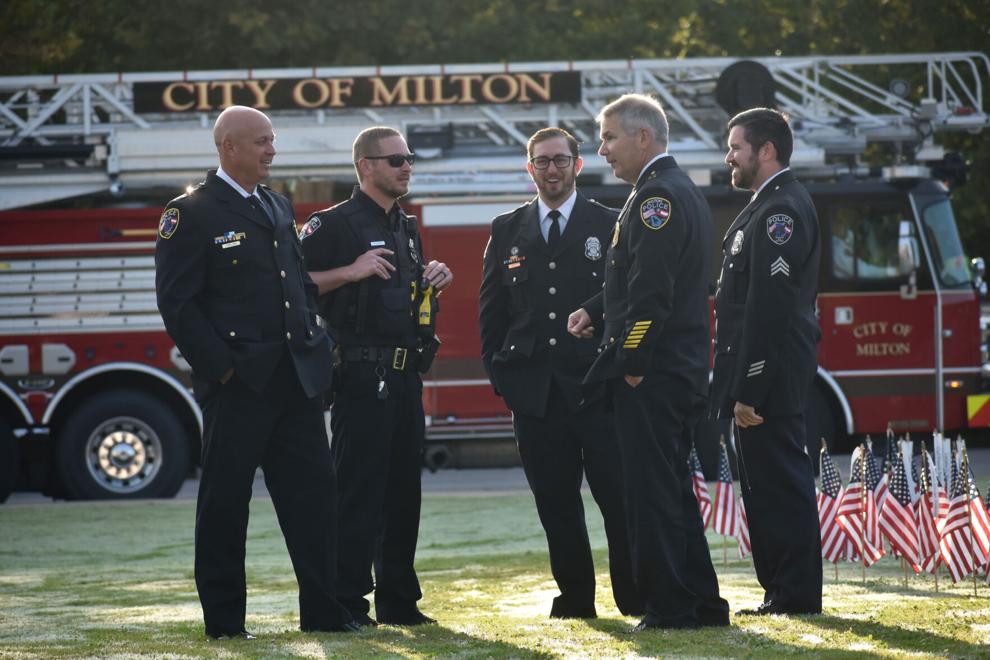 Members of both the Milton police and fire departments attended the event. Police Captain Charles Barstow — one of the original 16 officers who started the Milton Police Department — said he's been reflecting on 9/11 over the last few days.
"It brings up emotions, it brings up things that I felt on that day, and I think that'll always be there for me," Barstow said. "It's about making sure that this younger generation of people who weren't alive are able to somewhat experience what we went through as police officers. Even though we weren't at Ground Zero, there are still emotions that we feel."
Police Chief Rich Austin said 9/11 is an opportunity to also honor the resiliency of the country.
"We're just very appreciative that the community comes together and appreciate all the organizers for putting this event together especially on the 20th anniversary," Austin said. "It means a lot to all the first responders, and I think it means a lot to the community."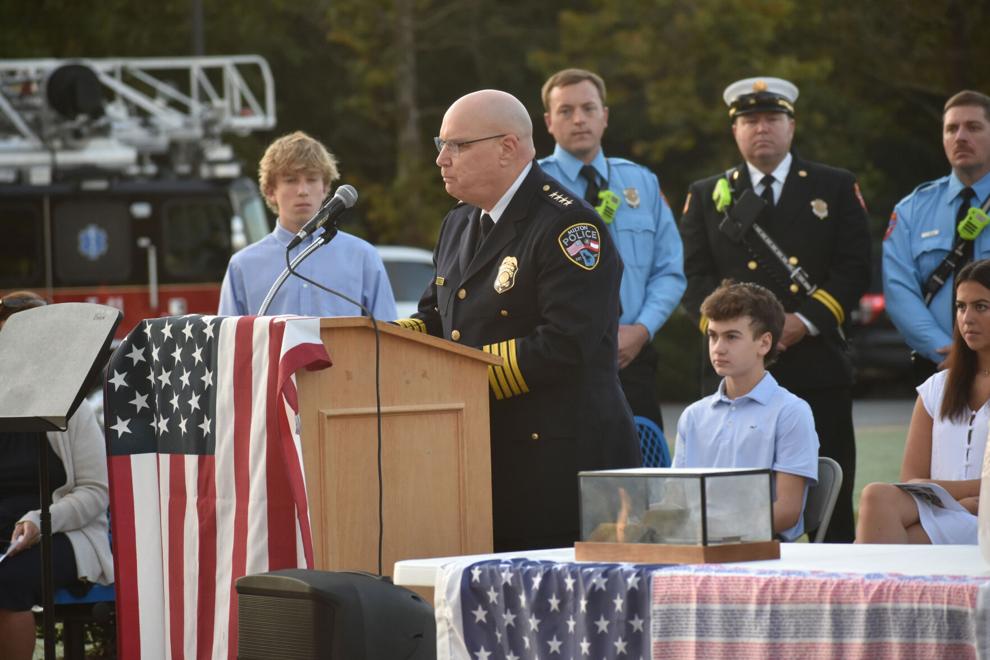 Jen Mikels, co-chair of the 9/11 Memorial, thanked the police and fire departments for their support.
"We couldn't do this without them," Mikels said.