MILTON, Ga. — Family, friends, athletes, coaches and dozens of others filled the gym at Milton High School June 18 for a "Celebration of Life" event for beloved business owner and coach Brad Zettler, who recently passed away from a rare form of cancer. Zettler, 47, a husband and father of two, died June 7 as a result of ocular melanoma.
Following a visitation on June 17 at Northside Chapel in Roswell, the community continued to pay their respects to Zettler at the celebration of life event at the school. Zettler's family, friends, colleagues and others shared their sentiments and stories about the fun-loving, dedicated and passionate man and the positive life lessons and experiences he instilled within them.
"He was one of a kind, my absolute true love," Zettler's wife, Dana, said. "He was loyal, fun, loving, the best husband, father, son and friend anyone could ask for. He made me and everyone else a better person."
Blake, Zettler's eldest son, said the love and support he and his family received from the community over the last few weeks was "unbelievable."
Zettler was perhaps best known around the Milton community for his role in local athletics, specifically Milton football. He served as the feeder program's coach for six years and headed the Touchdown Club for three years. Dana called football his "escape."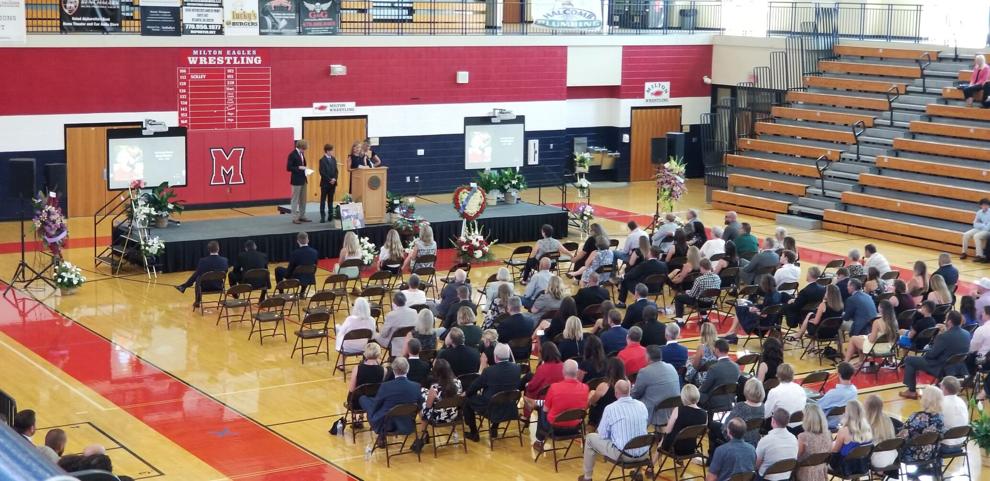 "He generously invested his time in developing our children, coaching football, baseball, basketball and soccer for over 20 years," Zettler's family posted online. "Brad passionately taught our boys lifelong lessons about character and competition and modeled what it looks like to be a good man and an outstanding human being."
After spending over 20 years with a pharmaceutical company, Zettler became a franchise owner for IceBox cryotherapy.
Dana said upon learning about his diagnosis, Zettler moved to simplify, downsize and focus on family and friends — what really mattered. He also gave himself just a day to feel sorry for himself, Dana said, before hunkering down and continuing to control what he could control.
"He was a fighter and was until the very end," she said. "His battle was intense, but it was silent. He wanted to enjoy life and not be burdened by his cancer."
Brad shared that sentiment.
"My dad didn't know how much time he had with us this year, but he used every day to make an impact on people around him," Brad said. "Never did he sit back and feel sorry for himself."
Dana advised those in attendance to use Zettler's passion and drive to achieve goals to inspire themselves.
"Go hard, live, live loud," she said. "Let's all do this in his honor."
The community has showed its support for Zettler's memory through a GoFundMe drive set up by his family for a Brad Zettler "Live Loud" scholarship fund.
As of June 18, more than $27,000 had been raised, enough to fund the scholarship for four years.
Following the generous outpouring for the scholarship, Zettler's family is seeking to make one of his dreams a reality — a team meeting room in the Milton football field house through the Milton Football Touchdown Club. The family has set a goal of $75,000 it says will offer an ideal environment to teach and reinforce the Milton football's culture of brotherhood, effort and toughness.
Tax deductible donations can be made through miltoneaglesfootball.com, or mailed to Milton Touchdown Club, 12460 Crabapple Road, Suite 202-Box 265, Milton, GA, 30004.
Those wishing to donate to the Live Loud scholarship fund can visit bit.ly/3vypRSw.