ALPHARETTA, Ga. — Friends and former students of the old Milton High School gathered Saturday for the unveiling of a marker noting the 100th anniversary of the school.
About 50 people — including graduates and former staff — assembled at the school's original site on Milton Avenue in Alpharetta to honor its history and to acknowledge the district's new Innovation Academy that now stands in its stead.
Even with new landscaping and a shiny, three-story building in the backdrop, the site conjured images of the old school to those on hand Saturday.
"The old building is gone now," said Jackie Angel, who spent 15 years teaching social studies at the school on Milton Avenue. "But as someone said on our Facebook page, 'Milton High School lives in our hearts, it doesn't live in a building.'"
The old school closed in 2005.
Angel is now in her 16th year at the new Milton High School on Birmingham Highway in Milton.
She said four years ago when the school district announced it would tear down the old building, she and other volunteers with a love of all things MHS salvaged the cornerstones and other memorabilia for installation at the Milton campus.
The historic marker ceremony was sponsored by the City of Alpharetta and the Alpharetta and Old Milton County Historical Society.
Phil Thomas, who served as teacher, administrator and principal for almost 30 years at the old school, said you wouldn't recognize the area from what it's become.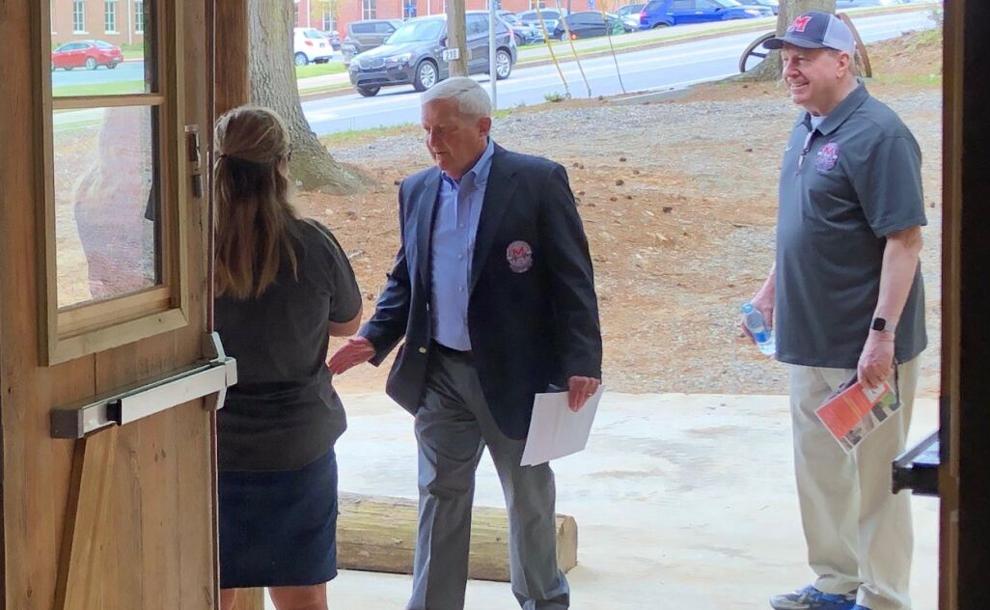 "Fifty years ago this August, I made my first trip to Milton High School," Thomas said. "We drove forever on Ga. 400. There was nothing on Ga. 400 at that time."
That drive onto a gravel parking lot for a job interview began his love affair with Milton High School, he said.
"It's a great school," Thomas said, "and it's great because of this community."
Dignitaries on hand included Fulton County School Board member Katie Reeves, City Council members Donald Mitchell and Karen Richard, and Historical Society President Pat Miller.
The morning also included tours of the historic log cabin which the Historical Society had moved from the school property four years ago to a small public park about a quarter mile west. The cabin, built in 1935 by students enrolled in Future Farmers of America, has been restored with a new roof, kitchen, bathrooms, a storage room and an archive room.
Miller said that after a long wait, the cabin is set to host classes later this spring.
The $58 million Innovation Academy opens this fall and will eventually house some 1,600 high school-age students from North Fulton County in a science, technology, engineering and math curriculum.