DUNWOODY, Ga. — The City of Dunwoody has recognized Pattie Baker and the Chattahoochee Riverkeeper as recipients of the 2020 Sustainability Hero Awards.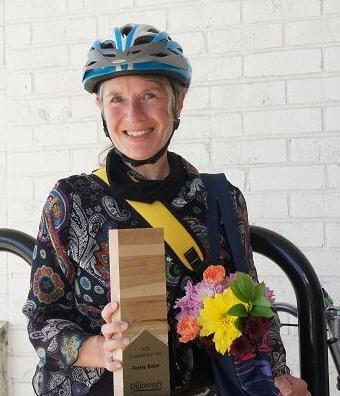 Initiated in 2012, the Sustainability Hero Award program celebrates exemplary individuals and organizations for their dedication, service and leadership in sustainable practices. Nominations for the awards were open to the community, and the winners were selected by members of the Dunwoody Sustainability Committee.
"The pandemic has encouraged us to better appreciate our natural world and the interdependence of our lives," said Nathan Sparks, chairman of the Dunwoody Sustainability Committee and operator of a supply chain consulting practice, SEE Sustainable Solutions. "Our heroes provide great examples of how we each may take part in protecting our natural resources and improving our community."
Baker is known throughout Dunwoody for her tireless efforts to promote sustainable actions and improvements in the community. She is an advocate for alternative forms of transportation and leads by example by using her bicycle as her primary form of carbon-free transportation. Baker served on the Sustainability Commission during Dunwoody's initial years of cityhood and made bicycling and pedestrian-friendly policies a priority.
Baker also promotes urban harvesting and served as a founder of the Dunwoody Community Garden and the food pantry garden at Malachi's Storehouse.
"This award is a really lovely surprise," Baker said at the award presentation at the April 12 City Council meeting. "I want to personally thank all of you at City Hall for everything you're doing to make our city more resilient. Now, more than ever, we can see how important that is. It's really great to see how the seeds we've planted over the years have grown."
The Chattahoochee Riverkeeper was selected as the organization recipient of Sustainability Hero Award for its work educating the community and protecting vital water resources. For the past three years, the nonprofit has partnered with the Sustainability Committee and local volunteers to perform weekly water quality testing of Dunwoody's watershed ensuring residents safe, clean water in the Chattahoochee River. The testing has helped to successfully identify and resolve at least three sewer leaks.
Juliet Cohen, executive director of the Chattahoochee Riverkeeper, accepted the award on the organization's behalf.
"This is such a great honor as we celebrate our 27th year," she said. "You should know that Dunwoody is part of a basin-wide, weekly water-testing program. We're testing at 195 stream and river locations from Clarksville to Columbus. We test nearly 250 miles of the Chattahoochee Watershed and lots of tributaries and lakes in between."
The Dunwoody Sustainability Committee meets monthly to foster efforts in the community to reduce its environmental impact by improving resource efficiency.
Nominations for the annual Sustainability Hero Awards are solicited from the public and reviewed by the committee every winter.
"In honoring our heroes' dedication to reducing our community's environmental footprint, we can be inspired to start our own new sustainable practice, like walking, biking, recycling, and composting," Sparks said. "And, April 22 is Earth Day - a perfect day to celebrate nature and begin a new sustainable habit."