ALPHARETTA, Ga. — It takes years for many athletes have their talents celebrated publicly. But for 9-year-old Jackson Phoenix, that is already checked off his list.
The Manning Oaks Elementary student received the opportunity to put his skills to the test for a halftime performance at a Pro Am basketball game for the Atlanta Entertainment Basketball League (AEBL).
"I am happy that Jackson has found something he is good at and enjoys at such an early age," said Julius Teal, his father. "I am in support of whatever he chooses to do that will keep him mentally, physically, and spiritually fit."
At age 6, Phoenix developed an interest in "any sport requiring a ball" with an emphasis on basketball. When his family moved to Alpharetta, he began working on his game with his father five days a week. Once the schedule became too much for him, Teal enrolled him into a youth basketball league and an individualized training program at the YMCA. It was there where he worked with a professional coach along with his father.
"I've played sports collegiately [local] and professionally in Europe," Julius Teal said. "So, he has heard many stories from other family members and friends as well as seen photos and videos, or what he was able to find in old cardboard boxes, since he has been able to comprehend them."
As Jackson's skills gradually improved, his father placed him into a NIKE basketball camp as one of the youngest players among more than 70 campers. He was then brought over to the AEBL youth camp. It was there, one of the coaches suggested that he perform with the team for the halftime performance.
The crowd cheered him on during the show, and he was posted on the AEBL's Instagram page for his plays. While performing, he caught the attention of NBA Legend Isaiah Thomas with whom he received a photo opportunity. After years of working diligently with his father and coaches, it seems his efforts paid off.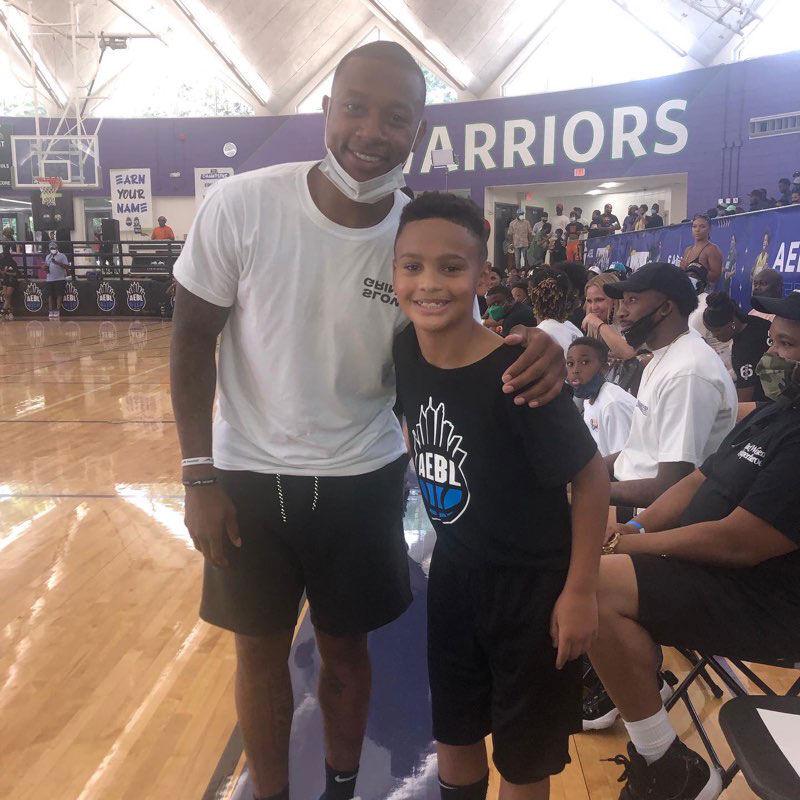 "In guiding Jackson in his athletic endeavors, my involvement is to make sure he is thankful for the opportunity to attend camps, personal trainings, etc., and to provide age-appropriate athletic opportunities where he can thrive," Julius said.
Jackson is continuing his efforts on the court playing in after-school programs and summer camps.
To view photos from his performance, view his posts on AEBL's Instagram page at #jraeblhoops.