ALPHARETTA, Ga. — There's a painful truth Dr. Vonda Wright wants to break to working moms.
"Acknowledge that we're not returning to normal," the Northside Hospital surgeon said.
Speaking at the recent Women INfluencing Business Leadership Series, hosted by the Greater North Fulton Chamber of Commerce, Wright said the so-called "new normal" has working mothers at a professional and financial disadvantage.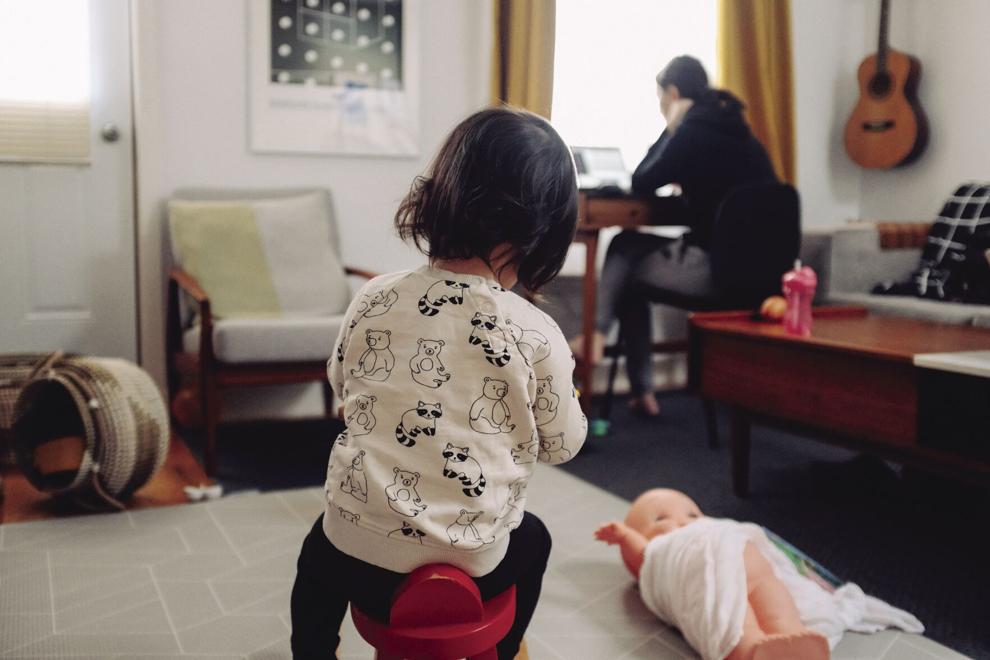 The National Women's Law Center reports women with underage children make up nearly 16 percent of the workforce, but they represent large portions of essential workers that put their lives at risk. Working moms also account for a significant portion of service industry jobs that have disappeared during the pandemic, the center says.
Figures from the Bureau of Labor Statistics show the unemployment rate for women was at 10.6 in July. For men, the rate was 9.8. The numbers improved slightly in August, but women still had a higher unemployment rate, 8.4 percent, than men, 8 percent.
Wright says there is another harsh reality for today's workforce.
"The truth of the matter is, in the future, we're all going to be poorer," she said.
Georgia mothers are already bringing in less money than fathers in the Peach State. According to a May 2020 study by the National Women's Law Center, working mothers overall are paid $0.74 for every dollar paid to fathers in the state. This amounts to a loss of $13,926 annually. Income continues to shrink when the data is broken down by race. Georgia ranks 40th in the nation for pay for Latina mothers, 33rd for Native American mothers, and 30th for White (non-Hispanic) mothers.
Nearly 77 percent of moms work full time, and many are the sole or primary breadwinner for their families, according to the Center for American Progress.
Locally, North Fulton Community Charities reports low or lost wages have led to poverty and homelessness for some struggling mothers and kids.
And childcare isn't cheap. For those who can afford it, childcare can take 7 percent out of a household budget. For those living below the poverty line, research shows it can consume 30 percent of one's income.
Vicki Shook, a senior manager with Verizon, says female contributions, including those of working moms, should be valued in the white- and blue-collar world.
"Women are strong leaders, communicators and problem solvers who can help a company, not only survive, but truly thrive," Shook said. "Women are so important for promoting a good culture. We're like superheroes!"
Wright agrees.
"Despite the fact that you're holding down the workplace, you're probably also holding down the home front."
She said just because our financial and professional futures could have a grim outlook, it doesn't mean we have to. Wright tells moms working from home to pivot their mindset.
"If we're going to do COVID and parenting, we're going to think creatively," Wright said. "We're going to think differently. We're going to think about the ways we can be collaborative, instead of just swirling around or circling the drain in chaos."
Wright, an orthopedic surgeon and chief of Northside Hospital's Sports Medicine Department, lives with her husband, two of her six kids, and her octogenarian parents. The pandemic gave her another plate to spin, but it taught Wright to be, what she calls, a CEO Parent.
"C is for creativity and communication. E is for energy and expectations. O is for outsourcing and overflowing," Wright said.
She tells moms working from home that productivity will look different, especially with small children.
"Plan bursts of highly productive time," Wright said. "Maybe that's planned around the morning and afternoon nap. Maybe that's when you get a family member or a trusted helper to give you two solid hours where you're highly productive."
Wright says wartime communication is critical at home and on the job.
"Everybody needs to know the plan," Wright said. "Maybe, you have to have daily huddles. Maybe you have to have a Sunday afternoon discussion about what your week looks like and how to accommodate that."
Most importantly, Wright wants moms to give themselves some grace while working from home during the pandemic. Even if it means surrendering to screen time for the kids and allowing dust bunnies to run wild.
"We suffer from thinking that we have to do everything," she said. "We think someone is going to die if we say 'No.'" she said. "Ask yourself, in this crazy time, do you really have to do everything?"
Wright said she wants to continue the conversation with working moms and share tips on how to succeed while working from home. Her website is drvondawright.com and she can be reached on all social media channels via @drvondawright.