ROSWELL, Ga. — A North Fulton charity says that affordable housing is a concern for 95% of area residents they polled in a recent survey.
Local nonprofit The Drake House reported it polled thousands of area residents to measure how they are affected by a lack of affordable housing. The results showed 37% of respondents said they were directly affected, while another 58% were not directly affected but concerned about the lack of affordable housing in their communities.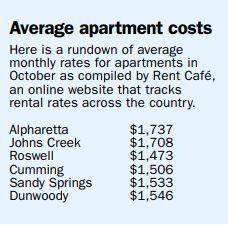 The Drake House launched the survey to spur elected officials to make affordable housing a priority in North Fulton communities. The survey covered some 4,000 newsletter subscribers to gauge the impact of high housing costs in the area.
Affordable housing has been an issue in cities across Metro Atlanta. A recent study commissioned for the City of Alpharetta found that new homes for households earning less than $100,000 are almost completely out of reach.
"We don't have all the answers but want to use the data we have to help our local officials develop a plan to address this need," said Nesha Mason, executive director of The Drake House. "The families we serve are North Fulton residents that need a little help getting back on their feet. We work to help them regain their stability and reestablish their homes in our communities, but unfortunately there are no options they can afford."
According to the survey, it's not just the graduates of The Drake House that are being priced out of North Fulton. Survey respondents are directly affected by employee vacancies, congested traffic and affordability for empty nesters looking to downsize or for their children to reestablish in the community. Many cities across the country are effectively working toward supporting their essential workers' housing needs within their city borders.
Survey respondents included teachers, first responders and young people who are finding it nearly impossible to find housing near their hometowns, Mason said. It also included seniors who would like to downsize but find it difficult to relocate to another, smaller home nearby.
"The Drake House was founded to assist single mothers with children over 15 years ago. And since that time, very little housing has become available for them as a next step. All of the cities include some language toward adding affordable or workforce housing in their master plans, but there is no movement in that arena," The Drake House founder Kathy Swahn said. "Our municipal leaders must look towards filling that housing gap in order to balance the needs of our growing economies."
Swan said the The Drake House provides supportive housing and enrichment programs for mothers and their children who are experiencing homelessness in North Metro Atlanta. Its educational, empowerment and mentoring programs assist families in becoming financially self-sufficient and regaining their housing stability. The Drake House is the only agency in the area offering an emergency residential program with private housing, serving approximately 50 families with 100 children per year.
The nonprofit estimates that more than 10,000 people in Metro Atlanta experience homelessness on any given night, and more than 40% of the area's homeless population is women and children.
To date, The Drake House has housed and served more than 500 families. For more information, visit www.thedrakehouse.org.
— Patrick Fox