ALPHARETTA, Ga. — North Fulton County business leaders officially opened the new offices of the Greater North Fulton Chamber of Commerce with a ribbon-cutting ceremony at Avalon in Alpharetta Aug. 18.
With floor-to-ceiling windows overlooking Ga. 400, Avalon and Gwinnett Technical College, the new offices are a perfect reminder of how the chamber has developed over the last 50 years, officials say.
Because the GNFCC played a vital part in developing Avalon and Gwinnett Technical College's Alpharetta campus, it's only fitting the new offices would be located so close, GNFCC President and CEO Kali Boatright said.
"To be located at Avalon and have this incredible view of the workforce development agency across the street, is really kind of coming full circle," Boatright said.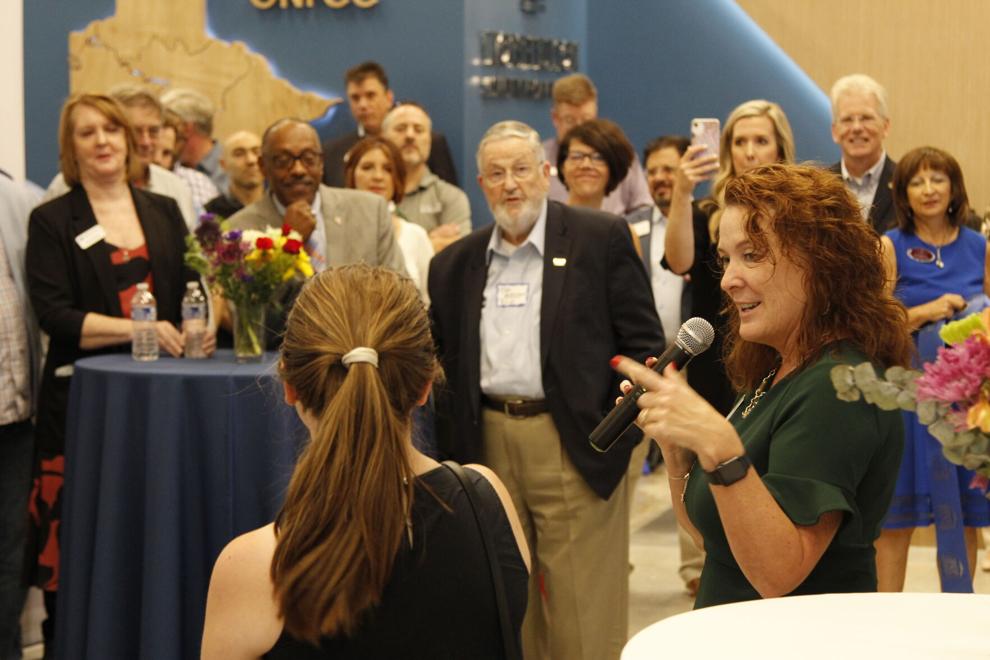 GNFCC occupied offices off Haynes Bridge Road in Alpharetta for 15 years, and the organization has needed a newer, larger and more collaborative workspace for some time, she said.
New GNFCC offices expanded the groups' space from 6,000 to 8,000 square feet. In the process, it has converted most of the space into member meeting and conference rooms, which might otherwise be prohibitively expensive for a small business to rent.
The new offices were designed with six small conference rooms, each sponsored by a different regional business or group, and a large meeting space, which Boatright said are already getting a lot of use.
"Places to congregate, collaborate and do business together," she said.
After the ribbon cutting, State Sen. Brandon Beach said the new offices are a huge asset for the chamber and North Fulton County community.
"The chamber, obviously, has upped their game," Beach said. "They're in the major leagues now."
Beach, who once led the GNFCC when the group was working on several major projects, including Avalon, said this milestone goes beyond "building a cool building," renewing the group's commitment to economic growth in the region.
"This is beautiful brick and mortar. But it's not about the building," he said. "It's about the people, it's about the community, and it's about getting things done for not just me, but for my kids and grandkids."
GNFCC will celebrate it's 50th anniversary in January. In that time, the cities of Johns Creek, Milton, Alpharetta, Roswell, Mountain Park and Sandy Springs have developed into a diverse, thriving region, Boatright said.
And even though the new GNFCC headquarters are in Alpharetta, she said that each city in the region has something unique to offer businesses and residents.
"All these cities have something special," she said. "If someone comes to me and wants to start a business or is looking to live in this area … there's no box we don't check."