ROSWELL, Ga. — Walk into Pop's Coffee Co., and the first thing you see is the large barista area on the left and a wall of motorcycle helmets on the right.
The coffee shop sold its first cup of Joe four months ago and has sold over 10,000 cups since, owner Gordon "Gordy" Erickson said.
Erickson also owns Pop's Garage Fabrication which shares the same building. The garage opened in 2013 and is a high-end, custom and regular service restoration motorcycle business.
Erickson met Colin McDonald, whose family has become a second family, when he started working at the motorcycle shop, too. The pair are now business partners, owning both the motorcycle and coffee shops.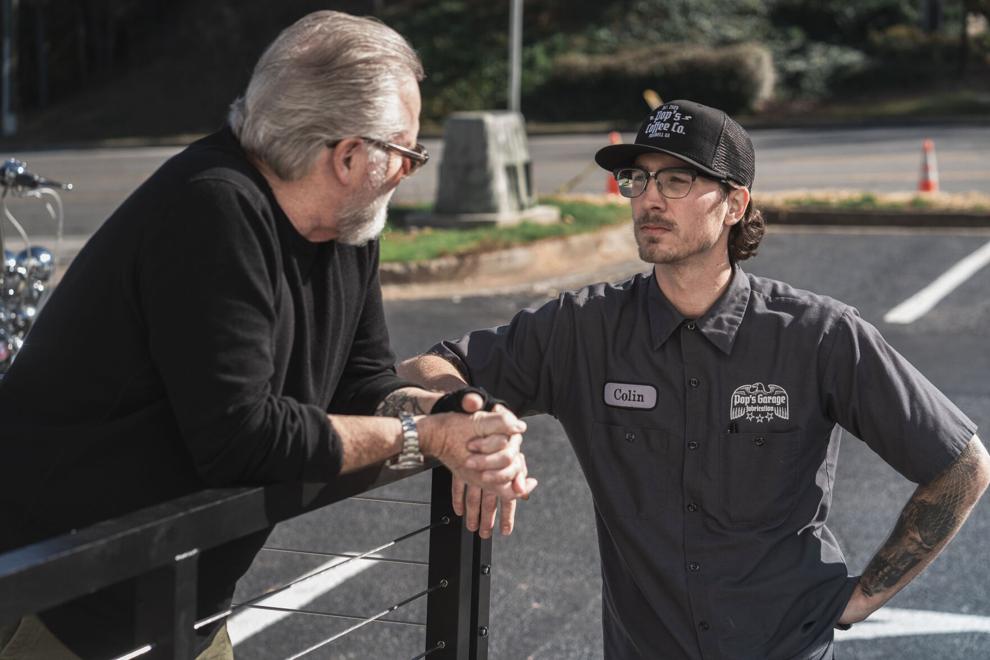 Erickson said he wanted to create more foot traffic to the motorcycle shop, and, though he is allergic to caffeine, he liked McDonald's idea of opening a coffee shop.
"People find comfort in a cup of coffee, and with that comfort hopefully it would lead them to kind of explore what we have to offer next door," McDonald said. "That's worked really well for us."
Erickson describes the space as 10,000 square feet of entertainment, and he enjoys watching customers' reactions when they walk into either store and show others around.
"I watch them, and it's kind of like they're taking credit for the shop, which makes me feel like, wow, that's the best thing we could ever do. It's kind of turning into their shop," Erickson said.
The helmet wall has 40 spots available, and customers can bring one of their own for display. One regular customer of both shops brought in a helmet with an array of stickers.
"Every sticker was one his dad gave him when he was a kid growing up," Erickson said. "The helmet's like a family heirloom. I let him stand on the counter and put it exactly where he wanted."
The pair are also working on a motorcycle for the customer.
"I swear to God he thinks this is his house and his shop but that's how it's supposed to work," Erickson said.
Pop's Coffee Co. strives to source their products locally, from the coffee beans to the produce. Their coffee and chai teas are from Atlanta, they get milk from a creamery in Clermont, and the produce comes from a greenhouse in Jasper.
The most popular drinks so far are the honey cinnamon latte and peanut butter mocha, which the owners say tastes like Reese's pieces. They also serve a house blend roast called Eyes Open.
The menu offers a variety of food items such as salads, a yogurt parfait, muffins, a waffle biscuit and empanadas from Belen de la Cruz, an Argentinian bakery in Johns Creek.
"I think what helps us a lot is that we are craftsmen, and we pay attention to a level of detail that a lot of people miss on our motorcycles, and that for me is the same approach that I take with our food," McDonald said.
Pop's Coffee Co. is open for dine-in, and all of the tables are spread at least 6 feet apart. All employees wear masks and constantly wipe down hard surfaces with a disinfecting spray.
Plexiglass barriers have been installed in front of all order and pick-up areas. Additionally, there are hand sanitizer stations at all entrances, bathrooms and trash cans.
Pop's Coffee Co. is at 11444 Alpharetta Highway in Roswell. It is open Monday through Saturday from 7 p.m. to 7 p.m., and Sunday from 10 a.m. to 5 p.m.