ALPHARETTA, Ga. — Hanh Nguyen filled a decades-long dream when she opened July Moon Bakery and Café at the Maxwell in Alpharetta in 2022 — and she did it with her daughter by her side.
The bakery and café named in honor of Nguyen's daughters, offers Vietnamese iced coffees, boba teas, bánh mìs and Asian pastries. She opened July Moon in 2022, but her dream stretched back much further.
Nguyen is a first-generation Vietnamese immigrant born in a Malaysian refugee camp, where she said she "should have died but didn't." Her mother made Vietnamese iced coffee to make a living and Nguyen often had to help.
"I used to crush ice for my mom, it's not an easy task for a child," Nguyen said.
After a tumultuous childhood, Nguyen, her mother and siblings ran away from her abusive father and spent two years in a homeless shelter. Nguyen said she had "humble beginnings" but eventually made it to college, and later Seattle, Washington, where she began her career in the IT industry.
"I might look polished, like I had it all together, but it's been a long journey, a lot of sacrifices and heartaches," Nguyen said.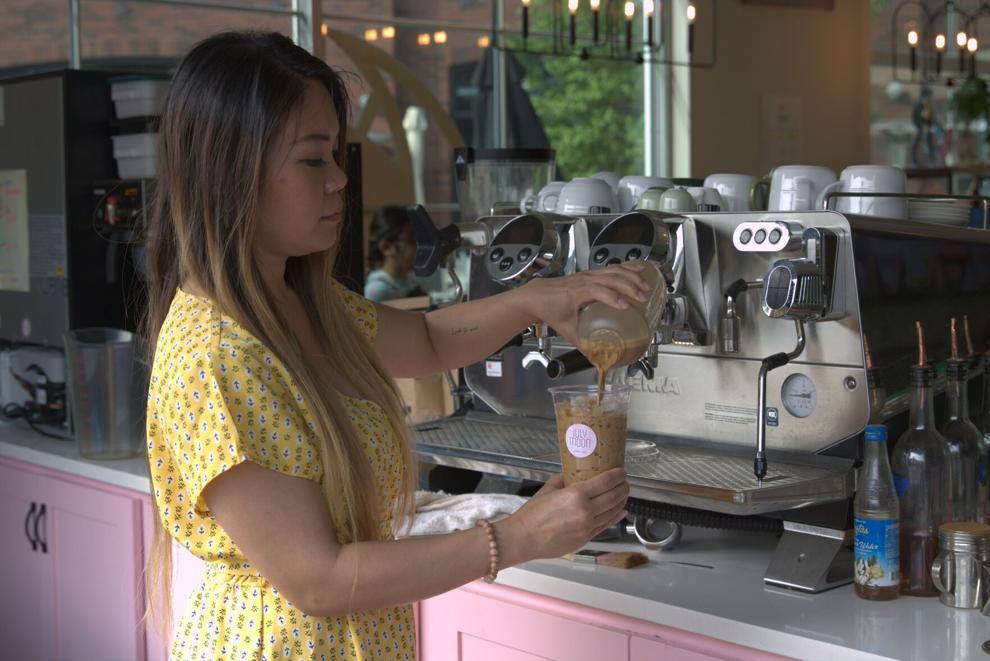 Nguyen found success in the industry, working for various Fortune 500 companies. But the memories of making coffee with her mom never disappeared. Nguyen said her time in Seattle, a coffee destination and the origin of Starbucks turned her into a "bit of a coffee snob."
She had wanted to open a business in Seattle, but the market was oversaturated with boba and coffee offerings. It wasn't until Nguyen moved to Alpharetta for a job promotion that she saw an opportunity to bring her business concept to life.
Her eldest daughter, 11-year-old Charlie, helped push Nguyen to pursue her dream. During a visit to a gourmet bakery years ago, Nguyen caught Charlie staring at the baristas. She told Charlie that if she wanted, she could work at a coffee shop one day.
"I'm not going to work here, I'm going to own my own bakery," Charlie said.
Charlie's response inspired Nguyen to pursue the café, both for herself and to inspire her daughter. Nguyen had no business ownership experience, little capital and faced a long journey to creating July Moon, but she was determined to build a business from the ground up.
She also knew Charlie would be integral to July Moon's success. It would be a mother-daughter project in every aspect. Charlie is officially a co-founder of July Moon, and Nguyen's younger daughter Colette is "quickly becoming more instrumental" in the business by putting stickers on the cups and helping clean the bathrooms.
"(Charlie) has been in all the major meetings, like loan signing, architectural rating floor plan design," Nguyen said.
Charlie called the meetings "boring," but her mother said Charlie's candor and creativity helped bring July Moon to where it is now.
Charlie helps create new drink recipes for the business, which she jots down during development. During an April 6 interview, she concocted an ombre drink with "everything boba," mango sparkling water, mango-rose tea and strawberry-kiwi tea.
The café has a limited food menu due to its small kitchen, but Nguyen's focus is on the drinks. She sources coffee beans from local business Boarding Pass Coffee and gets tea from Atlanta-based business Just Add Honey. She also makes organic and gluten-free drink syrups from scratch.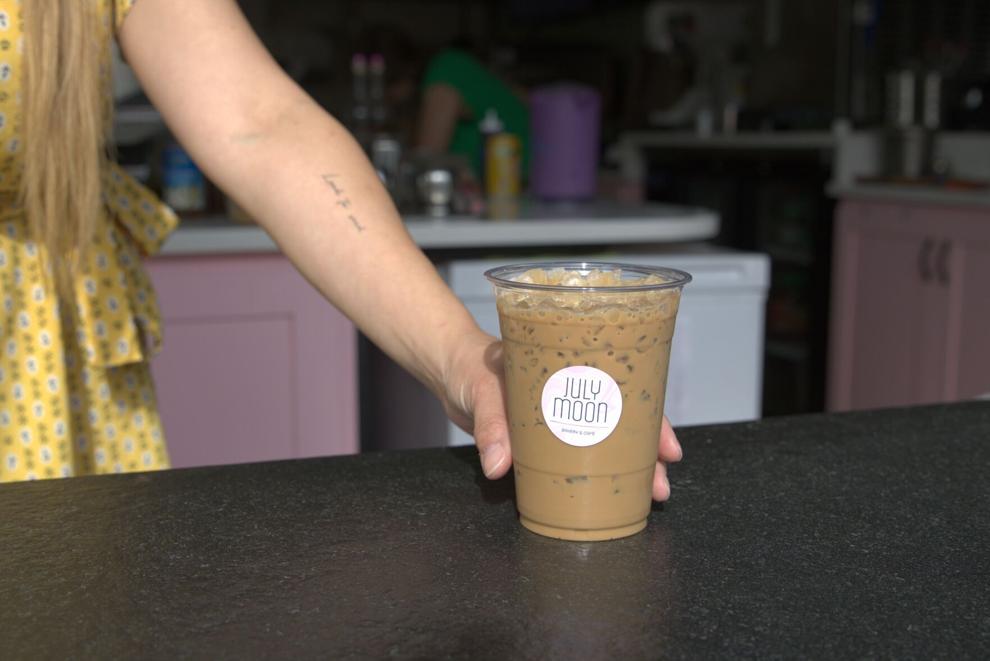 Her taro tea, a popular boba drink made from a purple root vegetable, is made from actual taro rather than the powder used in many other boba shops. It's more work to cut up and boil the vegetables, but for Nguyen it's essential.
"It's these little things that people don't see," Nguyen said.
Every aspect of the business is "highly intentional," Nguyen said, from the accessible seating to the drink-making methods.
"There's meaning behind everything I do," Nguyen said.
She said her pellet ice machine is a reference to her childhood spent crushing ice for her mother's Vietnamese iced coffee. The ice is the "best way to drink" Vietnamese coffee.
Nguyen carries her intention into the rest of the businesses, where she focuses on mentorship and expansion opportunities. She hosts networking events for women in business, acts as a mentor for her young employees and spotlights small businesses.
"Charlie and I wanted to launch July Moon to be a safe, fun community space for people," Nguyen said.