MILTON, Ga. — Brent Beecham equates the rapid growth of downtown Crabapple to dropping water on a hydration-starved ecosystem and watching the area suddenly thrive.
Market District Crabapple, a joint venture Eric Richards of Dwelling Development and Brent and Rob Beecham of Folia Group, is the latest watering pot to contribute to the rapidly expanding environment of Crabapple. The seven-building, 4-plus-acre development under construction will include residential and commercial space along the newly opened Charlotte Drive extension near Birmingham Highway.
The development recently held a preview party for those interested in relocating their business to Crabapple and those looking to call the area home. A Starbucks and jazz club have already signed the dotted line to join the development with restaurants, medical offices and other companies in talks to relocate or open in the district.
Along with additional homes nearby and the expansion of Crabapple Market, Beecham said Crabapple is primed to become a destination akin to Avalon and City Center in Alpharetta or Roswell's Canton Street.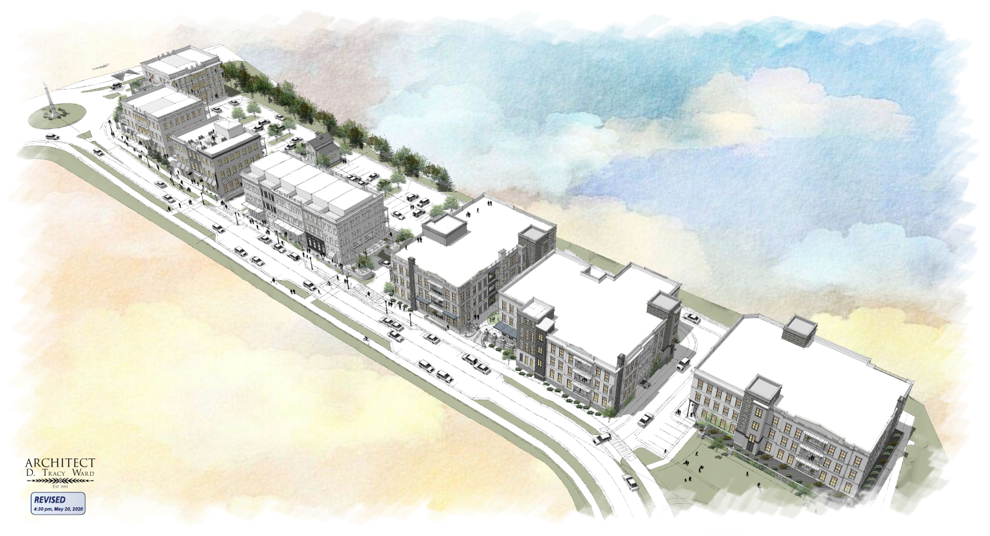 Not too long ago, Beecham said, the only real draw to Alpharetta was visiting a specific restaurant or business, but developments like City Center with its wide array of businesses and restaurants provided a place to spend an entire evening.
"We anticipate that's what [Market District] will bring to Crabapple, the idea of having enough density of things to do to make it a destination," he said. "The minute you have the draw of a destination, then other businesses will begin to thrive. People will say, 'Why don't we go early and go to Crabapple Market, go to Henry and Pearl and pick up some clothes, do a some shopping and eating and then go to the jazz club and get a nice, upscale drink.' It changes the dynamic."
Beecham said the draw of North Fulton is shown in the number of businesses relocating to the area from places like Buckhead. That change spurs North Fulton residents to stay in the area to spend their dollars and evenings.
"People are tending to stay here in the local area…and Crabapple is being added to that as a final piece of what's going on in the area," he said.
Those who want to be close to the action can also call Market District home. Plans call for 42 condominiums, and the development recently inked its first tenant.
Beecham expects many will want to leave their large lots, and an acre of lawn to mow, behind for the charm and walkability of the downtown district. He also expects the units to be snatched up quickly.
"My wife and I actually looked in downtown Alpharetta for a house or a condo, and a year or two later everything was sold out or double the price," he said. "Our message at the preview party was that if you missed your opportunity in Alpharetta, don't miss out in Crabapple."
While downtown Crabapple may carry many semblances to City Center or Avalon as a mixed-use development, Beecham heralds Milton's epicenter for having its own distinct appearance.
"Crabapple is unique in that it is like an old Southern town," he said. "We wanted to honor that down-to-Earth nature that we found in Crabapple in the '50s, '60s and '70s. Our buildings are not formal or over the top. We wanted it to feel like the fabric of the community. I think it's like a step back in time a little bit, like a dressed-down Alpharetta."
As construction crews hammer away at Market District and developments across the street, Beecham is confident Crabapple will be a new hotspot in North Fulton.
"It's a tribute, honestly, to Milton city leaders," he said. "They envisioned what the Crabapple district would look like and how it should play out over time, and to execute that city leadership gets people interested in the community and developers like us. It's a testament to the private/public partnership of sorts. That's what attracts me and a lot of people who want to live in Milton."