If you are tired of looking at traffic along I-285 and Ga. 400, I have a solution: Watch GDOT's new video of its planned managed express lanes. There is very little traffic in those videos. 
Kidding aside, GDOT just released a video of what it would look like if it followed through on its plan to build express lanes across the top of I-285 and up along Ga. 400. If you thought it's already starting to look spaghetti-like with the new construction, wait until you see this video. 
The managed express lanes would essentially be two new lanes in each direction on those highways. The new lanes would be managed in a way that the speed limit never got below a designated number, say 45 miles per hour. And they would make way for a new mass transit system called Bus Rapid Transit, which is like a rail system, just with buses. Drivers would have to pay to ride in the express lanes, and as the car speeds on those lanes decreased, prices to occupy those lanes would increase, thus lessening the number of cars moving on to them. 
Traffic is certainly the source of many Atlantan's ills. While everybody agrees something needs to be done, no one wants to agree on how we can fix it. Stopping all development is not an option, unless folks want to tell our businesses to stop creating jobs and go elsewhere. We have averaged more than 60,000 people a year moving to the city for the last 10 years. And it's because our business community is thriving here, creating almost the same amount of jobs every year. 
There was a strong push about five years ago to fund the extension of MARTA rail up Ga. 400, but North Fulton officials could not agree and the push stopped. Some of the thinking is that our entire transportation system is fumbling its way through a crossroads, and no one can say for sure how it will look in another five to 10-years. 
Driverless cars are more than a workable concept, they are on the roads today. I rode in a Tesla last year with a friend who programed in our destination and then purposefully didn't look out his windshield for the remainder of the 15-minute ride. Between that and folks getting more and more comfortable with ride-sharing companies like Uber and Lyft, it's easy to imagine a system where self-driven buses move swiftly and consistently throughout our communities.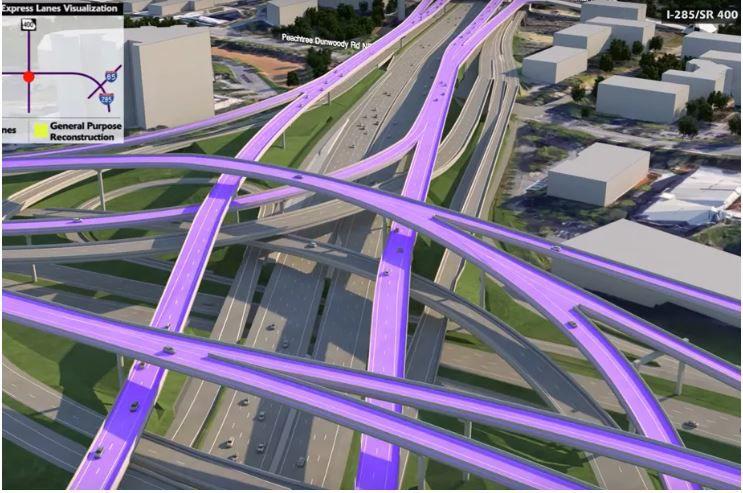 With that in mind, some officials were not ready to spend the roughly $250 million a mile it would have taken to extend a rail system that wouldn't have been operational for another six to 10 years. 
So now we have the express lane idea. And for those of you who will decry "no more road widening!" GDOT has a solution for most of that. A large portion of the new lanes would actually float above the highways, almost identical to what runs over I-75 north of I-285. Many say this has significantly improved traffic flow in Cobb County. 
I always say that the silver lining of our traffic woes is that this is a sign of Atlanta's success. There are many metropolitan areas that wish they had our traffic. I say that because it's true. We can either keep being the place where companies want to move so they can thrive, or be some other place. Cities are either improving and growing, or they are dying. 
The new managed lanes, if built, would give GDOT the ability to put in a flexible mass transit system much quicker than if it decided to extend heavy rail. And by the way, I've talked to local officials who tell me to still not count out the extension of heavy rail. 
Traffic certainly won't be as free-flowing as it looks in the video. But there is no doubt it will have a significant impact. 
Geoff Smith is a mortgage banker with Assurance Financial focusing on residential home loans for refinances and home purchases. 
Geoff Smith
770-674-1433
Personal: NMLS#104587
Business: NMLS#70876
*The views and opinions expressed in this column do not necessarily reflect the views of Assurance Financial Group