JOHNS CREEK, Ga. — Plans for a Tim Hortons coffee shop on the corner of State Bridge Road and Abberley Lane have disquieted residents of the subdivision next door, who are worried about noise and traffic congestion.
Contract purchaser Abid Khutliwala intends to use a .84-acre parcel for the location, which sits only a few feet away from the Abberley Township gate. The property holds a joint-access easement, connecting Abberley's private drive through a strip mall to the Goodwill parking lot, that would be used in the business' drive-thru.
Khutliwala owns commercial businesses in other cities, like Popeyes, Checkers and Moe's Southwest Grill, but if the zoning application is approved, Tim Hortons would be Khutliwala's first business in Johns Creek. He hopes to own more.
"There's only two good cities in the area: Peachtree City and Johns Creek," Khutliwala said. "And I'm already living in one."
Khutliwala is in the process of buying the property to begin development, a project with a price tag of at least $2 million. The Johns Creek Planning Commission has yet to give feedback on project plans. Following a deferral, Khutliwala requested the group meet April 10.
Other locations have been considered, but Khutliwala said, "The price points are so heavy that you can't even touch it."
Public outcry
A public input meeting took place in January, where over 20 Abberley Towneship residents voiced their concerns over the use of the easement. Khutliwala's lawyer, Shaun Adams, confirmed another meeting around early March for residents who couldn't attend the meeting at Johns Creek City Hall.
"That little area is going to turn into a cluster of traffic," said Rebecca Sanna, president of the Abberley Towneship Homeowners Association.
Emergency vehicles and school buses would have a more difficult time accessing Abberley, Sanna said.
Pedestrian safety is another issue. Beatriz Aziz, secretary of the HOA, said kids who live in the neighborhood walk to State Bridge Road to be picked up for school at the same time as Tim Hortons' peak hours of early morning and early afternoon.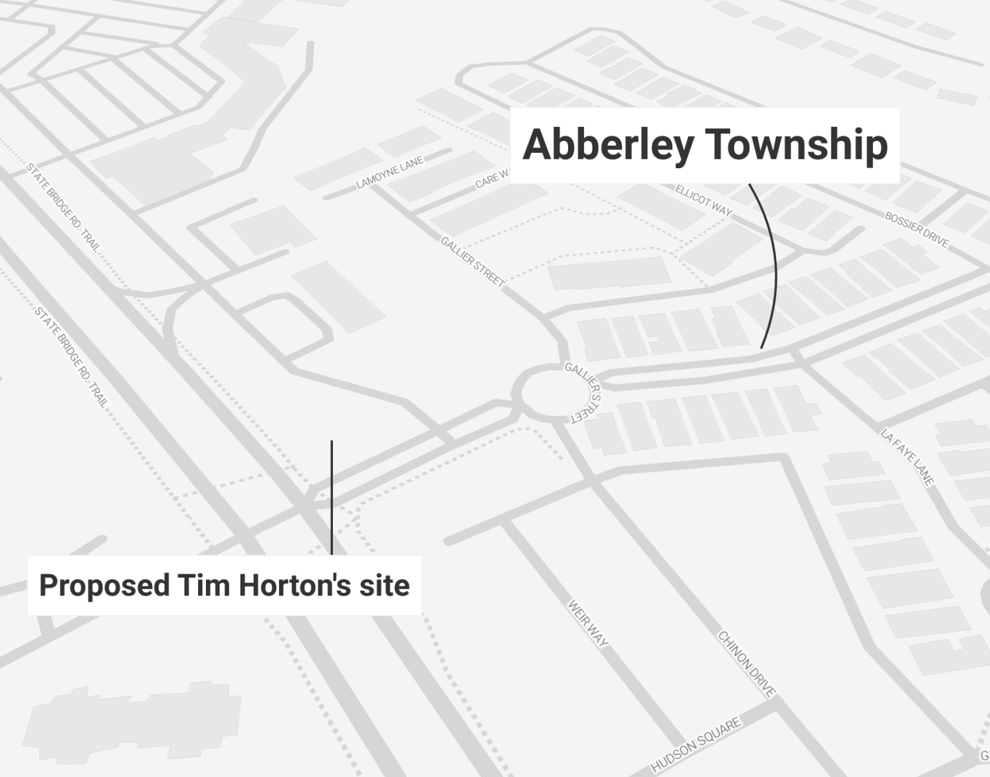 Small established businesses also stand to see impacts from Khutliwala's plans. Cafe Landmark, a Ukrainian specialty coffee shop, is in the Goodwill shopping center, and Cloudland Coffee Company is about a mile down State Bridge Road.
Kristina Madh, owner of Cloudland and a Johns Creek resident, said her business already struggles in retail and competes with Dunkin' Donuts, Starbucks and PJ's in the same area.
Most profit comes from wholesale, Madh said, and much of it is spent on advertising and promotion.
Signage has been an issue for Madh, who said she has gone back and forth with the City of Johns Creek. Cloudland Coffee Company is tucked away into a strip mall, which makes it difficult for potential customers to see the business.
"If they do approve [the rezoning], it isn't really reflecting how [the city] tries to portray themselves as a small town, a small city," Madh said.
Ben Song, Johns Creek community development director, said when it comes to zoning, the city is in the business of land use, guided by its Comprehensive Plan and zoning ordinance.
"We're totally about the free market, right?" Song asked.
Potential businesses should perform due diligence, Song said, and determine who their competitors are and if they have a sustainable business model.
Tim Hortons is permitted in the C-1, or community business, zoning district, which holds the .84-acre parcel. Song said the rezoning process is necessary to remove the site's old zoning conditions attached to a retail space, and new conditions would be added as the development goes through the rezoning process.
Bob Mullen, Johns Creek communications director, said the city wants thriving small businesses, as well as thriving large businesses.
"I don't think there's a reason that they wouldn't want all sorts of allowable businesses to come into Johns Creek," Mullen said.
Site revisions
So far, Khutliwala has submitted two site plans for the development in the rezoning process. Khutliwala prepared the second plan in hopes of mitigating resident concern.
The first site plan for Tim Hortons included a 1,610-square foot building with one drive-thru lane, connected to Abberley's private road using the easement.
While the drive-thru still uses the easement in the new plan, Khutliwala and the engineering team has decreased the size of the building to 888 square feet to allow for two drive-thru lanes, intended to reduce traffic.
With the revision, the number of trips per day have decreased from a projected 859 trips to 238. Khutliwala said he is going further to conduct a traffic study, using a nearby Starbucks.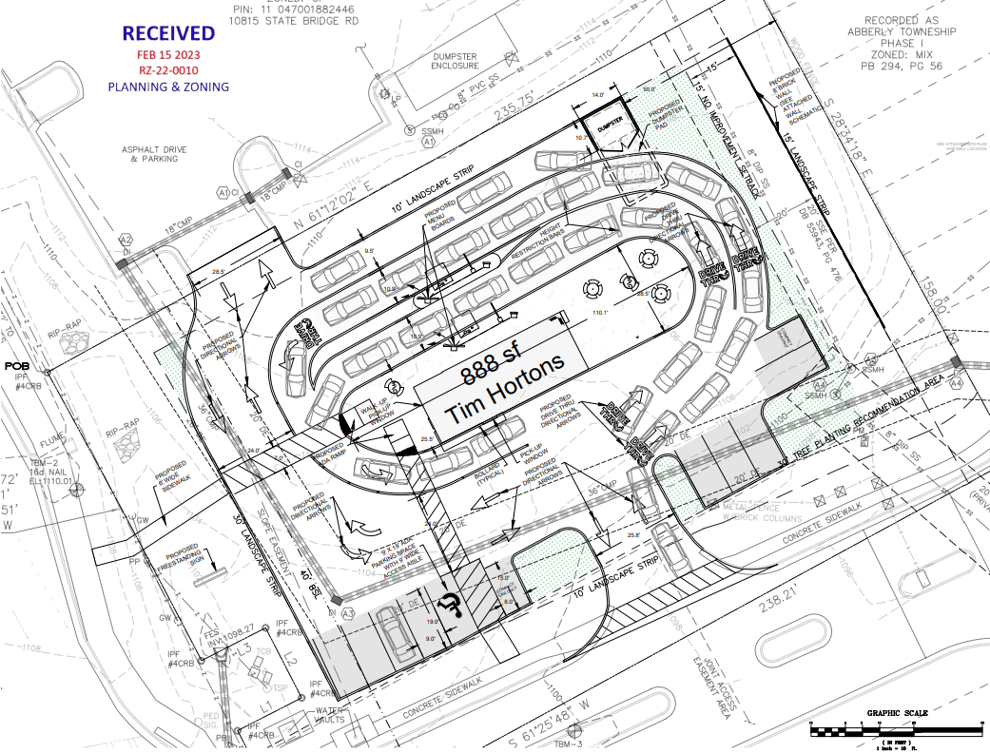 In the original site plan, the board was set to be posted at the back of the building, adjacent to the Abberley townhomes.
To mitigate noise, the new draft moves the menu board to the side of the building. It also calls for a brick wall, situated in front of the townhomes to act as a noise barrier. Currently, a wooden fence and a line of large trees separate the homes and the parcel.
In discussions with his lawyer, Khutliwala said the idea of blocking the easement at Abberley Lane had come up as a potential solution, but because the easement is used by many businesses, he would not have the right to block the entry point.
The easement is part of a private agreement that dates to 2001, Song said, which was updated two years later to include access to Abberley Lane. Without the easement access on Abberley Lane, Song said drivers cannot make a left turn onto State Bridge Road.
Nick Griffiths, the principal engineer for the project, said the plan updates are evidence of Khutliwala's attention to resident concern.
"Those are all things that he's trying to do to be a good neighbor," Griffiths said.