ALPHARETTA, Ga. — Data and dedication to process may not seem like a big part of running a successful car wash, but for Jimmy Tester of Mammoth Detail Salon, they're everything.
From his offices at the luxury car wash on Old Milton Parkway in Alpharetta, Tester can track everything that happens at his business, from the number of cars his employees service per hour and current wait times, to the number of memberships they've sold this month.
But no matter what the data shows, Tester says he's built customer loyalty for 26 years by providing consistent, exceptional service to every customer.
"I think what would separate us from everybody else is just doing a better job than everybody else," he said.
After years of running a successful valet service in Atlanta and small handwash car wash in Roswell in the '90s, Tester knew he was ready for something more permanent close to home that his family could rely on in the future. He always loved hand washing his cars, was good at it, he said, and regularly washed and waxed his car in the middle of the night when business was slow at the club he valeted for.
"I did that all the time, so I thought, well I'll just do my own thing," he said. "I didn't really have a background in anything, and I was making probably $80,000 a year in cash parking cars … so I was making a lot of money, and my wife got pregnant and I started worrying, 'what am I going to do if the club closes, clubs don't last forever.'"
With a partner's help, he was able to open the first Mammoth Detail Salon in 1996, on a small wedge-shaped lot at Main and Roswell Street in Alpharetta, where business took off like a rocket.
Within nine years, Tester said his team had built a following of loyal customers and outgrew their Main Street Alpharetta location. So, they began looking for a new location in Cumming, which Tester thought would be the logical next step for Mammoth.
But instead of Cumming, they quickly found a perfect location in Alpharetta that was already zoned for a car wash and ready for construction. The only catch – it was practically right next door to his original location.
One might think that having two identical businesses just a few blocks away from each other wouldn't work, but since they opened the Old Milton Parkway location in 2007, it's only boosted his brand recognition and customer service, Tester said.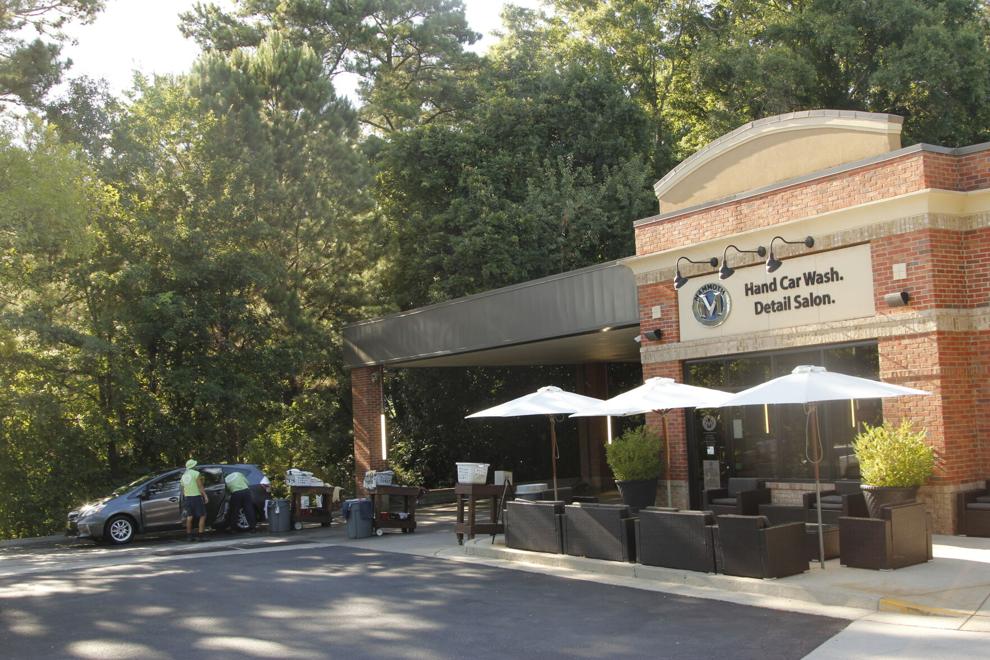 With the real-time data the business collects, the two locations can easily support each other, he said. And on the company's app for smart phones, customers can see which of the two locations is busiest at any time.
"I would do better profit wise if I just had one, like everybody thinks," he said. "But I think for the convenience of the clients it helps because I have the app."
But they weren't always able to make use of all the data Tester has at his fingertips, that's a recent development.
For the longest time, his team at Mammoth Detail Salon had to rely on handwritten tickets, less advanced computer tracking and a dedication to the process of providing a perfect hand wash every time.
Tester said that his love of the process is something he's always had from the very start of his valet business in Atlanta. His employees have an optimized way of doing everything from washing cars to detailing interiors they use with each car.
The prices that Mammoth charges are high for the industry, Tester freely admits. But he said that's only because customers in the North Fulton area have high expectations that they try to exceed.
"My guys vacuum a certain way, they clean rims a certain way, they wipe down dashes and consoles and seats and door panels a certain way," he said. "We have a process for everything ... Some people are really big on how well they wash their own car, and I think we come as close to that standard as possible."
After 15 years at the second location on Old Milton Parkway, Tester said they are starting to think about opening other locations in John's Creek, Cumming and Woodstock or East Roswell.
But true to form, Tester said he wouldn't mind another location down the street from his current two.
"I'd do another one close to here if I could," he said. "Life is beautiful and it's been fun, really fun."