ROSWELL, Ga. — Sonny Ideker wasn't fond of reading growing up, but today, he spends most of his time surrounded by a grand collection of rare and antiquarian books that hold rich history between their pages.
The 76-year-old is the owner of Sonny Ideker Rare and Antiquarian Bookseller inside City Antiques and Interiors in Roswell. The bookstore features an eclectic mix of decorative, general antiquarian books, most 100 years or older.
His collection ranges from "St. Gregory's (Pope Gregory I.) Teachings on the Gospel" from 1493 to the 1987 "We the People," an elephant folio work made in celebration of the 200th anniversary of the U.S. Constitution. The shelves also include a variety of classics as well as works by authors such as William Shakespeare, Charles Dickens, Edgar Allen Poe and Jane Austin.
And, if you just so happen to be looking for costume books from Russia, Turkey, England, Africa or Asia, he has those too.
"We're called booksellers, but we are book showers," Ideker said. "Our job is to find out your interest and show you books of interest. You decide if you want to buy or not. You can have a library and not one book looks like this, and it could still be a wonderful library. You should always buy what you want, not what someone tells you to buy."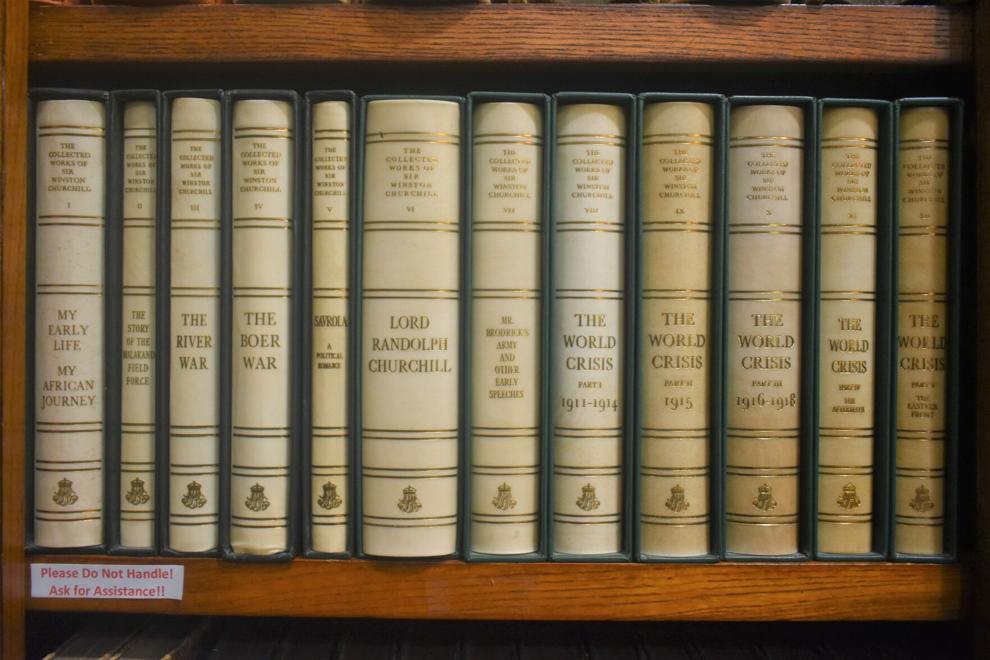 Ideker has been in the bookselling/collecting business for over 25 years, but he said he doesn't read for pleasure and never has, because of his dyslexia. However, that doesn't stop him from trying to spark an interest in others, especially children, whenever they visit his store.
"We show them the fore-edged painted books and have them say, 'abracadabra,' because they're magic," Ideker said.
Before he was a collector, Ideker was a U.S. Air Force pilot for 20 years and served in the Vietnam War. He was stationed in countries such as Korea, Thailand, Spain and Germany, where he was able to immerse himself in different cultures. When he retired, he was hired by Delta and eventually moved to Europe, where he lived with his wife, Janel, for five and a half years.
At that time, he says he had never visited a bookstore or antique store. Then, one day his wife, who owned a home décor store, asked him to bring her back interesting books he happened to come across on one of his trips. He said she planned to use them to decorate.
"That's how it all started," Ideker said. "Once I was introduced to books, the people in England were so kind to me and willing to share their knowledge with me, ... and I just fell in love with the process."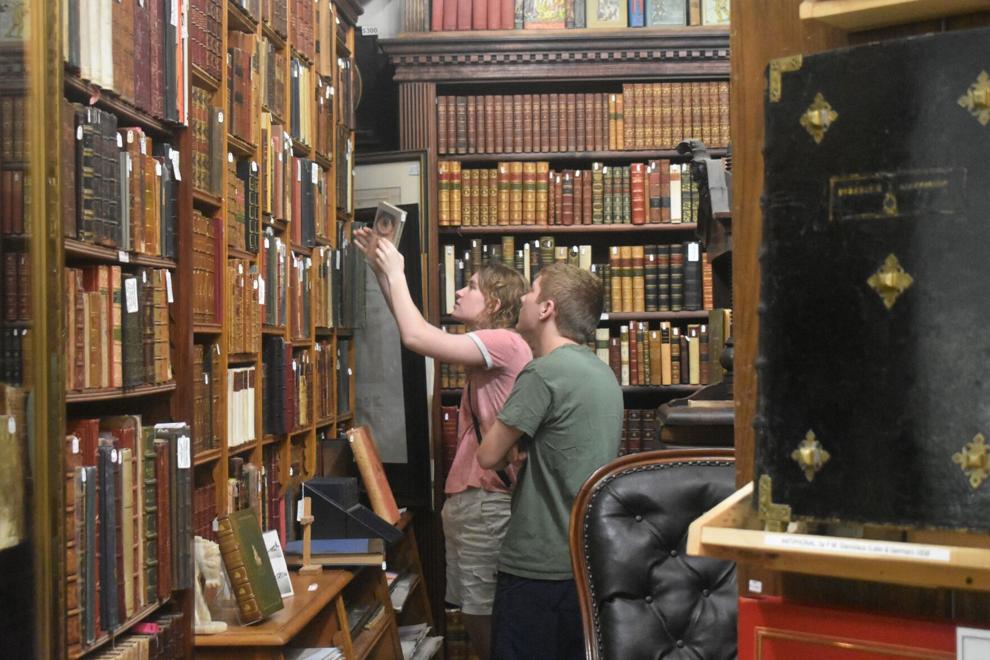 The first set of books Ideker bought was at a street fair in Brighton, England, that had been in a fire. While they smelled, he said they were nice looking. His wife didn't quite feel the same, and the books never made it out of the garage, Ideker said.
As time went on, he learned what to look for in antiquarian books from his bookseller friends in Europe. The more he collected them, Ideker said the more they became a reason to get up in the morning.
Ideker said he probably sells more religious books than anything else because most early books were all religious in nature. But, his personal favorite is a French version of the New Testament and Book of Psalms from 1710 in which every psalm is put to music.
Somehow though, he says he doesn't get attached to any one book.
"When someone buys a book, you see the person and you see the joy it brings them," Ideker said. "So, it's not like it's just a financial transaction. There's some emotion because you've met the person."
Steven Martin, a business partner at Sonny Ideker Rare and Antiquarian Bookseller, said their customers are some of the most interesting people he's ever met. They come from all walks of life, often oohing and aahing as they move from shelf to shelf.
"It's a good feeling to be able to provide something like this to the community," Martin said. "Most people are not familiar with this sort of shop. The two words I hear constantly from outside the door are 'wow' and 'amazing.' A lot of people are afraid to come in or touch anything, but, I mean, the books are here, books are designed to be held. So, we'll go through the process of educating them on how to hold a book or what to look for, and that's neat when you can open somebody's eyes."
Martin was a student at Kennesaw State University when he responded to a request to help porter a book fair. There, he met Ideker, and the rest is history. He says he's in heaven being surrounded by the artistry, workmanship and craftsmanship of every book in the store.
"Many of them are just as beautiful with the information on the inside as they are with the bindings on the outside," Martin said. "There's just so much to learn about everything in here. It's nonstop. If I don't know something, I'll get up and grab a book."
Martin said they don't restore many of the books, but they do "feed" them to get them ready for sale, meaning they condition the leather to bring luster and life back into the bindings and protect them for future generations.
"Every book tells a story in one sense or another, whether it's what's in the book, what's on the book, what's written in the book or where it came from," Martin said. "These books are special because, for the most part, they've been taken care of over the millennia and are ready for their new home. There's a certain feel. I think they give off an energy in a sense. Maybe we sound a little silly, but they kind of do."
Sonny Ideker Rare and Antiquarian Bookseller is at 700 Holcomb Bridge Road, No. 100 in Roswell. For more information, visit sonnyidekerbookseller.com or call 770-853-3311.