ROSWELL, Ga. — Built in the pre-Civil War era in 1854, the former Public House across the street from the square is now offering a collective mix of global flavors.
Atlanta Street, or A-Street, in Roswell opened just under two months ago, but community support has already deemed its potato-crusted grouper and Luxardo adobo pork chop signature dishes, along with several wines, cocktails and starter plates.
Chef-owner Kevin Nelson and his wife Kellie Nelson moved to Roswell in October 2019, after selling their popular resort restaurant in Vail, Colorado. While searching for opportunities to start over someplace warmer in the South, Kevin said he found Roswell and "pretty much fell in love with it right away."
"When I came into this space and felt the energy in here and saw the age of the bricks and learned more about the history," Kevin said, "this felt like a place I would be comfortable in. … I'm just sort of bringing it all to bear here in Roswell. It's a large place that has a small-town feel. It's a perfect fit for me and my family. We love it."
Kevin has 37 years in the restaurant business. He said he grew up in Long Island, often visiting an Irish pub down the street from his house with his family for dinner. At 13 years old, he began a summer job there washing dishes and worked his way up to executive chef five years later.
His mentor was Roy Hodges, a former chef in the U.S. Navy, who instilled in him the idea that he had natural talent in the kitchen. In his mid-20s, Kevin became the chef at Terro Bistro in Colorado and then the owner up until a year-and-a-half ago. Working there, he said, allowed him to venture into different flavors and international styles of cuisine.
Kellie started out as a server at Terro Bistro and has since managed several other restaurants. Kevin said her expansive knowledge about wines has played an integral role in building A-Street's wine list.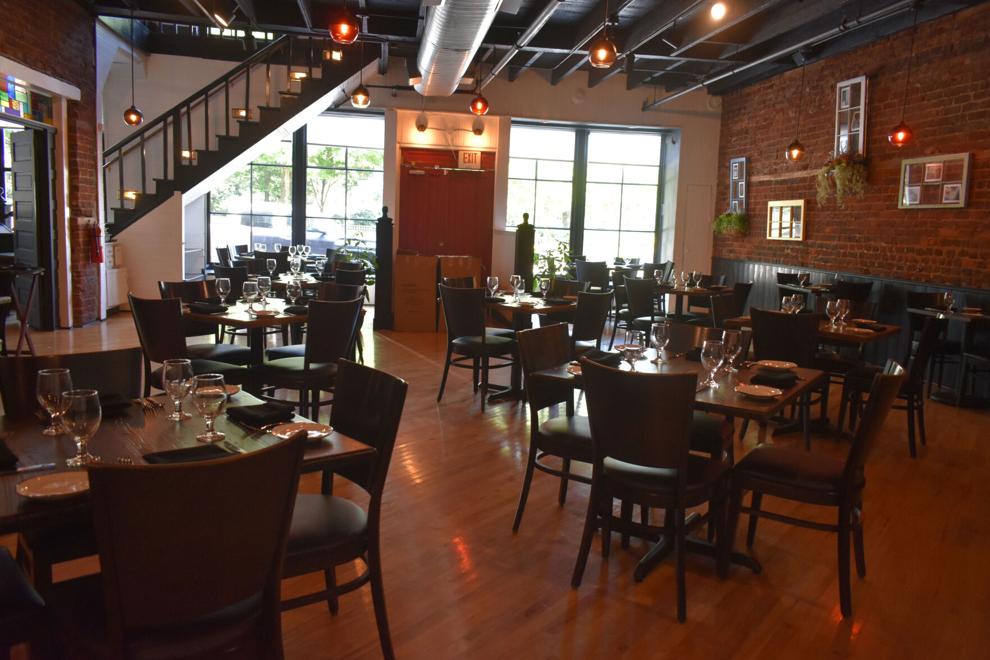 Together, they have three daughters. The oldest is a student at Emory University and the other two are in high school. For the past six months, the entire family has pitched in to salvage much of the building's original structure but also to install new features like custom-made stainless glass panels to give it a modern-feel. The building previously sat vacant for some three years.
A-Street features both upstairs and downstairs dining areas, two bars made of the original copper in the building, a patio and a large parking deck in the back. Exposed brick from its time as the general store for the Roswell Mill lines its walls. The building is also rumored to have its own ghost known to the community as Catherine. A drink on the menu called Catherine's Revenge pays her homage.
So far, Kevin said, the community seems to be responding well to what they've done to the place.
"Originally, I was going to do something a little more casual, but as I got to know the community, there were a lot of locals coming in everyday, knocking on the door, peeking their head in, seeing what we were doing and so excited to see this place come back to life," Kevin said.
"They've all been incredibly supportive, but I started to get the sense that the community would welcome something more like what I was doing in Vail, which was not quite fine dining but upscale dining."
Kellie, who likes to share their story with guests, said she's enjoyed seeing the community's response as well.
"A lady came in the other night to celebrate her 95th birthday," Kellie said. "She seemed well and lively, but she came in and said, 'Oh, I remember this place!' It was amazing."
Most dishes at A-Street are gluten-free and there are vegan options. Kevin said the menu is constantly evolving with flavors inspired by Asian, Middle Eastern and Southwestern cuisine. And he tends to be drawn toward "humanely-raised and sustainable" ingredients.
"As much as we like to serve high-quality fine dining food, we tend to lean more toward a casual atmosphere. And the casual, fun elements in here I think let people relax while they're having a fantastic meal that has the attention to detail that they would get in a more rigid strip experience," Kevin said.
"We just feel very grateful to be so welcomed and to have become a part of the community so quickly. It's just been fantastic."
A-Street is open from 5-9 p.m. Monday through Saturday. Dine-in and curbside pickup are available. In about two weeks, Kevin said he would like to open the patio for outdoor dining. They also hope to add a lunch menu and open on Sundays in the future.
A-Street is located at 605 Atlanta St., Roswell, GA 30075. For more information, visit astreetroswell.com or call 770-910-7639.