JOHNS CREEK, Ga. — New York-based artist Ilan Averbuch has been selected to repurpose the historic Rogers Bridge steel for public art to celebrate the connection between two communities.
The Johns Creek City Council chose Averbuch for the large commission art piece at its Oct. 3 meeting. The proposed sculpture will measure approximately 18 feet tall by 34 feet long by 12 feet deep.
The City Council set aside $50,000 of Tourism Product Development funds for the project, and Fulton County Commissioner Liz Hausmann secured $150,000 in Fulton County's fiscal year 2022 budget. Over the summer, the City Council set aside an additional $50,000 for smaller art commissions.
Averbuch said in a phone interview Oct. 5 he spent a significant amount of time reading about the history of the area, the cities of Johns Creek and Duluth and all the players involved before submitting a proposal. What makes this project fun, he said, is getting to sort of relive the history of what happened.
"There is a lot of room for interpretation," Averbuch said. "I'm sure that everybody that sees it will see something slightly different. But, if you look at it from the front, you will see this bridge in the background crossing over the new bridge. I want it to be a celebratory piece … that represents the effort of different groups of people on both sides of that big arc."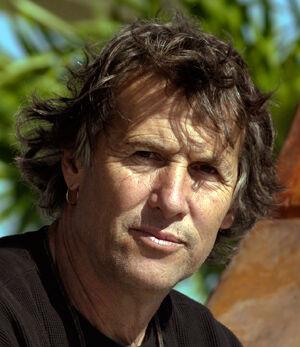 The steel pin truss bridge was built in 1912 to span the Chattahoochee River, linking what is now Johns Creek to Duluth. It was named after the Rogers family, who operated a ferry system that transported cotton over the river. Abandoned in the 1960s, the crossing fell into disrepair.
After years of partnerships and planning, in November 2019, the Johns Creek City Council approved an intergovernmental agreement with Duluth, Fulton County and Gwinnett County to replace the bridge and allow visitors to traverse from Rogers Bridge Park in Duluth to the future Cauley Creek Park in Johns Creek.
In their unanimous approval, the City Council expressed excitement about re-establishing pedestrian and cycling connectivity across the Chattahoochee River. The groundbreaking was held on March 29, 2021, followed by countless work session discussions to determine how Johns Creek could reuse its half of the salvaged material, or approximately 5 tons of steel, to speak to its historical significance.
The City Council ultimately signed an agreement with the Fulton County Department of Arts and Culture on April 25 to coordinate the process to call for artists and review submissions for commission artworks.
According to city records, 37 artists from across the United States submitted responses. The selection panel then individually scored submittals and convened on June 16 to solidify a short list of four candidates. Mayor John Bradberry asked Councilman Dilip Tunki to serve as a representative on the selection panel, which also included Hausmann. 
In his proposal, Averbuch wrote that he envisions a sculpture called "The Bridge," which will take the shape of two groups of abstract steel figures carrying a colossal stone arch made of granite recycled from old curbstone. Both recycled materials are "emblematic of transformation: in life and in time and form," he stated.
"The proximity of the sculpture to the river acknowledges the history of the communities who have benefited from a life near the water," Averbuch wrote. "The nearness to the county line which is marked by the river also symbolizes the connection of separate communities."
Born in Israel, Averbuch later moved to New York and has been an artist since 1982. His work knows no boundaries, appearing in Canada, Europe and India. His latest piece is at Golden Spike National Park in Utah. It commemorates those who built the world's first transcontinental railroad.
Averbuch said he used to make more pieces for galleries and museums, but he transitioned to large-scale outdoor sculptures about 15 years ago, because he enjoyed that it emphasized the history and place of a piece.
"A tree that is planted behind my sculpture matters, you know, or what you feel with it being beside the river," Averbuch said. "The arch, for example, will create what will look like a portal and serve as a bridge for us between something new and something old, so it kind of plays with time. It makes it less about me and more about something greater."
Averbuch said he also began working with recycled stone after moving to New York. At the time, New York City kept digging up Second Avenue, leaving behind what looked like an archeological site. Because it was granite and the city didn't know what to do with it, Averbuch said he made it his mission to "go and save those stones." Some of that recycled stone will also be used for the Rogers Bridge art piece.
"It's a bit of history from New York," Averbuch said. "Of course, I don't leave the stone as is, but I do try very hard to leave some of the old surface to shows that it used to be something else at one point."
Averbuch said he will spend a couple days in Georgia cutting up some of the Rogers Bridge steel before shipping it to his studio in New York. The piece is expected to be completed in nine months.
To learn more about Averbuch and his artwork, visit ilanaverbuch.com.