JOHNS CREEK, Ga. — After eight months away from the stage, the Johns Creek Symphony Orchestra will present its first live performance since the coronavirus pandemic struck.
Renowned violinist Charles Yang will join a strings-only subset of the orchestra Nov. 7 in an evening of chamber music — Astor Piazzolla's "The Four Seasons of Buenos Aires" and Henri Vieuxtemps' showpiece "Yankee Doodle." The concert is at 7:30 p.m. at Johns Creek United Methodist Church, with limited in-person and socially distanced seating available, as well as a Facebook livestream.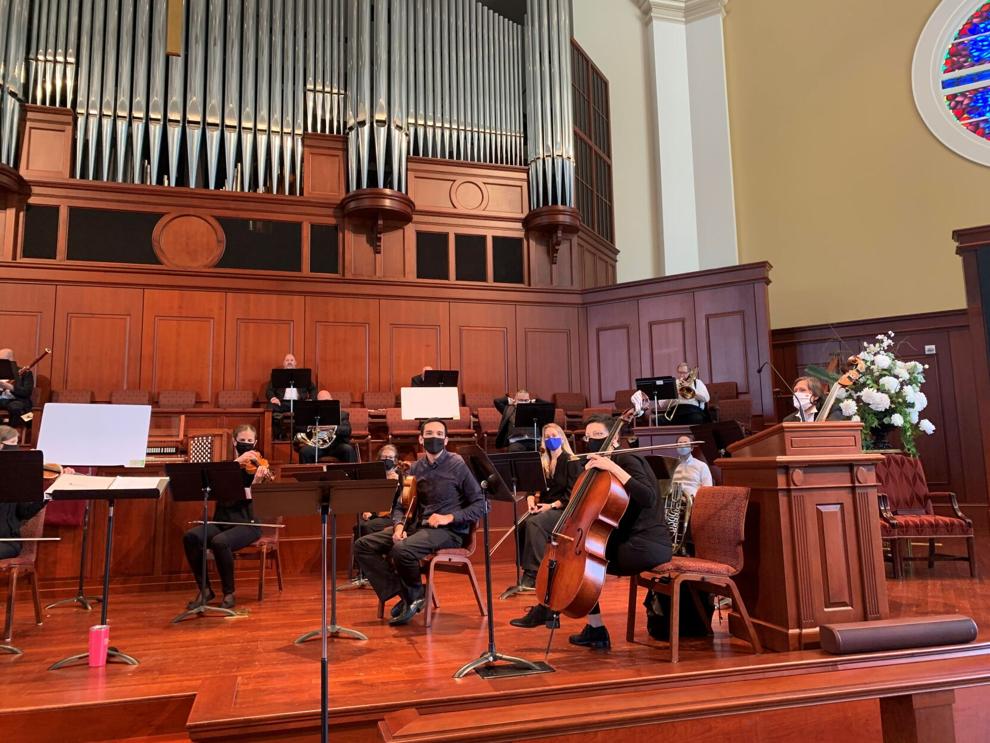 "We're just so grateful to be in the space, to be playing together and to have the opportunity to perform programs for people," orchestra violinist Jessica Stinson said.
As with all arts organizations, the Johns Creek Symphony has adapted its rehearsal and performance practices to prioritize public safety amid the COVID-19 pandemic. In March, following mounting case counts and Gov. Brian Kemp's declaration of a state of emergency in Georgia, the symphony canceled what Music Director J. Wayne Baughman said would have been the orchestra's "largest event ever," a concert in collaboration with Chattahoochee High School musicians.
Soon afterward, the orchestra formed a COVID-19 task force led by Emory Johns Creek Hospital CEO Marilyn Margolis, who serves on the orchestra's board of directors. The task force is charged with addressing patron and musician safety at all performances in whatever form they might take, keeping a close eye on virus-related scientific developments.
"We want our patrons to know that we want to bring great music to Johns Creek and that we're trying to do it safely," said Linda Brill, Johns Creek Symphony Orchestra executive director.
During the statewide stay-at-home order in April and May, the orchestra began an online performance series called "#HomeWithJCSO," in which musicians recorded performance videos from home to "show people that we're still thinking about our community and fellow musicians even while at home," said Stinson, who participated in the series.
Then, this fall, the orchestra began to rehearse in person again. The task force created safety protocols that include sanitizing rehearsal spaces and enforcing mask-wearing and social distancing. Before every rehearsal, task force members screen everyone who enters the rehearsal space — taking temperatures, asking health-related questions and providing hand sanitizer.
To prevent aerosol transmission, orchestra members are also spaced much further apart than normal, a precaution made possible with a reduced orchestra size. The Nov. 7 concert will feature only eight musicians, all string players who can perform while wearing masks — woodwind and brass players cannot.
Audience capacity is also reduced. The Johns Creek United Methodist Church seats more than 1,000, but the symphony is selling around 150 tickets for the upcoming concert, Brill said.
Baughman said that despite the emotional and financial impacts of canceled concerts and limited in-person ticket sales, the pandemic's restrictive environment has forced arts organizations to be creative in developing new strategies to bring their music to the public.
"That's the beauty of being in the cultural arts or any kind of creative arts, visual and performing arts is that we are creators," Baughman said. "That's what we do."
Tickets for the Nov. 7 concert can be purchased on the orchestra's website, johnscreeksymphony.org, or by calling 678-748-5802. In the coming weeks, the orchestra's recently recorded "Virtual Concert Series" will launch online. The orchestra will JCSO will present two additional live concerts, on Dec. 19 and March 27.