ALPHARETTA, Ga. – Since the early '90s, artist Malika Garrett has wanted something like "Colors of India" for herself and her colleagues.
She wanted a space where artists of Indian origin could come together to showcase their work, to express Indian culture, tradition and history, and for that to help eliminate some of the rigid stereotypes that Indians are often confined by.
"There's a whole lot more to India than IT," Garrett said.
Born in Kolkata, India, Garrett traveled to the United States in 1985 to attend Wesleyan College in Macon, where she earned her bachelor's in visual arts. She uses oil to paint everyday people with the bright, bold colors that speak to Indian fashion and atmosphere.
"I have devoted a lot of my work to women," Garrett said. "Most of my work is about women. Indian women are extremely strong. They run the show – and surprise, surprise, but most women do."
The India American Cultural Association (IACA), which is celebrating its 51st year in community service, and Alpharetta Arts Center partnered to organize the "Colors of India" exhibition. Those interested can visit and see its artworks at the center through Sept. 23.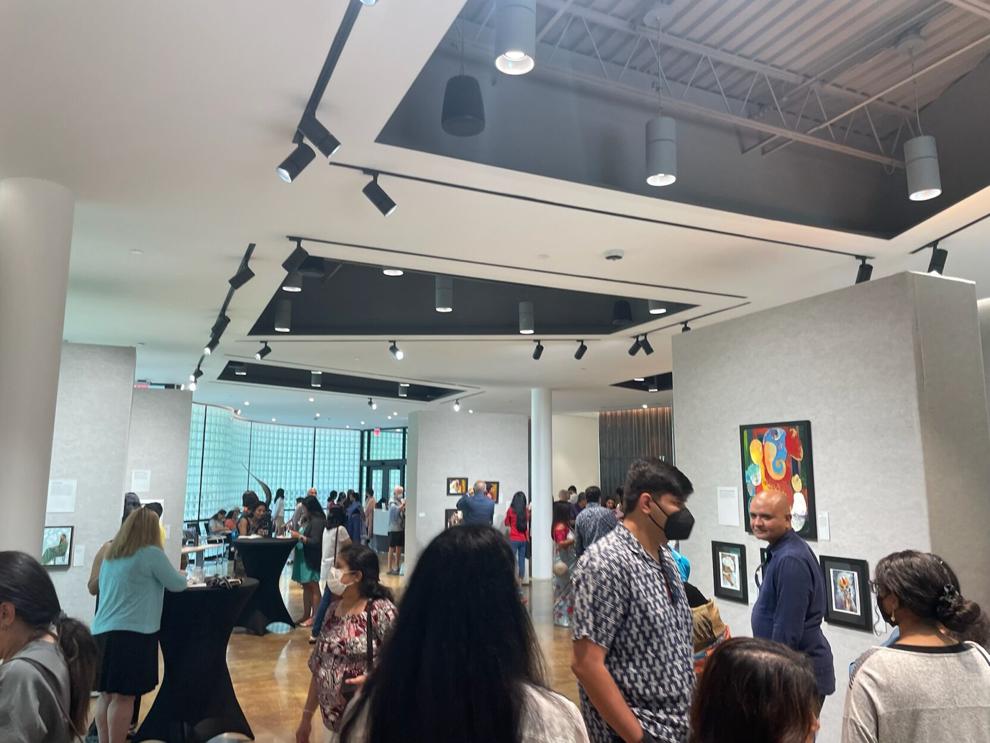 Garrett, who played a key role in organizing, called the exhibition the first of its kind. While the IACA has hosted other showcases in the past, "Colors of India" is the first external exhibition, IACA President Chand Akkineni said.
The gallery's 15 artists, all women IACA members, presented and talked about their work at an Aug. 6 reception. The reception buzzed with conversation among its 260 attendees, the artists and center staff. Many held plates filled with a variety of Indian dishes, like chicken and aloo Kati rolls from Cal Kati's and idli, samosas and chicken tikka from Nalan.
In the latter half of the evening, Atlanta-based singer/songwriter/pianist Anita Aysola performed. Aysola, who's toured nationally and performed for former President Barack Obama, brings jazz, blues and Indian classical influences into her original songs.
In the past 10-15 years, around 50,000 Indians have migrated to Alpharetta and nearby Cumming and John's Creek, Akkineni said.
"I really thought it was time for us to get to know each other," Garrett said.
Garrett's daughter, Aalia, also displayed her artwork at the show. Artists have their own section, which includes their biography and detailed explanations of each art piece.
Aalia's biography reads: "Growing up in a multi-ethnic household, she developed a sort of hybrid identity, once composed of two vastly different cultures. She wanted to depict both the highs and lows of each and the subsequent complications that arise from clashing perspectives."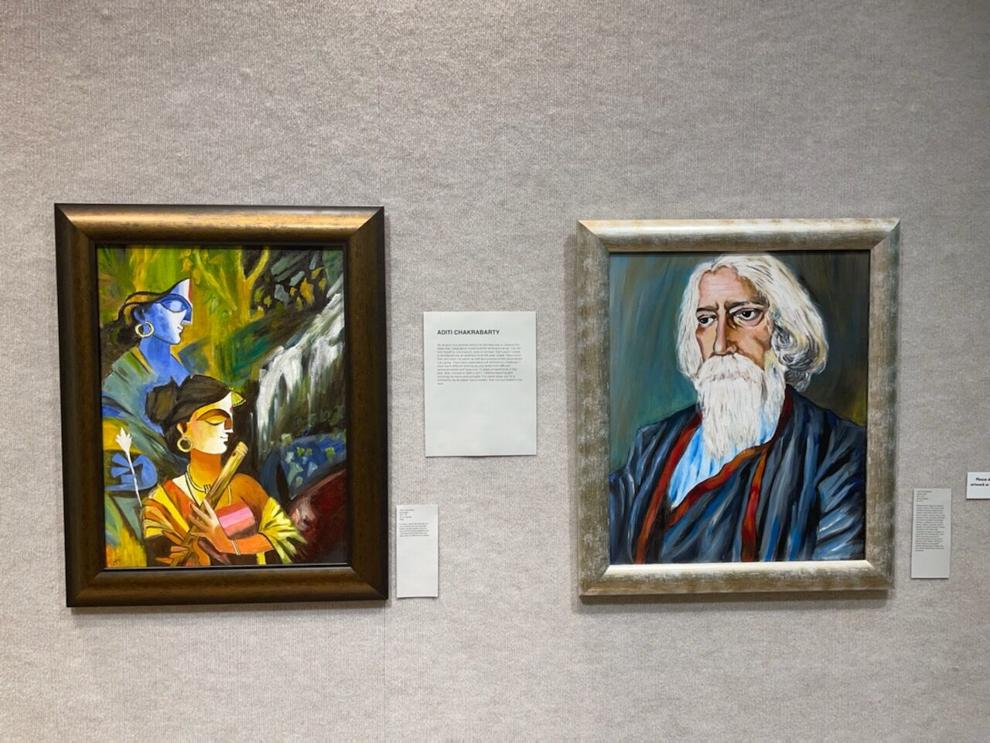 Like Garrett, some of artist Aditi Chakrabarty's inspiration comes from wanting to pass down Indian culture to her daughter. One of her pieces is an oil portrait of Rabindranath Tagore, the only Indian winner of the Nobel Prize in Literature. Chakrabarty came to the United States in 2011 from West Bengal, India. Tagore is also from West Bengal.
"My idea was to just have a painting in front of her to show that he's sitting in front of you, and you can just go ahead with your flow," Chakrabarty said.
Every "Colors of India" artist has their own journey and message to convey, which adds to the larger idea behind the exhibition – India and Indian-Americans are not a monolith. Ways of being are diverse.
Artist Neha Patel chose to explore how Indian culture is ever-evolving and does it through a modern lens. Patel takes age-old iconography, like Om for example, and creates simple, emoji-like designs with consideration for the current tech-savvy generation.
"When everyone thinks of India, they think of one version that's a bit old school," Patel said. "My job as a creative is to upgrade our work."
The IACA will also host its flagship event, Festival of India, at Gas South in Duluth on Aug. 13. The day-long event, which is in its 26th year, was conceptualized to commemorate the 50th anniversary of India's independence. There will be a flag march, culturally rich performances, art exhibits and seminars ranging from topics on yoga to immigrant political beliefs.