JOHNS CREEK, Ga. — Gerald Burch, an actualized renaissance man, is compelled to create art. It's a gift from God, he said, that he sometimes wakes up in the middle of the night with visions of what to create next. One time, Burch said he woke up, took the shirt off his back and used it for a painting.
"My work is not for everybody because it's not pretty," Burch said. "Some of the stuff that I do, I don't even like, but I'm compelled to do it."
Burch's tagline, "the Artist is the conscience of a Society," speaks to his overall objective to create a dialogue through art, seeking to ask questions and propose answers on equality and social justice.
His pieces, on display in the Johns Creek Arts Center "Souls Grown Deep" exhibition, have a cohesive theme in how they speak to his experience as a person of color, witnessing a world constructed in oppressive ways.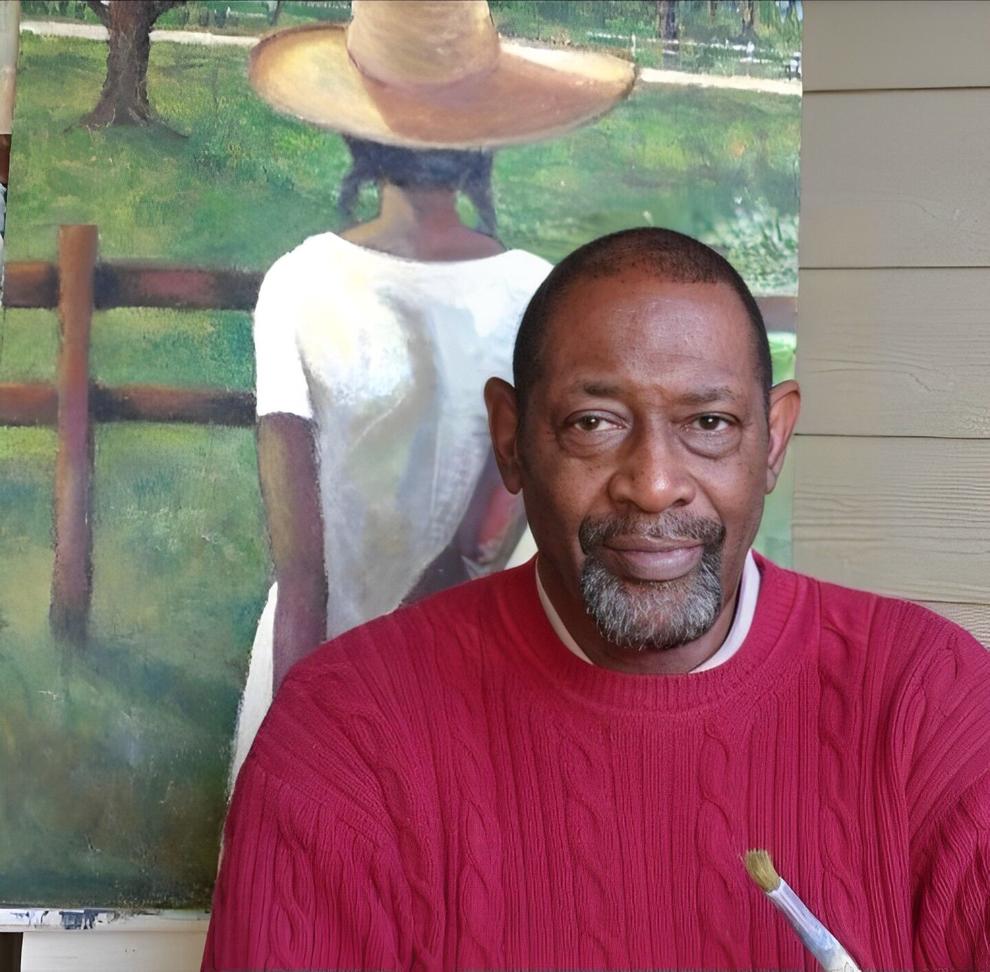 Born in Albany in 1955, Burch knows the Jim Crow South. He remembers standing in front of two fountains, puzzled. His experience led him to create "Why," a large mixed-media painting of a girl in a '50s style dress looking at a "White Only" water fountain in dismay.
"Does it taste different?" a young Burch asked himself.
'Souls Grown Deep'
Althea Foster, program director and curator at the Johns Creek Arts Center, said the title for the exhibition comes from a Langston Hughes poem.
"My soul has grown deep like the rivers," Hughes writes in "The Negro Speaks of Rivers."
Burch is one of two artists in the exhibition, on display until Feb. 25. Accompanying Burch's less refined folk style are Ronald Sullivan's sleek, polished, sophisticated sculptures made of wood and stone.
Sullivan is keen on incorporating themes like spirituality, family, nurture, completeness and balance in his work, according to his artist biography. He believes there to be a "natural warmth and beauty" to carved raw materials.
Foster thinks the two artists complement one another well and speak to two different Black experiences.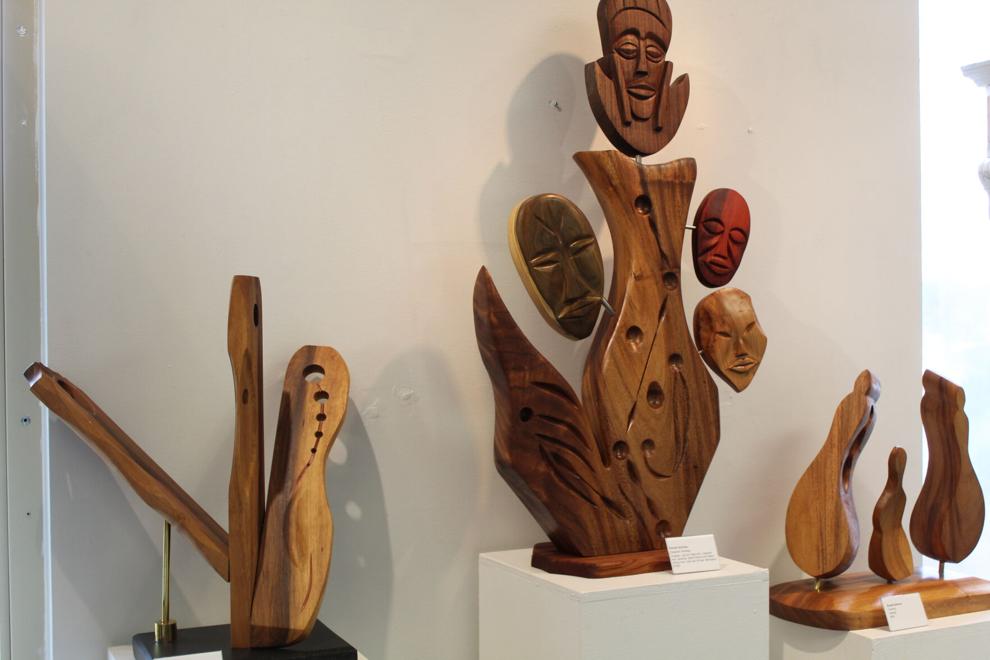 On one hand, Burch's family had worked in the cotton fields and on another, Sullivan immigrated to the United States by way of Guyana and England. Burch went to art school, while Sullivan started creating after a career in engineering.
"I think it's a tendency among all people to lump people together and say, 'the Black experience,'" Foster said. "But the Black experience for people is very, very different … Not all Black people think alike …"
'Bits and pieces'
Burch's work, often visceral, spans different periods of time — from the era of cotton fields, where viewers might see a weary woman in the foreground carrying a satchel of white fluff, to police brutality in the modern day.
In "Suffocating Walls, Closed Windows and Silent Cries" Burch painted the words "I can't breathe" on a mouth covered by the American flag, harkening back to the 2014 death of Eric Garner at the hands of a New York City Police officer who used a prohibited chokehold. The utterance became a slogan for the Black Lives Matter movement.
The background is busy with 3D white crosses marked "Unknown," but still, there are many named victims listed across the piece. A miniature Skittles box was created that references Trayvon Martin's murder in 2012.
Most of Burch's work is mixed media and incorporates found objects. He'll go for a walk, look for bottle caps, or cans flattened by cars, pieces of wire, tree bark, leaves, "some of everything." Burch went to art school, where he was taught a more traditional style. But as he got older, he began to see life as "bits and pieces," familiar things that everyone can associate with.
"These are the things life is composed of," Burch said.
In "A Not So Random Act of Violence," caution tape is strewn across the body of a man that lay sprawled on the ground in a bird's eye view. His body is covered in script reminiscent of the U.S. Constitution. An old razor cell phone jets out from the painting in the bottom right corner, indicating that the subject may have called loved ones with his last breath. Bullets are scattered about.
Burch described a piece that he was working on, which had little bits and pieces of stuff all over it. He couldn't find a name for it.
"Eventually, the artwork itself will tell me what it wants to do, or what it wants to be. It's almost like a little child. And I'm looking at it now, and I ask, 'What do you want from me?'" Burch said. "Eventually, it'll tell me. Forgive me for being cryptic, I'm sorry…"