ROSWELL, Ga. — Dust still hasn't settled from the mishandling of Roswell's Oxbo Road realignment project it seems.
Seven months after revelations of significant delays and millions in cost overruns on the project, some Roswell residents continue to doubt whether city officials won't make the same mistakes.
This time, though, the target was a project consultant who had little if anything to do with Oxbo Road.
The Roswell City Council approved an initial $1 million contract with engineering consultant Atkins North America on May 9 to manage capital improvement projects funded by the second Transportation Special Purpose Local Option Sales Tax, or TSPLOST.
Atkins, based in Atlanta, was the only company to respond to the city's request for qualifications in March. Ostensibly, the agreement runs for five years, with payment of $1 million each year. The City Council has the option to cancel the contract during the five-year term.
During the May 9 meeting, residents Jason Yowell and Janet Russell raised concerns with Atkins, insisting that because the firm served as the program manager for TSPLOST I, which helped fund the Oxbo Road realignment project, they should not handle TSPLOST II.
But, interim Transportation Director Dan Skalsky said, Atkins has a clean record with the City of Roswell.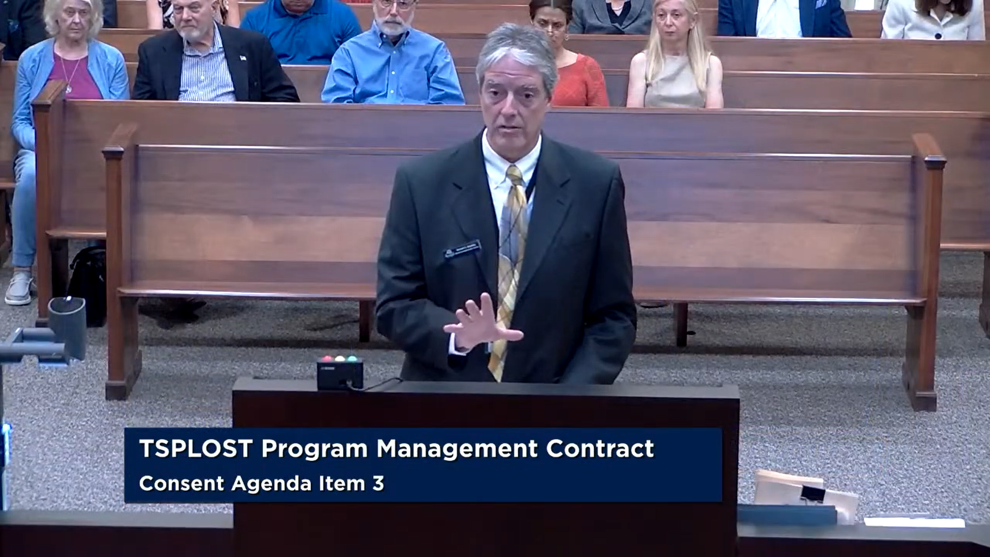 In April 2017, the City Council approved a $1.2 million contract with Atkins for three years with the option to renew for two additional one-year terms. Skalsky said the company worked on the entire transportation funding program, including a few "very large" projects like Phase 1 and 2 of the Big Creek Parkway project, but not on Oxbo Road.
The Oxbo Road project was proposed more than a decade ago to solve a host of safety and mobility problems at Ga. 9 and Oxbo Road near Mimosa Boulevard, among other areas.
An independent investigation conducted by the law firm Jarrard & Davis revealed in September 2021 that extreme mismanagement by city staff and the city attorney had led to significant delays and millions of dollars in cash settlements for the project. It also concluded the delays were due to issues with property and right-of-way acquisition, utility relocation and slow construction, all things Atkins will now be handling.
The Oxbo Road project is expected to be completed by December 2023 and cost $18.4 million, more than double its original estimated cost of $7 million in 2016.
Skalsky said while residents' concerns are legitimate, Atkins had "zero" responsibility for what happened with the Oxbo Road project. He added that Atkins is not mentioned anywhere in the 34-page Jarrard & Davis report.
"The project responsibilities and the responsibilities of the program manager are dictated by the city," Skalsky said. "We are the client. We tell them what to do. We ask for their qualifications in certain areas. … Oxbo was pretty much out of the gate, out of the drawing boards and into the procurement process, and the city was handling the land acquisition process for that project [when Atkins came on board]."
In hindsight, Skalsky said, he wishes Atkins had been more "aggressively involved" but that it may have been too late.
"I fully intend to make sure that their roles and responsibilities going forward are more fully accountable and responsible for overall program performance," Skalsky said. "And, if we are successful in moving this forward, one of the first things that they will be involved in doing is coming to you all with how we plan on managing and implementing TSPLOST II …. I would anticipate that being potentially as early as June."
Yowell didn't buy it.
"I don't think there's a worse way to spend a million dollars of city money," Yowell said. "I don't think the fact that they weren't mentioned by Jarrard & Davis is a ringing endorsement, because it sounds like they didn't do anything. … I can't believe that the scope now is so much more encompassing that they're willing to entertain taking $200,000 less for a whole lot more work. Something's not right in this picture."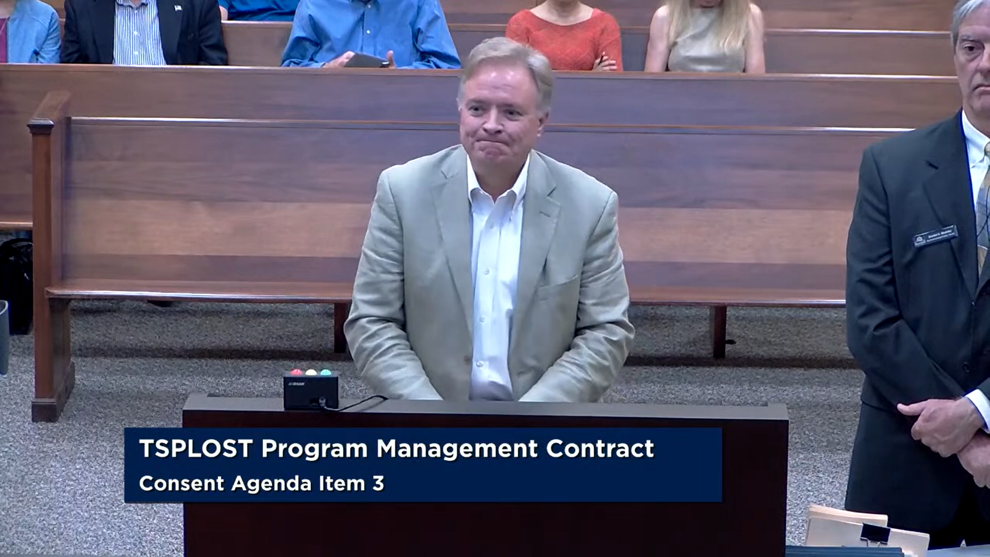 Brian Bolick, Atkins vice president and southeast senior division manager, responded to the criticism by reiterating that the company had nothing to do with the Oxbo Road project, because it was tasked with handling other "very targeted assignments." In 2017, Bolick said, city leadership decided they wanted their own engineers and project managers to handle Oxbo.
"We work for cities of all sizes," Bolick said. "I personally worked for years for the City of Flowery Branch, which is much smaller, and we work for the City of Atlanta. We're one of the top designers for Georgia [Department of Transportation]. This is what we do. We do it very well, and I think if you talk to the clients that we have done this for, you will find that they are very well pleased with what we do."
Skalsky backed him up.
"Atkins will help with our speed of delivery," Skalsky said. "I also believe it'll increase our ability and capacity to deliver projects on time and on budget."
Councilman Mike Palermo moved to approve the contract, which received a second from Councilman Peter Vanstrom. It passed 5-0, with Councilman Marcelo Zapata absent.
First passed by Fulton County voters in 2016, TSPLOST is a .75 percent sales tax whose revenue is divided among the county's 14 cities outside Atlanta to pay for transportation improvements such as road widenings, sidewalks and intersection improvements. Atlanta has its own transportation sales tax.
Voters agreed to renew TSPLOST for another five-year term last fall. It is expected to generate between $70 million and $80 million for the City of Roswell over that term.