ROSWELL, Ga. — Despite rainy weather on May 18, crowds packed Canton Street for 2023's second Alive in Roswell festival. Hosted by the city, the free monthly festival runs from April to October, with live music, food trucks and local vendors.
"I feel like I'm back at Shaky Knees," a young woman shouted walking through the crowd. Alive in Roswell isn't quite the size of Atlanta's annual music festival, but the monthly event attracts thousands of visitors.
On average, city officials said the event garners about 5,000 attendees. From 5-9 p.m. they can shop from over 75 vendors, watch live music on two stages and buy beverages from several tents on the street.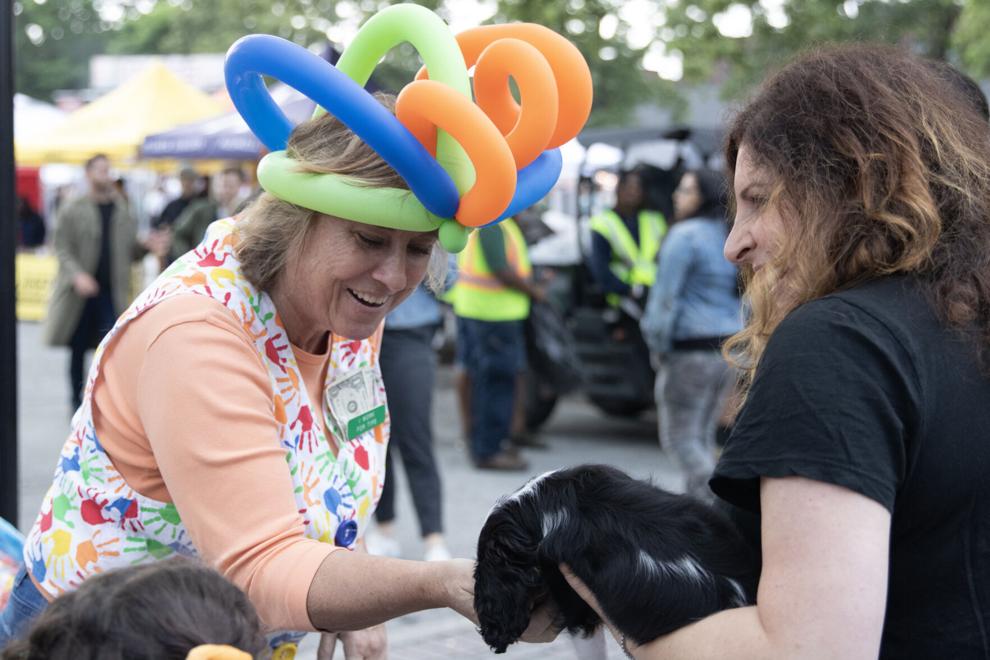 Roswell Special Events Manager Chris Ward said the work behind Alive in Roswell is a year-round job. The team spends months getting sponsorships, coordinating vendors and working with the Roswell police and fire departments.
"The idea started several years ago, basically it was to get people to come to Canton Street on a Thursday night," Ward said.
The event has grown since its creation, now offering various food trucks alongside the Canton Street restaurants and drink tents from Top Job Beverage and Events.
Ward said the feedback from Alive in Roswell has been overwhelmingly positive, particularly because it appeals to everyone.
"If you walk down Canton Street, you're walking through all demographics," Ward said. "There's not really one group that owns the event.
Roswell City Councilwoman Christine Hall worked as a "celebrity bartender" at one of the Top Job Beverage and Events tents on May 18, where she fundraised for the Children's Development Academy in Roswell.
"I raised $675, so that's really exciting," Hall said.
She attends the event frequently to relax and run into people in the community.
"It's a great opportunity for the community to get together," Hall said.
Many come from out of town, though.
Ashley Duke, a Vinings resident, said it was her second time attending Alive in Roswell. Her family visits the event frequently.
When she does attend, Duke said it makes her wonder why she doesn't come more often.
"Nowhere else does this," Duke said. "I know people who came here from Vinings, Buckhead and Johns Creek."
She said part of the draw of Alive in Roswell is the community feel, with live music, street vendors and open container policy that lets her carry drinks from place to place.
Special Events Manager Ward said the city prioritizes Roswell-based businesses, with about 60 percent of the booths run by local businesses.
Amanda Miller, owner of resin homeware and jewelry business the Golden Girl spent the May 18 festival selling her products at one of the event booths.
This is Miller's second year as a vendor at Alive in Roswell. To sell at the event, she pays a flat fee to set up a booth for the whole "season."
Miller, who grew up near Canton Street, said she has always been familiar with the event. When she started her business in 2020, she knew Alive in Roswell would be a natural choice.
"I really like just being a part of the local community," Miller said.
The large crowds are also a guaranteed profit for the shop owner, who said there aren't many events like Alive in Roswell.
"This is the only place to go outside the perimeter," Miller said.
The open container laws have caused some local business owners to call the festival a "drunk fest," specifically after 9 p.m. when the event is officially over.
Roswell Police Chief James Conroy said the festival gets "pretty rowdy" as the night continues. Around 9:30 p.m. officers start clearing the street.
Roswell Fire Department Deputy Chief of Operations Pabel Troche said the festival is "pretty tame" compared to other areas like downtown Atlanta. He said the fire and police departments typically have to deal with people stumbling and falling, or occasionally getting too inebriated.
As the night stretches on, many of the Canton Street businesses close their doors. A few businesses, like Rock 'N' Taco stay open until 1 a.m. where people line up to keep the night going.
The next Alive in Roswell will be June 15.