ROSWELL, Ga. — Relief is on the way for travelers around the Ga. 9 and Oxbo Road intersection, especially for those looking to turn left onto Oxbo Road.
Dozens of city staff and elected officials met at the intersection Jan. 27 to celebrate the official start of construction for the Oxbo realignment project. The goal is to eliminate the staggered intersection at Ga. 9 and convert the portion of Oxbo Road near Mimosa Boulevard into a two-way street. It will also provide new turning lanes on both Ga. 9 and Oxbo Road along with a new traffic signal.
 "The project solves a list of safety and mobility problems," said Director of Transportation Muhammad Rauf. "This intersection has been in the city's top five high crash intersections for a very long time."
One such upgrade is to convert Pleasant Hill Street into a two-way with a less steep incline. Other improvements include extending Elm Street to the intersection of Oxbo Road and Pleasant Hill Street. 
"This connector street provides a desperately needed safe access point into the Mill Village area for the residents, business owners and visitors," Rauf said.
The new traffic signal and left turn lanes at the new Ga. 9 and Oxbo Road intersection is also expected to improve safety while easing traffic. There are no left-turn bays on Ga. 9 at Maple Street, Sloan Street or Mill Street. Because of the area's historic resources, traditional widening and intersection improvements are not feasible at those three intersections, Rauf said.
The Oxbo realignment project's concept first began in 2009 and is funded through the Transportation Special Purpose Local Option Sales Tax approved by voters in 2016. This is the city's second TSPLOST project, behind Rucker Road improvements, that has begun construction.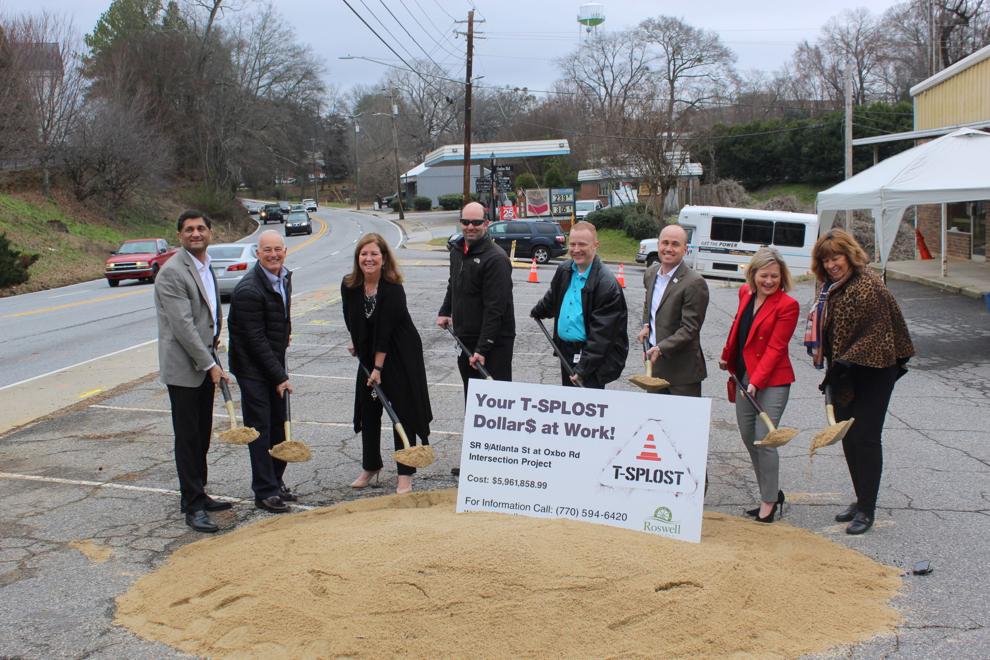 The project's total design cost comes in at $629,000 and its construction cost at $5.9 million. Construction is expected to end July 2021.
The city partnered with design firm Clark Patterson Lee and contractor E.R. Snell for the project.
"For the first time in my life, I am confident that we are going to ease congestion in the city of Roswell with the projects we have going on," said Mayor Lori Henry. "I'm very excited to see this one start."