ALPHARETTA, Ga. — Michelle Walters never intended to expand LNB Candles beyond the immediate orbit of her daughter and her friends, but it's success outgrew expectations.
Her small business has grown out of her home and into its own physical location, onto the shelves at Walmart and a booth at Alpharetta farmers markets.
Walters was one of the vendors at the Jan. 11 North Main Street Market at Alpharetta, a new winter farmers market that began in November. The various vendors, ranging from hot sauce shops to gluten-free tamales, set up at Henderson Commons.
Walters' business began with a personal goal in mind. Her daughter was diagnosed with a health condition.
"We noticed she was starting to break out and get cystic acne, get very tired at night, get sleepy, and say, 'I have headaches,'" Walters said. "And we figured out it was the candles she was burning."
Walters said through research she discovered that some candles contain dangerous chemicals, which led her to make her own candles out of simple ingredients.
LNB has expanded beyond candles to room sprays and car fresheners. Walters said she has recently started expanding into body lotions and body sprays.
LNB Candles can be found at 6778 Jamestown Dr. in south Forsyth County, at the Halcyon Farmers Market, on Amazon and at some Walmart locations.
Noemi Espinoza, owner of Noemi's Tamales, also started her business through a love for family. Espinoza — who makes tamales that are organic and gluten-free, sauces and salsas — said her mother and tradition are what inspired her to the business.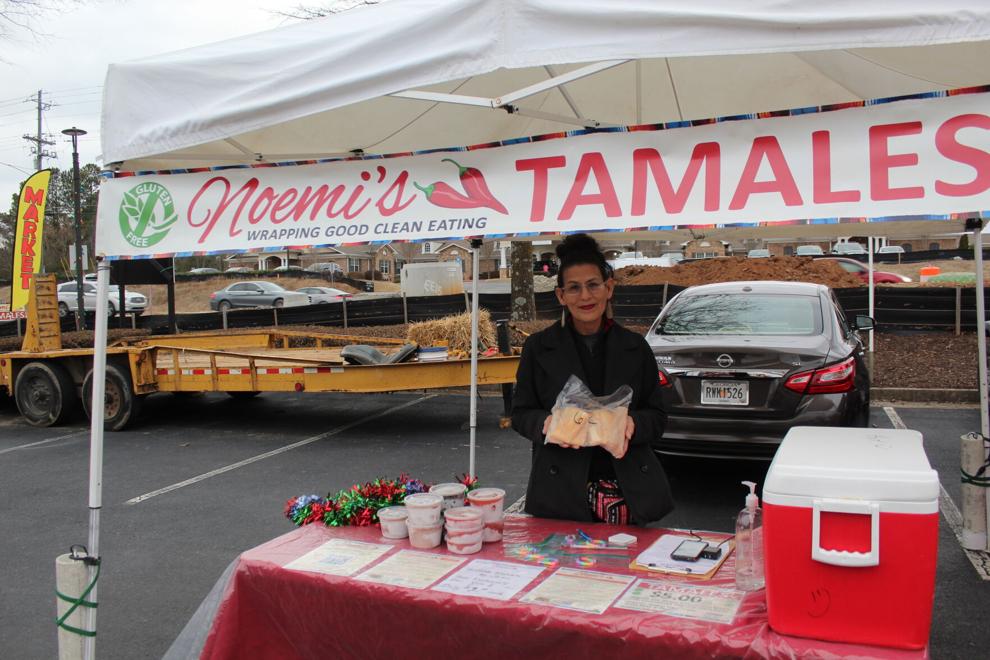 Espinoza founded Noemi's Tamales in 2009 but eventually left the business behind after the birth of her grandson in 2017. However, Espinoza said, she wasn't able to stay away for long, and she resumed tamale sales after a five-year recess.
"I would make my kids, I would make them make tamales," Espinoza said. "Like, you just don't have life without making tamales for Christmas."
Other vendors at the event included Boarding Pass Coffee, Mighty Greens GA, Southern Local Nuts and B&A Bees.
Businesses like Gone Bananas, owned by Eric Luidens and his wife, began because of COVID-19, and has hung around since.
Luidens' booth featured Caribbean banana bread, which Luidens said differs from typical Georgia banana bread in ingredients, spices and flavors. Luidens, who travels to markets as far as Macon, also sells his bread on Instagram.
"Everything is natural," Luidens said. "We source everything as local as possible, so we know what we're putting in it."
For those without the taste for banana, another vendor, Phil Patisserie, boasted various pastries, both sweet and savory, with a croissant base, as well as macarons. Owner Philippe Monnerie said he has baked for 20 years and finally decided to share the treats last year.
A stone's throw away, Point Blank Pepper Co. founder Rich Newton said he launched his business four years ago as a sideline. But, when he was furloughed from his job in 2020 due to COVID, he committed fully to selling his table sauces and peppers in brine.
Newton said Point Blank has been nominated for awards, including a 2021 Flavor of Georgia finalist and the winner of the 2022 International Fiery Flave Awards.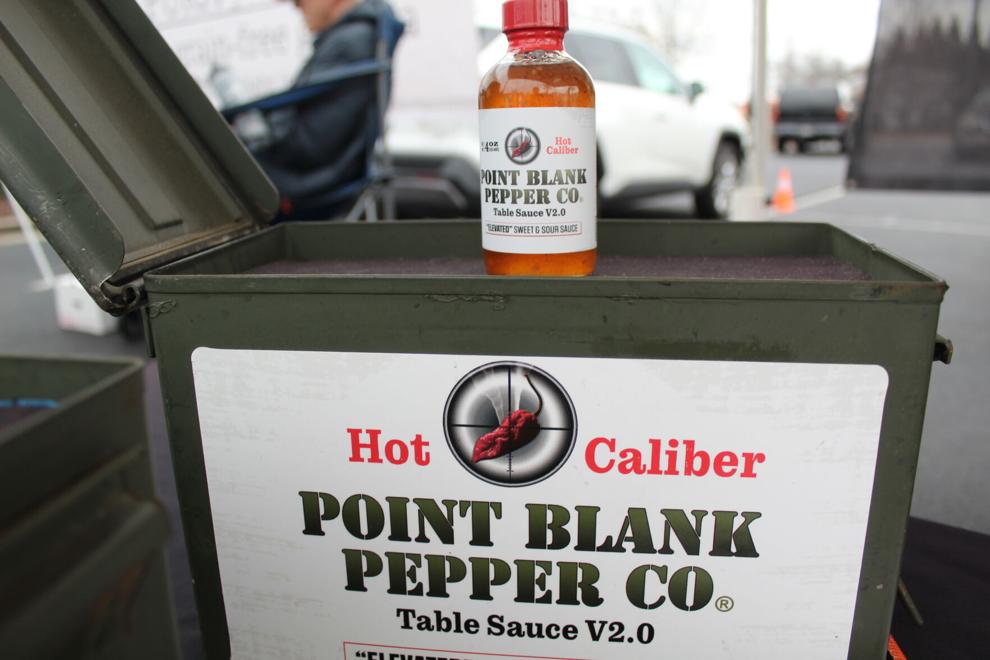 Joern Seigies, who manages the North Main Street Market, got into the act, too.
His Bramberi Farm booth offered berries and lamb for sale.
Seigies, who frequents farmers markets to sell his berries, said he wanted to start the North Main Street event to fill the traditional off-season.
"If it picks up and it's a good winter market, we will keep it all year-round, maybe, if we get all the approvals for it, even into the summer," Seigies said.
The market runs through March on Wednesdays 3:30-6:30 p.m. and is located at 735 N. Main St.