ALPHARETTA, Ga. — Green Cell, the Alpharetta-based nonprofit, is endearingly scrappy, but it packs a punch with more than 100 volunteers.
The group leads a number of eco-conscious projects that service other cities in Fulton County, like Johns Creek, as well as Forsyth and Gwinnett counties.
Green Cell is also looking to engage communities outside of the state by setting up utensil banks in Charlotte and one in Texas. The project loans coolers and utensils for low-waste gatherings. By loaning utensils in 2022, Pankaj Rajankar said more than 100,000 single-use utensils were eliminated.
Rajankar, who co-founded Green Cell in 2018 with Sandesh Shinde, said the idea for Green Cell started with a well-liked Facebook post spreading environmental awareness.
"My comment on that was, 'These likes don't matter,'" Rajankar said.
He said everybody points a finger and asks others to change their habits, yet they hold a plastic bottle or don't own reusable grocery bags.
"Unless all human beings change and ask for this change, the change is not going to happen," Rajankar said.
He along with board member Vijay Desai and youth coordinator Ramya Shivkumar sat inside the Dunkin' Donuts off North Main Street in Alpharetta sharing Green Cell milestones. Shivkumar's young but forward-thinking daughter was there, too, and said she wants to move to California because the state is banning plastic bags.
Desai pointed out the window to call out the harmful transportation of pine straw used to beautify the parking lot's medians. The area already has a lot of pine trees, but Desai said the needles are mostly transported from Florida.
"It's crazy that they are actually spending carbon to bring [those] pine needles and spread it here when we could just simply leave the leaves alone," Desai said impassioned, with comments on an alternative like spreading composted soil.
Composting was one focus of the Feb. 9 discussion. But Shivkumar also brought news about an upcoming youth sustainability conference hosted by Green Cell in September, the first of its kind in the state in a decade.
Plans for youth summit
For the conference, Shivkumar is working with the Wild Center based in New York, which has a youth climate program. Shivkumar reached out to Atlanta's chief sustainability officer for support.
Shivkumar foresees the conference attracting at least 400 middle and high school students. Details, like venue and keynote speakers, are still being decided.
But Shivkumar said the conference will involve students in a climate change workshop where they will create actionable plans to address climate change and sustainability in their local communities. There will also be mini workshops.
The summit will provide a platform to share success stories, Shivkumar said, and continue to build a platform for students to continue discussion post-conference.
While plans are in the works for the larger conference in September, Green Cell's youth program has regularly hosted virtual summer camps, where students are asked to study an environmental issue and perform a related action, like three-minute showers or glass recycling. Green Cell also has an orientation program for kids that teaches about environmental issues and why action is important.
Shivkumar said the program, which now has more than 40 volunteers, came into the picture once she saw a void in the education system.
Students aren't taught how their everyday actions impact the environment, she said, and many don't have the resources or guidance to actively participate in discussions.
"We wanted to bridge that gap by providing that education on what you can do in your everyday life," Shivkumar said. "You don't have the money, you don't have the resources, but you have a voice and you have certain things that are in your control that you can do."
Composting made accessible
In February, Green Cell volunteers including Rajankar, Shinde and Desai, constructed a community composter in Shinde's backyard.
The 475-gallon, enclosed composter is made of pressure-treated plywood and uses a pump air system which speeds up composting from 8 weeks in summer and 16-20 weeks in winter to about a month.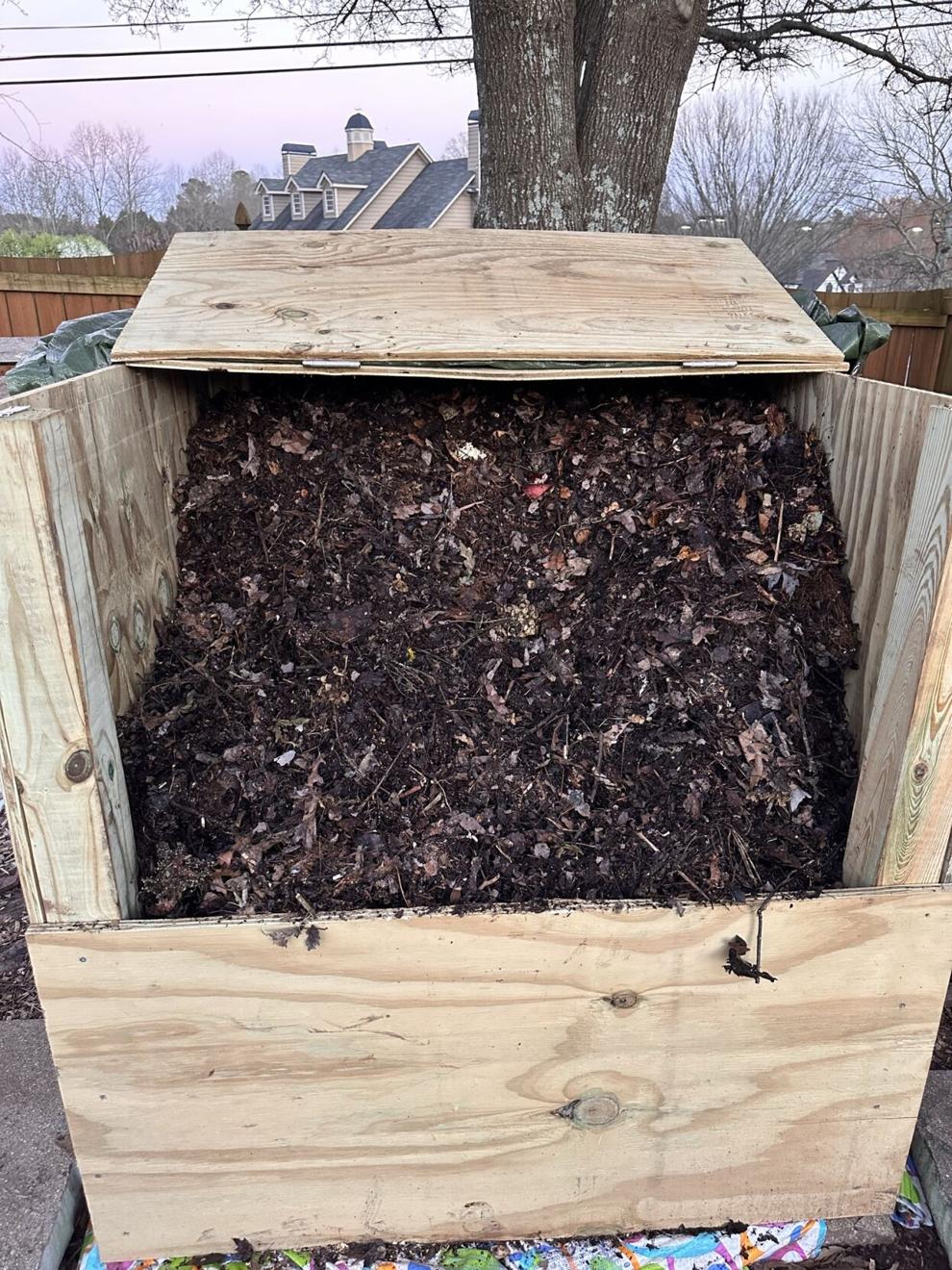 Once the organic material, made of "greens and browns," is composted, the soil will set out to dry for a few weeks and is then picked up for personal use. "Browns" are the dead leaves that are necessary to dry out the moisture from organic matter, or the "greens." Finding the balance between the two is the number one issue people face when they compost, Rajankar said.
Composting has two benefits, he said. When people compost, they aren't throwing organic matter in trash, which prevents methane gas. Rajankar said methane is 25 times more potent in warming the planet than carbon dioxide.
The second benefit is that the carbon is captured in the soil, he said, rather than the atmosphere.
Because people understand the need for composting, but are not able to compost, Green Cell started a mentoring program called, "Compost with a buddy." The program assigns volunteers to residents to help them until they are successful with their first batch of compost.
The grant for Green Cell's new composting learning center at Autry Mill in Johns Creek was recently funded. Visitors will be able to see the benefits of composting through different types in a walking tour.
Johns Creek saw Green Cell efforts in other ways, too. Youth volunteers helped implement glass recycling at Ocee Park last year.
Green Cell has hands on several other projects. The nonprofit rescues discarded food with the help of Bagel Rescue. This past year, volunteers have rescued more than 40,000 pounds of food. Much of it was bagels, which Desai stockpiles in his personal freezer before donation.
"Composting — the food is gone to waste," Desai said. "But with food rescue, you're actually feeding people, right?"