ALPHARETTA, Ga. — Cathy and daughter Cara DeLalla started the Meatballerz food truck seven years ago and have been regulars at the Alpharetta Food Truck Alley since.
Cathy's father, Cara's grandfather, is a first-generation immigrant from Italy, by way of Ellis Island. For Cara, the pride and joy of the company is its authenticity, starting with the ingredients. For example, making meatballs by soaking stale Italian bread in milk instead of taking the shortcut with store-bought breadcrumbs. Then, there's the method. Everything is handmade.
"It's not shying away from a process that my grandma and my grandma's grandma were doing in the kitchen, where they're hands on with everything – it taking hours," Cara said. "It's a genuine labor of love, you know?"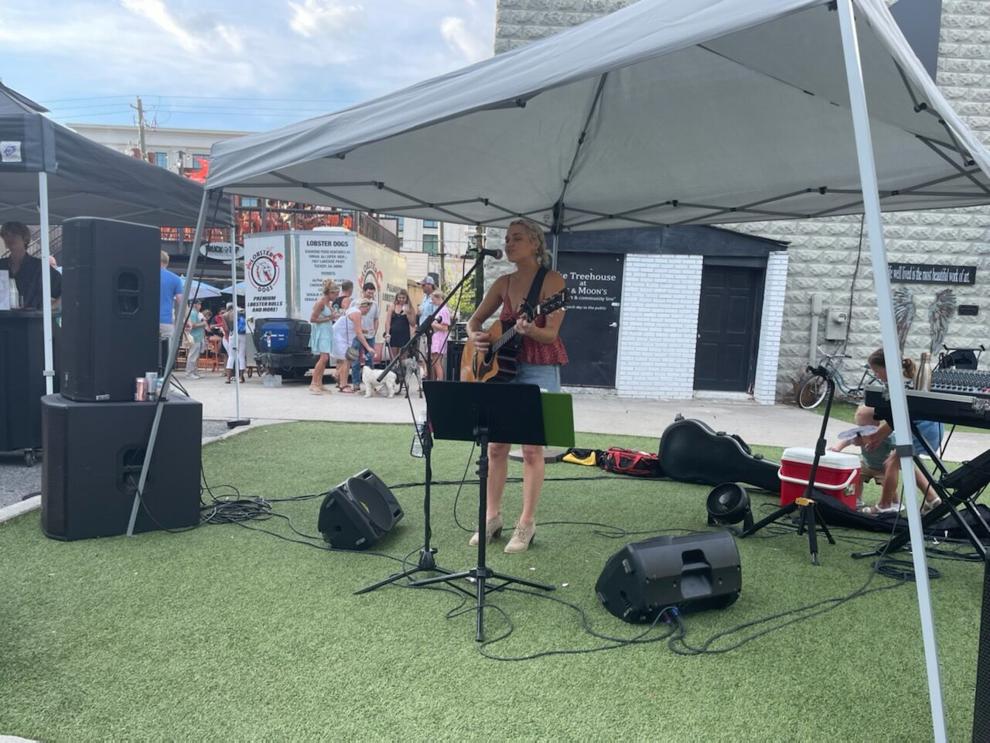 On Old Roswell Street in downtown Alpharetta, the July 28 event drew well over 700 people. Food Truck Alley is held every fourth Thursday of the month and runs from 5-9 p.m.
Since the DeLallas opened their brick-and-mortar restaurant in January 2020 after calls for Meatballerz to have a central location, the mother-daughter team has concentrated on the indoors operation. But Cara continues to send the truck out to Alpharetta for a variety of reasons.
"It has all the things you want. It has music. It has family. It has camaraderie. It has a good number of trucks, but it's not so overwhelming that it's almost too many choices," Cara said.
The Alpharetta Convention & Visitors Bureau sponsored the music production, bringing in Cumming native Riley Biederer, a finalist on "The Voice." Biederer's sweet-sounding vocal range and acoustic guitar carried original songs and classic covers, like Fleetwood Mac's "Dreams."
In front of Biederer was a grassy area, packed with families and groups of friends in lawn chairs. Other food trucks were in the adjacent lot, including The Bento Bus, Low-Co Motion, South of Philly, Operation Mini Donuts, King of Pops, Lisa's Crêperie, Gotta Have It Catering, A Little Nauti Food Truck and The Pickle.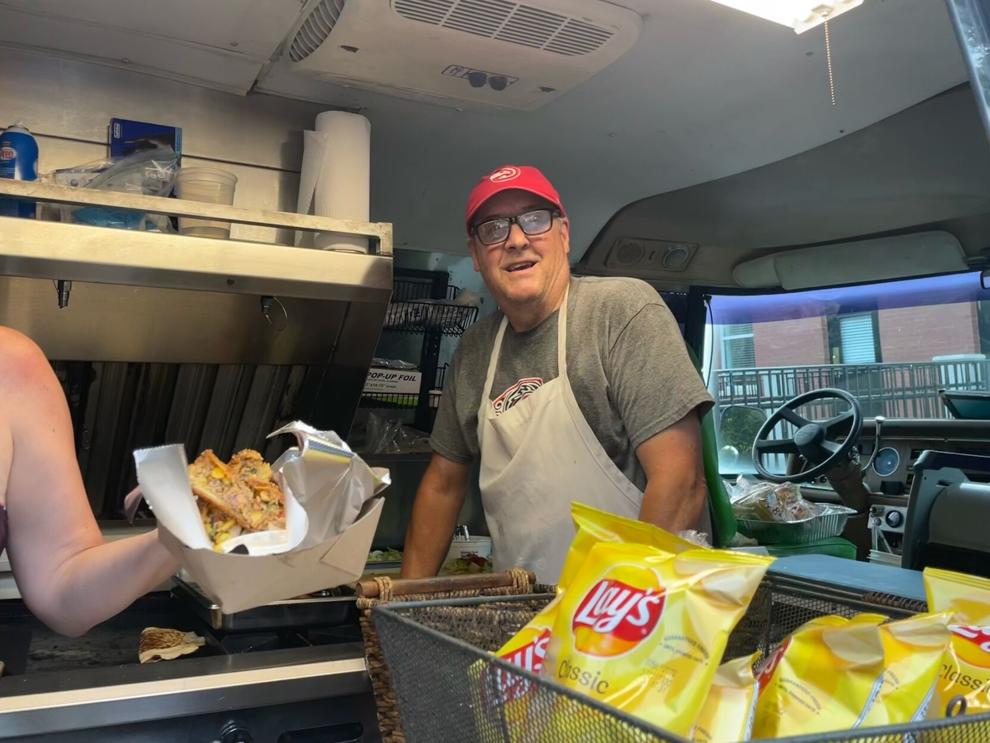 The Food Truck Alley is a well-loved event, longtime organizer and Fab Food Trucks owner Angie Willis said.
"It's just a great place to hang out with friends, listen to great music and enjoy a really great thing. Because the quality of the food trucks at that event are definitely the best of the best," she said.
Last year, the city announced it planned to discontinue the event because of COVID.
"The community was like, 'No, we want it back,'" Willis said. After three pop-up events, the city asked that Willis take over completely.
The Pickle, appropriately painted green, neighbored Meatballerz. Through the window, owner Andy Grimes could be seen furiously preparing food for those idly waiting outside the truck. Grimes has been coming since the event's inception 10 years ago. His mobile menu is expansive in taste, with a multicultural flavor profile – Southwestern, Southern comfort food and Cajun.
Grimes chose cooking as his lifelong career.
"With cooking, there's an immediate gratification to see that you've done something well and that people are enjoying it," Grimes said.
The green chili quesadillas are Grimes' bestseller. But down the way, Joe Gillis spooned a bowl of Grimes' etouffee. Joe and wife Debbie have been in Alpharetta for 10 years and said they try to go to the event at least once a year.
"We always like to come down here. We actually live very close," Debbie said. She got food from the nearby "blue truck."
That Big Blue Truck was Low-Co Motion, a "farm-to-truck" and low-plastic company owned by Atlanta native Jason Jewett and cleverly named for its Low Country birthplace – Charleston, South Carolina – by Jewett's sister-in-law and former co-owner Kerry Meir. The menu consists of gourmet sandwiches like The Wicked Chicken and Shredded Pork Sandwich.
"You got thousands of different taco trucks, you got thousands of different barbecue trucks, but you don't have any food trucks like ours," Jewett said.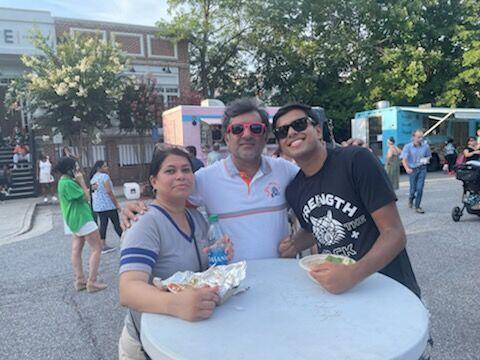 Some visitors also value buying local. Mike Gan, his wife Sandy and son Hygreev have been regulars for the past couple of months. The event has become a designated family day out to unwind with one another away from technology. For Sandy, it's also a way to support local businesses.
It's especially nice for the family nowadays, considering measures taken during the height of the pandemic.
"We like to see people around post-COVID times, where people are back without masks," Sandy said.