ROSWELL, Ga. — Following a May 15 public information meeting on the Grimes Bridge Road corridor improvement project, members of the Roswell Transportation Advisory Commission resigned en masse.
Members cited frustration with the city's ongoing transportation projects, and elected officials turning a deaf ear to recommendations.
Members Richard Arena, George Vail, Jason Hudson and Marisa Pereira resigned from the commission. Member Perry Dragon's term ended in May.
The sole remaining member is Jason Yowell, who said he's staying on to "run his mouth."
In a letter to the City Council on May 11, Commissioner Pereira wrote that in more than a year on the panel, member recommendations and motions have never been acknowledged.
Pereira, who lives on Grimes Bridge Road, said she was told she could not speak about the improvement project because of a "conflict of interest." She brought that frustration to the May 15 public information meeting where the Roswell Transportation Department presented project plans for Grimes Bridge Road.
The public information meeting focused on three proposals to mitigate traffic on the Grimes Bridge Road and Dogwood Road corridor. The project would be funded by the transportation special purpose local option sales tax. At the meeting, residents were shown renderings of three proposed construction projects and spoke with city staff. Then, they were given opportunity to fill out a survey choosing one of the three proposals.
The first rendering maintains the signal at Vickery Lane and adds a miniature roundabout at Grimes Bridge Road and Grimes Bridge Landing, a right turn lane at the Cottage School entrance and pedestrian crossing with flashing lights across from the Cottage School.
The second proposal also keeps the Vickery Lane signal, adds a miniature roundabout at the Grimes Bridge Road and Grimes Bridge Landing intersection and adds a miniature roundabout at the Cottage School entrance.
The third proposal includes three miniature roundabouts: one at Grimes Bridge Landing, another at the Cottage School Entrance Drive and one at Vickery Lane.
At the meeting, Pereira gathered residents and encouraged them to not choose any of the survey options. Instead, she said they should all deliver a coordinated response in the online survey's comment box.
Yowell, the sole remaining Transportation Advisory Commission member, called the whole plan "garbage." The commission had previously recommended to the Transportation Department to avoid roundabouts — not include three on one road.
"This is rubbish, it's not what we proposed," Pereira said.
Some residents liked the proposed developments. Scott Long, a frequent cyclist and scooter user, said the inclusion of a trail that reaches the river will make his commute easier.
"This means I can ride my bike downtown," Long said.
Other residents were frustrated with the proposals. One woman asked why the public information meeting wasn't a Q&A with city officials. Yowell said the city was only hosting the meeting to "check a box."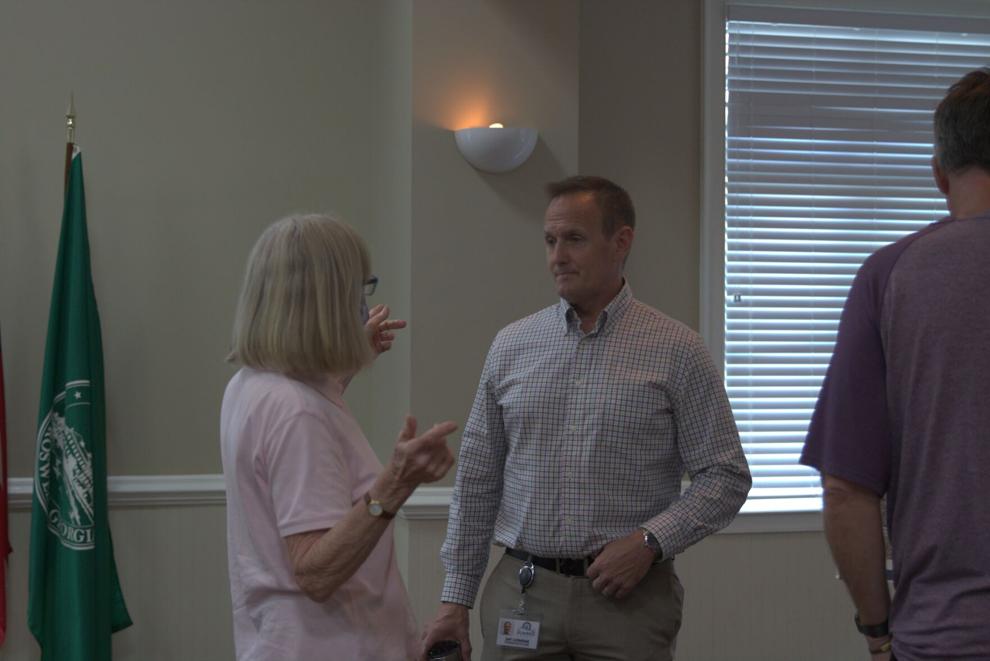 Pereira said members would "speak and speak and try to work with people" but nothing would change. Now, she's looking to voice her concerns through other means, like possible protests or demonstrations before the Transportation Department makes any decisions.
"Typically, they say this is already done, that ship has sailed," Pereira said. "We're not waiting for 'that ship has already sailed.'"
Roswell City Councilwoman Lee Hills, who attended the meeting, along with Councilwoman Sarah Beeson, said the plan is far from a "done deal."
"There's time to make adjustments and for us to go back to the drawing board and figure out some options," Hills said.
She said one of the "resounding" pieces of feedback she has received was opposition to roundabouts. While Hills said no plan will appease everyone, she "feels good" that residents were able to talk to city officials directly.
"We want it to be great for residents, but at the same time, not a great pick for the commuters, which is a tall order," Hills said. "So, knowing what the challenges are from our residents is a big deal."
Roswell Transportation Department Director Jeffrey Littlefield spent the meeting gathering comments and feedback from residents, and he will "see how they can be incorporated or see what makes sense."
Littlefield pointed to roundabouts as a major resident issue. He said residents prefer stop signs.
"We need to see what effect that would have on traffic and safety, as stop signs tend to have more accidents than roundabouts," Littlefield said.
Transportation officials will sift through the online and in-person survey results to see if there is any consensus on project details. Officials predict the corridor improvements will reach the mayor and City Council for an official vote sometime in July.