ROSWELL, Ga. — It appears Roswell residents and businesses will have a greater say in the city's plan to close Canton Street to vehicle traffic on weekends this summer.
At a special public forum May 9 at City Hall, Mayor Kurt Wilson promised a crowd of residents and business owners that the City Council will hold formal discussions on the topic, with opportunity for public comment.
Wilson joined other council members – appearing separately so as to avoid a gathering that would constitute an official City Council meeting – to hear from residents who attended the nearly two-hour forum.
The city floated the idea recently to close the popular street to vehicles from Ga. 9 to East Alley on weekends over the summer to promote pedestrian traffic. Canton Street is regionally known as an entertainment hub, with an array of restaurants and shops. Almost 7,000 vehicles travel that stretch each day.
Wilson said the City Council will hold the special meeting to address the issue Tuesday, May 16 at 9:30 a.m.
"My expectation is we will deliver a plan that will address the things we discussed today," Wilson said.
If there are further concerns, the mayor continued, the city will continue to adjust the plan to accommodate residents and business owners.
City Councilwoman Sarah Beeson declared that she was "frustrated" by the fact that the meeting was not public, and that she had been left out of seemingly long-term discussions about the road closure.
The forum came in the wake of a late April Facebook announcement from the city detailing its plan to close the street on weekends as a means to enliven the area.
The Facebook post lit up with comments from Roswell residents, confused about the lack of notice regarding the meeting and an absence of any prior public discussion. At the city's "Roswell Moves" event on April 30, the city had a tent for City Administrator Randy Knighton to present the closure plan and get feedback from residents.
Some residents and business owners reached out to the city government, specifically Mayor Wilson, to get more information about the plan and where it came from. In the meantime, a few people announced a press conference outside Roswell City Hall on May 3 to "demand Roswell rescind its plan to close Canton."
A surprise announcement
The residents said they heard nothing from city leaders until a 20-minute video dropped on the city's Facebook page on May 2, with the mayor and City councilwomen Christine Hall and Lee Hills talking about the proposed road shutdown the city has worked on in private for the past 16 months.
In the video, Mayor Wilson explains the trial proposal to transform Canton Street into an open-air pedestrian plaza. His long-term vision is to create a "promenade on Canton Street, like Barcelona."
Originally the city planned to close the street for the entire summer, but Wilson said that after hearing from local business owners, he adjusted the closure to run from Memorial Day to Labor Day. He said he's willing to hear more feedback.
"Our door is always open," Wilson said. "We want to talk."
The proposed "promenade" would remove 39 parking spaces from historic downtown Roswell, but Wilson said visitors can use City Hall's parking lot down the road. He also referenced the city's $20 million bond referendum to build a parking deck in downtown Roswell, a project he said will be finished in two years. The city has not revealed any information about the location or construction of the parking deck.
Wilson said the road closure will make the area safer for pedestrians to roam without fear of vehicle traffic, because "all it takes is one pedestrian dead and the success of Canton Street is no longer."
Wilson said business deliveries will not be impacted and the closure is a "short-term" trial.
"If this hurts our businesses, we all will call it off because the last thing we want to do is hurt our businesses," Wilson said.
At the end of the video, Wilson touched on Roswell's history of "paralysis by analysis."
"A lot of times in the past, things haven't gotten done after there was enough discord that people said we can't move forward," Wilson said.
The mayor said it's his responsibility to change that.
At their May 3 press conference at City Hall, residents and business owners said they were not satisfied with the video.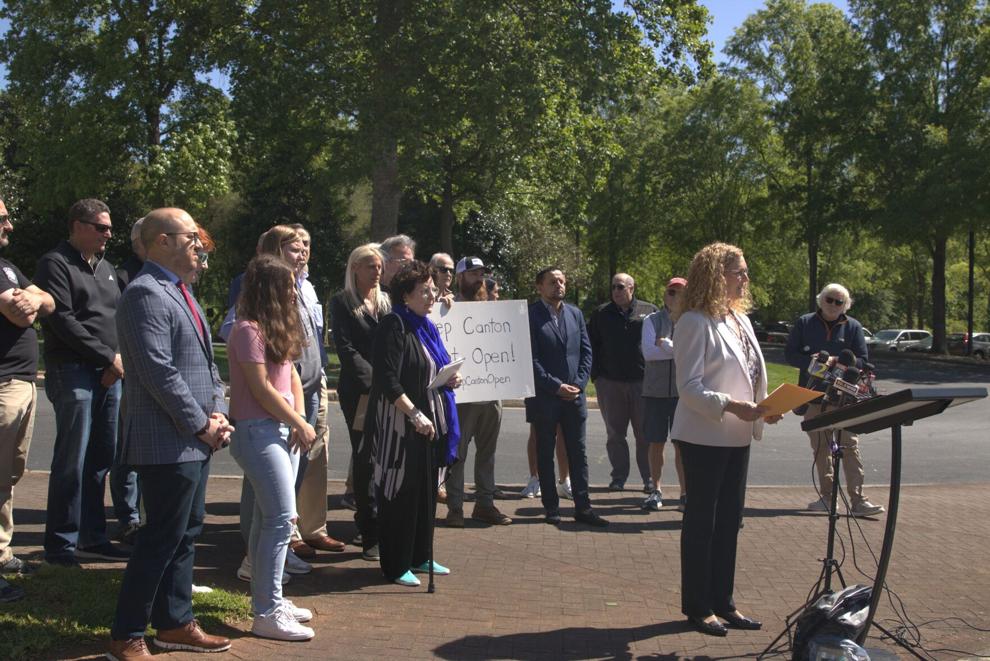 Jenna Aronowitz, owner of 1920 Tavern on Canton Street said there are "many reasons we can't even begin to contemplate this idea."
The restaurant owner cited a lack of notice from the city, discussion with residents or data on the possible impacts of closing Canton Street to cars.
The news conference focused on a few primary concerns, specifically with parking, traffic and an increasingly rowdy environment downtown.
Aronowitz said the city needs to build the parking deck before any further discussion can continue and ensure that elderly and disabled people can easily access Canton Street. With previous single-day road closures for events like Alive in Roswell or Roswell Moves, Aronowitz said her business had a steep drop in sales.
Neighborhood concerns
Residents who live on and nearby Canton Street said the closure will back up traffic on the open portion of the road. Jim Dooley, president of the homeowners association of 70 townhomes off Canton Street, said the traffic would impede residents' ability to get in and out of their neighborhoods.
For previous events like Alive in Roswell, a monthly festival on Canton Street the association hired police to monitor the neighborhood entrances and turn non-residents away. Residents worry the closure will make every night like Alive in Roswell, and Dooley said they can't afford to hire police every weekend.
"This is what this (closure) is going to make us do in order to handle all the overflow and outflow from this silly decision that's been proposed," Dooley said.
Other residents said the road closure will make the downtown neighborhood suffer from trash, street bands and public drunkenness. A Roswell ordinance allows restaurant customers to carry an open container of alcohol in the Canton Street district from 11 a.m.-11 p.m.
"Do we really want a whole summer of Alive in Roswell?" Webb Street resident Susan Tyser asked.
She said the neighborhood deals with traffic gridlock and drunkenness during the event, destroying the area's ability to rest and relax.
Even businesses feel the impact.
"Alive in Roswell is a drunk fest," Aronowitz said.
As a restaurant owner she said the clientele changes from sophisticated diners to drunk people coming in and breaking things. Typically, she said the businesses will shut their doors early for the event.
Aronowitz said the group doesn't want Alive in Roswell to end, but that they want it to be a "nice community get together" where people can showcase their local businesses. They also don't want it to feel like Alive in Roswell is happening every weekend.
'We're not set up that way'
Kelly Smith, the owner of Roswell Provisions on Canton Street said she disagrees with the entire process of turning Canton Street into a Barcelona-style promenade, like the mayor mentioned in his video.
"You know, Barcelona, we're in Roswell, Georgia," Smith said. "We're not set up that way."
She said if the proposal is enacted, there will be disasters with deliveries, traffic and a loss of revenue.
The residents and business owners said they want the city to pause any plans to close Canton Street to vehicles until the parking deck is built. They agreed that the city should at least bring the issue to a public vote.
Roswell City Councilwoman Sarah Beeson attended the news conference to listen to resident concerns. The councilwoman said she first heard about the proposal on April 17, just weeks before it was announced.
Beeson said she called for a public vote at a regular meeting, hoping that the issue could be discussed at a May 23 Community Development meeting.