ALPHARETTA, Ga. — Alpharetta police responded to a mental health call Sunday, but the situation escalated, and now the family is asking questions.
Officers restrained 36-year-old Travis Moya, brought him to the ground, subdued and handcuffed him. According to family members, police then commanded their K-9 to attack him.
After the incident, Moya was arrested and charged with a single felony count of willful obstruction of law enforcement officers by use of threats or violence. His family said he was not resisting.
At a press conference Thursday, Atlanta attorney Chris Stewart said the family planned to file a civil lawsuit against the Alpharetta Police Department. He also asked the Fulton County District Attorney to dismiss Moya's charges and open an investigation into the officers and their actions.
The officers' names have not been released. Jeffrey Ross, spokesman with the Alpharetta Police Department, said the incident is being investigated.
"At this time, no complaint has been filed in relation to this matter," Ross said. "However, per our policies, a use of force investigation is being conducted in this matter as is performed for any instance of a use of force incident by one of our officers."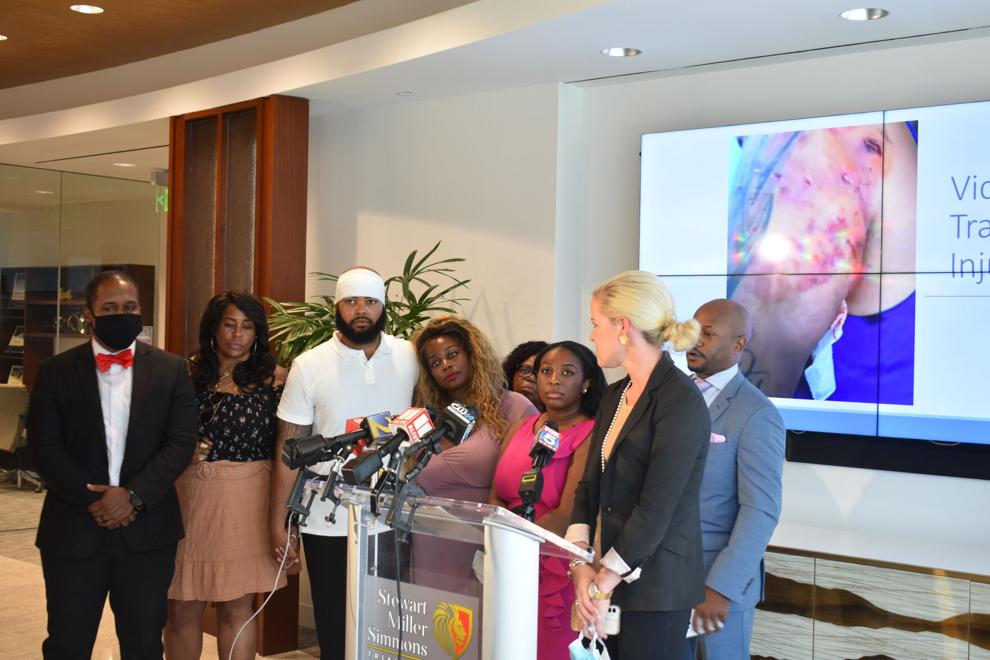 Gerald Griggs, who is also representing Moya in the case, said they want justice to be served.
"We are here again for a situation that we should not have to witness in 2021," Griggs said. "This is not Alabama in the '50s. It's not Mississippi in the '60s. It's not South Carolina in the '70s. This is Alpharetta, Georgia, so when I received a call and I saw the video my heart dropped again."
Moya's wife and 5-year-old daughter witnessed the incident Sunday. His wife captured on cell phone video the moment the K-9 moved on Moya as he lay on the ground with three officers on top of him.
According to his attorneys, Moya sustained a concussion and "severe" dog bite wounds throughout his upper body. He was transported to the hospital for treatment.
Moya was released from jail on a signature bond but made no statements during the press conference. Stewart said he wants people to understand the incident was not a regular dog attack.
"The dog walked away with flesh hanging from its mouth," Stewart said. "… These dogs (K9s) have, from our research, 195 pounds per square inch of pressure when they attack. They are trained to maul and attack. There was no reason for this dog to be out of the vehicle. … His wife explained to us they weren't screaming, they weren't arguing, they weren't fussing with the officer. The officer simply suddenly decided, 'back up, I'm going to get the dog.'"